Today we have another cool and deliciously colourful app which we believe is really useful and attractive way of learning for kids with the help of Urdu stories, songs and pictures. But before going on to review the app itself, I'm sure there is a need for you to learn a little bit about Toffee TV that what actually it is and who is behind.

Toffee TV has been serving kids with one of the best effective ways on-line that kids can easily and quickly learn with pictures, videos and stories with animations. The platform for ToffeeTV to deliver content is currently a cool looking website under the domain name http://toffeetv.com. You must read a few words about Toffee TV by the creators themselves.
The idea of ToffeeTv stems from arduous hours of searching Urdu stories and songs for children similar to that of Cassette Kahani. As the search continues the sad realization has set in that our heritage has simply not been captured in the realm of providing our children with the opportunity of learning the Urdu language through imagination.

We are uploading these treasures through YouTube, a public resource, to promote the Urdu language. Content on this site is free as our way of sharing our heritage as widely as possible.

The stories and songs you'll hear at ToffeeTV are an attempt to help inspire change in learning language. We love listening to stories and even more, sharing them. Most of these stories have been located in ragged books found in old book bazaars of Karachi, interpreted and transformed in digitized mode to share them with the online world. Credit has been given to publishers and/or authors whose names have been found. Unfortunately, there are several stories and songs where the information of the creator is unknown.
[Following is just one of the bunch of videos you will find in ToffeeTV]
ToffeeTV for Mobile
I just can not resist appreciating the two ladies behind this ToffeeTV – Talea Zafar and Rabia Garib – that they didn't only keep the project under a single domain on the web but instead they moved on and brought their content to the mobile phones – I guess, to reach most of the people. Toffee TV is the app I am going to explore and tell you about it. You will see that how can it help kids in its own way.
ToffeeTV app has been a featured app on Nokia Store and still it is.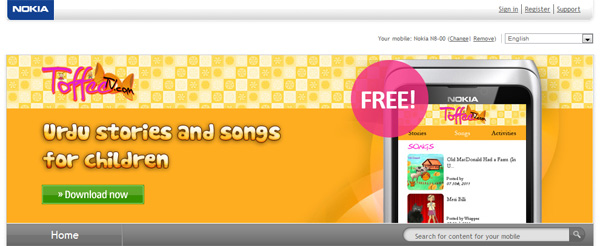 Toffee TV is currently available for wide range of Nokia Devices and iOS devices respectively on Nokia Store and iTunes Store.
The following screen shots were directly taken from a Nokia N8. The app for Nokia devices is based on WRT-Widget and is supported on wide range of handsets as it runs a mobile optimized web based interface. Content wise almost every thing, that is available on web, is available via mobile app. Urdu Stories and a few English as well. Also a few stories originally in English has been translated into Urdu and voiced over. Songs and Activities are also accessible via mobile app. The search feature is also there to facilitate the users search through the content easily.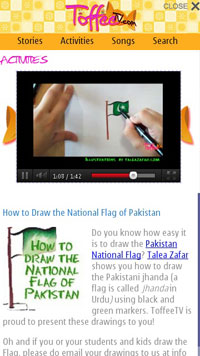 Interface is very simply optimised for mobiles. All the categories Stories, Activities, Songs and Search links are provided on top under the ToffeeTV banner. Each of the category then lists the content vertically with a thumbed image on left and a title of the content on right.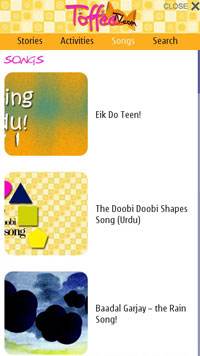 A dedicated page is provided for each of the content clicked, with a YouTube video and a description of the content underneath.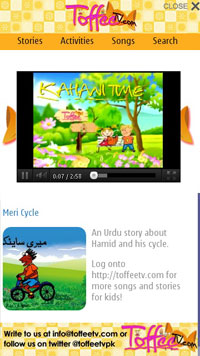 The ToffeeTV app can actually provide kids a great way to watch/listen songs and stories, as well as learn through different activities like drawing and painting. The purpose of songs and stories on ToffeeTV is to help create an interesting way for children to acquire the Urdu language. This app also reminds the culture of Urdu songs and stories for the family.
Download
Download ToffeeTV for your Nokia devices.
You can also download ToffeeTV for your iOS devices
http://techprolonged.com/wp-content/uploads/2011/09/toffeetv-banner-2.jpg
208
600
Khurram Ali
http://techprolonged.com/wp-content/themes/TPRO-Theme/tpro/img/tpro-logo-blue-header.png
Khurram Ali
2011-09-30 18:25:58
2011-10-26 02:10:13
Review: "Toffee TV" - Kids get a great and fun way of education