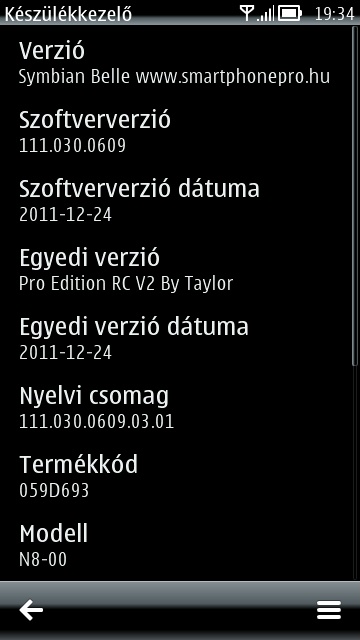 A long lasted chain of the leaks of Symbian Belle versions for Nokia N8 continues with another version 111.030.0609. Previously leaked version 111.030.0607 was pretty successful for most of the users to get their hands on it because all of the required firmware files were added into the images. Here is another leaked version 111.030.609 of Symbian Belle for Nokia N8. This is a hacked and moded custom firmware which is not original stock firmware.
Changelog:
Modded By Taylor www.smartphonepro.hu
V2:
-New Nokia Widget Pack!
-Credit: All Symbian modder!
-Origina Nokia N8 Belle RC!!!!!!!!!!
-Special Pro Edition theme By AttisX: AXTHEMES My my order. Not be modified, extended!
-Nokia N8 RC Belle 111.030.0609
-Installserver rom hack.
-Languange pack HUN-EN.
-Delete default wallpaper.
-Effect by: andrenlsbr
-Browser cache: E
-Boot and log out: E:\\Anim\\startup.mp3, E:\\Anim\\startup.gif, E:\\Anim\\shutdown.gif, E:\\Anim\\shutdown.mp3
-Clear HS. Max 10db hs.
-All apps exit.
-Photo qualiti 95%
-Video 30 fps.
-Video macro auto focus
-Logs improved
-Theme effect enabled.
-RDS: Nokia N8
-Fota delete.
-Galeria mod.
-Message, clock, log, calendar removed from startup to save RAM
-Music player search: Music.
-Browser download resumed.
-Nokia welcome and sms disabled.
-Ui optimalized and fast.
-Java premission mod
-Free effect change: C:\resource\effects No c2z patch!!!! Delete C auto read Z original! C-Z effects change auto!
-Clear UDA
-Full widgets!
-C: 241MB
-Rotation fast.
-Kinetic roll original.
-Tactile fedback.
-Dictaphone 12H, 256 kbps
-Landscape screensawer.
-Music player screensaver
-All app rename
-USB OTG improved
-System sounds modded. The winner Nokia Remix!
Original Nokia Boot and sound:
-Deleted files and restart:
-C:\Private\10202be9\101F8763.txt
-C:\Private\10202be9\persists\101F8763.cre
All files copy: "C:\Program Files\Nokia\Phoenix\Products\RM-596"
Download Stuff:
DISCLAIMER: This is the custom firmware with hacked Installserver, so it shouldn't be treated as official or stock firmware. And may have severe influence on your devices. In addition we [at Tech Prolonged] did not try this version and not having a plan to do so. So we won't guarantee about anything related to this firmware release. If anything causes damage to your device that will be your own responsibility.

If I plan to try this firmware sooner or later I'll tell my experience via twitter feed @khurramar
http://techprolonged.com/wp-content/uploads/2011/12/Scr000015_0.jpg
640
360
Khurram Ali
http://techprolonged.com/wp-content/themes/TPRO-Theme/tpro/img/tpro-logo-blue-header.png
Khurram Ali
2011-12-19 12:15:42
2012-01-03 11:38:38
Leaked: Symbian Belle 111.030.0609 for Nokia N8 [CFW, Hacked]