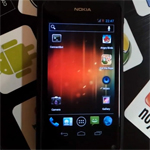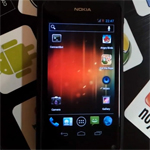 "Sleepless Nights" on Nokia N9:
NITDroid – Android 4 Ice Cream Sandwich
It's not more than two weeks since we've had seen the first public release of NITDroid to run Android 4 ICS on Nokia N9 and we have another one. It's pretty fast that second release of NITDroid project has made through and is available with a new title "Sleepless Nights" – Interesting name though – that brings Android 4.0.4 to Nokia N9. you can check the features below and head towards the source linked at the end to find out more.
Working Features:
based on Android Open-Source Project (AOSP) v 4.0.4_r1.1 (IMM76D)
multiple languages supported
dualboot kernel (without reflashing), ability to choose OS after power on.
N950 supported (see http://forum.nitdroid.com/index.php?topic=134.0)
3D drivers, OpenGL
hwrotation (portrait mode only, accelerometer HAL doesn't work)
touchscreen (multitouch)
hw buttons (volume, power)
ECI accessory (headset buttons)
USB networking
lcd off in sleep mode, electron beam effect (demo: http://www.youtube.com/watch?v=kFMTofYt_2g)
alarm driver, RTC
mounting MyDocs as "SDCard" [realized; NOT FIXED, but HACK EXISTS]
basic video decoding (sw) and playback, youtube (choppy)
wifi (only basic functionality: able to connect to AP. signal strength indication (RSSI) is broken. no tethering).
basic CellMo functionality: network registration, USSD, SMS, data (GPRS/EDGE/3G), signaling. Actually, ofono/ofono-ril stack is used: all things that it able to do on the n900.
bluetooth (scanning, can pair devices. I didn't test deeper).
charging (note: without any notification in UI)
sensors: accelerometer
audio: playback (audio routing to: loudspeaker, headset or earpiece)
lights HAL (lcd brightness)
root access (via adb shell; su/Superuser.apk)
Check the source below to find more on how to get it working on your Nokia N9.
[source: NITDroid Forums]


http://techprolonged.com/wp-content/uploads/2012/03/android-ics-nokia-n9-nitdroid-thumbnail.jpg
150
150
Khurram Ali
http://techprolonged.com/wp-content/themes/TPRO-Theme/tpro/img/tpro-logo-blue-header.png
Khurram Ali
2012-04-03 18:57:04
2012-04-03 19:19:34
NITDroid Alpha Release #2 "Sleepless Nights" - Android 4.0.4 ICS for Nokia N9