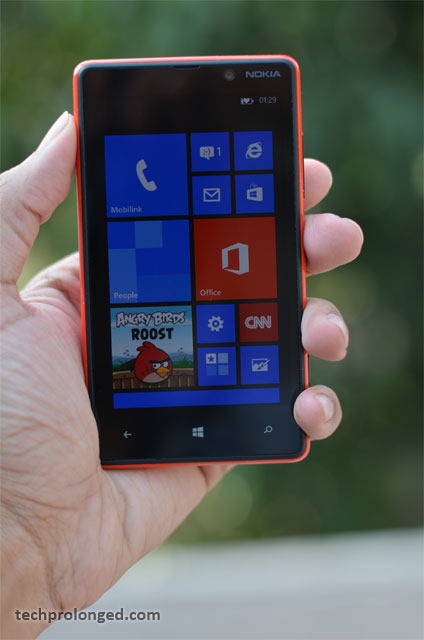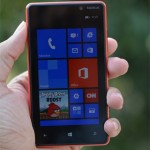 It's been a while, the global launch of new Lumia range of Windows Phone 8 went pretty successful in September 2012. Specially the Nokia Lumia 920 with PureView powered camera got the full attention. This was the first Windows Phone 8 launch co-hosted by Microsoft and Nokia. Nokia Lumia 920, however, has played such a role and got the attention that other siblings were overlooked.
Nokia Lumia 820, which is not as powerful as its big brother Lumia 920 but does share some important components and features. e.g. Qualcomm Snapdragon S4 1.5 GHz Dual Core CPU with Adreno 225 graphics processor and 1 GB of RAM. Apart from similar features where Lumia 820 lacks the power of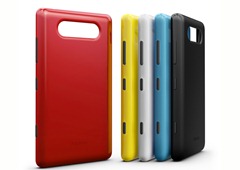 camera, internal memory and HD display, it brings some features that are not available for Lumia 920. Such as changeable back shell in five different colours, micro SD card support, removable battery and the AMOLED ClearBlack display. One of the marketing slogans for Nokia Lumia 820 is that it's the "Most Versatile Lumia" from the finish maker. So here we are, to test its versatility.
Features
Some prominent features are listed below.
AMOLED ClearBlack Display for much better outdoor viewing.

4.3 inch screen with display resolution of 480 x 800 pixels. (217 PPI lower than 332 PPI on Lumia 920.)

1.5 GHz Dual Core, Qualcomm Snapdragon S4. Adreno 225.

1 GB of RAM and 8 GB of Mass Memory. Micro SD card slot allowing up to 32 GB of extended memory. 7 GB free cloud storage on SkyDrive.

Connectivity: Bluetooth 3.0, NFC (Near Field Communication), Wi-Fi (IEEE 802.11 a/b/g/n), Qi Wireless charging via

add-on accessory

. 3.5mm audio jack, micro USB, micro SIM.

Networks: GSM 850/900/1800/1900, WCDMA Band V (850)/Band III (900)/Band II (1900)/Band 1 (2100), LTE 800/900/1800/2100/2600.

Primary Camera 8.0 Megapixels 30fps – Secondary Camera supports VGA resolution of 640 x 480 pixels with 30fps in video recording.

12 high dynamic range microphones.
You can check the full specifications of Nokia Lumia 820 along with the Lumia 920.
Unboxing
The package includes nothing uncommon. The same blue box labeling with the device's pictures, the available colours and the box content information as well as the major features of the handset.
Covering the deep drawer with items starting from device itself and user manual/guide stacked on top and divided into three compartments underneath containing the charger, Micro USB cable and headphones with extra ear buds.
Nokia ships charger varyingly from one region to another. Here in Pakistan we normally get the same as we received with the review unit.
Build & Design
Well I personally have been the fan of design of Nokia Lumia 920 which has been borrowed from Lumia 800 and Lumia 900 with little enhancements. In fact I liked it the most on Mee-Go powered Nokia N9 which was the very first device in that slick form and was tested by us. As we have received Nokia Lumia 820 for review from Nokia Pakistan, I really wish if it was in that same outfit as Lumia 920 is. (We'll try to bring Lumia 920 for review soon.)
But that's not I am saying Lumia 820 has not got better outlook. To me it just looked similar to most of the devices in the crowd out there. In fact most similar to the newer Windows Phone 8 devices from HTC, keeping aside the allegations that HTC copied the design from Nokia.
Now if we come to solidity of a handset, that's where the customers have always accepted the mobile phones from the Finish phone maker. However it's completely made with plastic, Lumia 820 is really a solid in build. Only metal involved is around the camera module at the back. There is a need to mention that the Lumia 820 is not lighter in weight. It will hang down in your pocket with clearly seen weight in it. But that completely depends on a choice if you are more towards a light weight smartphone e.g. Galaxy SIII or one with a solid and reliable build.
Some elements and features in the design are more preferable than they are in Lumia 920. Such as the interchangeable back covers for customization and removable battery.
Features and Components
If talking about the features and components on the device which are visible then top of the phone hosts only a 3.5mm headphone jack for audio output while on the right side, the volume rocker, the power key (works also as lock and unlock key) and the two-step camera shutter key for focusing and capturing. Camera key also unlocks the device when long-pressed in locked mode and takes directly to the camera interface. That's a plus for quick access to camera to capture urgent scenes or moods.
Micro USB port is on the bottom of the device right in the middle and under the start button. A speaker panel is hosted aside from the micro USB port.
On the back of the handset 8 Megapixels camera module is hosted along with a dual LED flash and Carl Zeiss branding on the other side. Operating range of the flash is 3 meters*.
On the front there is one glass sheet hosting the main display and standard Windows Phone 8 keys, back, start and search keys on the bottom. They are capacitive to touch. For a mic/mouth piece, a very thin hole is provided on the border of the body apparently in the middle of the back and start key. Top portion of the screen hosts ear speaker outlet in the middle, proximity and ambient light sensor on the side, front facing camera and Nokia branding.
Opening the back cover was little annoying at first. It really is. You need to open it by your nail tip with a little more pressure in between the body and cover. You will always be aware of the fact that you may drop the phone or even break the back cover while opening it that harder. There are much easy ways Nokia has added into their low-end, mid-range and high-end devices. We think it could have been better. Getting used-to is another thing.
But for the users, who don't change back covers very often, it's even better for them to have their phone packed as much as fixed. But we must add here that the solidity and ruggedness of the back cover is very much appreciable and it's hugged to body like no two separate things. During our review period, we have opened it, changed it with another cover/shell and then closed it in cycles for various reasons such as adding wireless charging shell, removing SIM card or memory card. Frankly, it was actually solid to be broken. It's reliable.
The stock back cover with Nokia Lumia 820 comes with NFC capability for file transfer, transferring other content like contacts, bookmarks and communicating with other NFC capable devices or tags. You can see a connector on the top side of the back cover.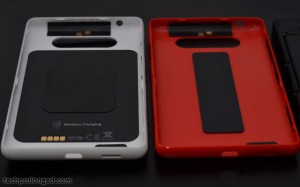 1650mAh battery is removable as told above. Micro SIM card slot and micro SD card slot are hosted on the side of the body. Right down the Micro SD card, you can see another connector with four terminals, that's for wireless charging shell. Although Nokia Lumia 820 is wireless chargeable but it doesn't come with a back cover that supports wireless charging. You must read about it in our Wireless Charging Shell for Nokia Lumia 820 review.
Coming back to the design and outlook overall, I would say that Lumia 820 looks far better and can stands out of the competitor devices with its solidity and reliabability.
Display
Nokia Lumia 820 features completely different display than the one on Lumia 920. It's AMOLED with Nokia's own ClearBlack screen. Have been on various Nokia's earlier flagships and has been appreciated. The same can be said for display on Lumia 820. Being itself, it's pretty good outdoors and complete readability with sharp and vibrant colours that are perfect with Windows Phone 8 live tiles or inner app interfaces, that can not be the same on an LCD display.
What bothered me, is that the Lumia 820 doesn't feature the Corning Gorilla Glass. In my opinion it must have been added to the device at such price tag. Rs. 44000/- in Pakistan are enough to be protected by security. Yes! I sure think the Gorilla Glass must have been featured in Lumia 820 to secure the glass from unexpected forces. So a user must need to have a screen protector which I never liked to apply on my devices no mater what glass they have. One also have to be careful of putting the phone into the pocket with the stuff like keys.
Another lack on the display of Lumia 820 is its resolution which is far below than the HD display on Lumia 920. On a screen like 4.3" the WVGA (800×480 pixels) resolution is not that good in clarity of displaying text when looked closely. It's just 217ppi whereas Lumia 920 serves with 332ppi – however there is no comparison between the two as both are from different class range. But resolution only matters if it disturbs viewing by one's eyes. Hence, with eyes, Lumia 820's resolution by no means can be objected. However the sharpness will never be like that you will have on an HD display.
We haven't talked about the viewing angles on Lumia 820. Well that's straight and quick to tell that Lumia 820, with its AMOLED-ClearBlack display, serves the super wide angle and impressive contrast ratio in its class.
Conclusion
I can't give this and that about the design but it sure is attractive and appealing as I am more towards buying it than any other Windows Phone 8 device. (That means, If I don't buy Lumia 920, the Lumia 820 will be my second option.)
If comparing with other brand then HTC WP 8X comes at a bit higher price with most of the hardware features similar to what Lumia 820 has but additionally the 16 GB internal memory, Gorilla Glass and HD display on HTC 8X takes the lead. Where on Lumia 820 the AMOLED – ClearBlack display serves much better, sharper and vibrant colours. Having only 8GB of internal storage capacity, it comes with expandable memory option up to 32GB with micro SD card and free 7 GB cloud storage on SkyDrive. Software variations will be plus towards Lumia 820 with Nokia's Windows Phone apps collection including free life-time navigation**.
Our recommendation of course will go with Lumia 820, if you want to get a better looking and reliable Windows Phone 8 device.
Nokia has been the best part of Microsoft to take its smartphone OS among the competitors like Android and iOS. At the hardware end, Nokia sure is taking advantage of the quality of handsets they make. At the software end, we think Microsoft still needs to put more fancy in the OS to take it even or ahead of other smartphone operating systems. There is much more in Windows Phone 8 which can not be considered as fancy to beat the rivals but it sure is productive and socially integrated. We have a Windows Phone 8 review on Lumia 820 ahead. We'll try to publish it soon. Keep your eyes on it.
What else you want to ask about Nokia Lumia 820. Speak up in the comment box below. We'll try to get an answer.
Legends description used in the article.
* Manufacturer's claim.
** It's pretty harsh to say but Nokia Maps/Drive and GPS Navigation are worthless in Pakistan until they are provided to consumers. Wish that Pakistani Govt. could make humble decisions in information technology and telecom sector.
http://techprolonged.com/wp-content/uploads/2013/03/nokia-lumia-820-portrait-1.jpg
640
424
Khurram Ali
http://techprolonged.com/wp-content/themes/TPRO-Theme/tpro/img/tpro-logo-blue-header.png
Khurram Ali
2013-03-14 17:41:07
2013-03-18 16:20:42
[Review] Nokia Lumia 820 - Unboxing, Build and Design, Hardware