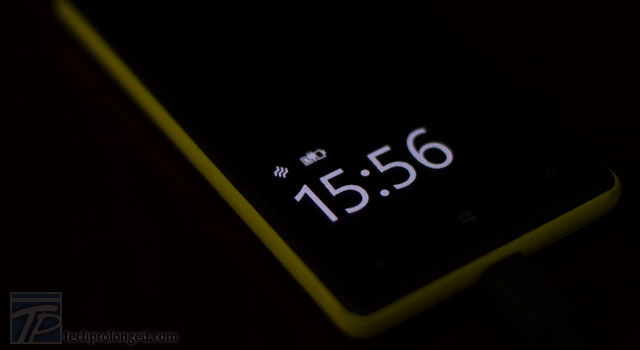 This review is to give you an in-depth idea of the features and improvements Microsoft and Nokia have brought up into Windows Phone 8 and Lumia devices respectively with the GDR2 and Lumia Amber software updates.
Lumia Amber software update was rolled-out in Pakistan a few days ago. We've posted earlier to explain the features and compatibility of the software update along with the "how-to" guide. If you still haven't updated your devices to Lumia Amber software update, then you are really advised to do so as there is much to get from your Windows Phone 8 Lumia devices as it is really worth of what it was awaited for.
Here we have a detailed review of the GDR2 and Lumia Amber software update for all Lumia devices running Windows Phone 8. For convenience of getting the idea of what both of the updates GDR2 and Lumia Amber deliver to the Windows Phone 8 Lumia devices, we'll start down with the features of GDR2 first and then Lumia Amber features dedicated for Lumia devices.
Microsoft GDR2 Software Update
FM Radio: Well, GDR2 software update doesn't actually bring FM radio feature to Windows Phone 8 devices. It enables the devices which were initially built with the hardware for FM radio receiver. In the Lumia range of devices there are only Lumia 620, Lumia 821 and Lumia 928, which were not equipped with the FM radio receiver hardware component on board, hence will not be able to get this feature with the software update. Other Lumia devices will have this feature.
Like most of the mobile phones out there require an external antenna (wired headphones), You will need one on your Lumia devices or any other Windows Phone 8 devices for FM radio to operate.
There are however internet radio applications e.g. TuneIn, many users prefer to have the traditional FM radio feature to listen to the local FM radio channels. For them, Windows Phone 8 has it from now on.
Camera UI changes: The minor but useful change in the camera user interface is that you can now set default camera app to open with the hardware camera shutter key. This setting can be found in "Settings > photos+camera".
Lumia devices specially are going to get benefited of this UI change as Nokia camera lenses are really great additions to Windows Phone 8 OS. Like "Nokia Pro Cam" a specially designed camera application with professional manual camera features for Lumia 920, Lumia 925 and Lumia 1020 can now be set as default camera application when you press down the dedicated camera shutter key on the side of the device.
Google CardDAV and CalDAV protocols support: After updating with the new software update Windows Phone 8 brings support of CardDAV and CalDAV protocols to sync Google contacts and calendar information. The phones which are synced to a Google account prior to December 31, 2013 will continue to sync as before.
Xbox Music: The option to select, download, and pin music comes with the software update. Additionally accurate metadata (e.g. song and album information). There are other minor improvements in this regard.
Skype and Internet Explorer get updated with the improvements. Apps like Lync and Skype get more stable and have better performance. While Internet Explorer has been optimized with rendering and loading pages as well as media playback reliability.
Lumia Amber Software Update
Nokia Pro Cam: Nokia Pro Cam! well it's the most biggest feature (app actually) from the software update, which was newly introduced with the Nokia Lumia 1020 to bring the professional like features of the camera user interface which usually are operated manually, to the the high-end "PureView" labeled Nokia Lumia devices which are Lumia 920, Lumia 925 and Lumia 928.
Nokia Pro Cam will be only available to Nokia Lumia 1020, 925, 928 or 920 after Lumia Amber software update. After all it resides into a smartphone, it provides the auto control for casual smartphone camera users, however if you are a photography enthusiast and really know how does a camera act on your commands, it brings the manual controls to change exposure, shutter speed, ISO, white balance and focus.
Manual camera controls are really well thought to be on a touch screen smartphone as shown in the screen above. They are expressive without explanation. The grid helps in framing the shot while the rings on it provides manual control to change the settings of the camera.
Nokia Smart Cam: This camera Lens app is already available app some Lumia device which gets updated with enhanced features and improved in the Lumia Amber update and now available to all Lumia devices. However with limited functionality in low and mid range Lumia devices.
Nokia Smart Cam takes burst shots in sequence and presents you with the shot and 5 functions to edit, improve, enhance and professionalize the final image. The functions include "Best Shot", "Action Shot", "Motion Focus", "Change Faces" and "Remove Moving Objects".
With the latest update of the software "Lumia Amber" all the Lumia devices get this feature. However the low and mid range devices e.g. Lumia 520, 521, 620, 625 and 720 will be capable of taking 7 shots of 1 MB each while the high end Lumia 820, 920, 925 and 928 will be able to take 10 shots of 5 MB each with the Nokia Smart Cam.
Nokia Video Upload and Nokia Video Trimmer: Nokia Video Trimmer is the new feature "Lumia Amber" brings but only to the high end Lumia 92x which include the devices Lumia 920, 925 and Lumia 928. Even Lumia 820 is not eligible for Nokia Video Trimmer. The feature provides you the option to trim from within the video runtime choosing a start point and end point. I am not sure if it's still the hardware limitation on Lumia 920 and above devices that the app can only trim a single part from the full length of the video. You can't get multiple parts trimmer from the video at once.
Nokia Video Upload, on the other hand, is just an interface to provide the facility to share your videos on the video sharing websites and is available to all Lumia devices. Currently it only supports to upload to YouTube.
Glance Screen: One of the most talked features of Lumia Amber software update was the "Glance Screen". That's what traditional rather loyal Nokia users since old days know very well about sleeping screen with a big clock and a few information indicators. Nokia brought that feature to the Windows Phone 8 devices with the Lumia Amber software update.
Glance Screen, however consumes more battery than a completely black screen when the phone is sleeping, is more more useful but depends on the user's demand. By default it's turned off, you can go into "Settings > Display > Glance (tab)" "Settings > Glance" and turn it on.
In addition to the big digital clock, the Glance screen delivers notifications about the vibration status and the charging battery status. To conserve the battery usage, the feature comes with the option of night mode which you specify to turn on when a preset time period starts.
When the Night mode is turned on and the specified time interval occurs, the Glance screen changes the color of the clock and the notifications from bright white to the red for less battery consumption while giving less bright colors which are enough in low light for visualizing.
Battery consumption has been considered very carefully along with this feature as when the Glance screen is on, it automatically will turn off temporarily when you put the device upside-down on the table or when you put the device in your pocket. Nokia used the proximity sensor very well to turn off the Glance screen because it knows where you have placed your Nokia Lumia device and when there is no use of the Glance screen. Good job Nokia!
Glance Screen, unfortunately, is not available for Lumia 520 due to lacking the required hardware specifications.
Flip to Silence: Flip to silence feature, at first, was not much impressive to me when I heard about it. But it didn't take longer than a few hours when I was in an important conference call on my computer having my Lumia 820 in front when it suddenly started ringing. I avoided it first but when it rang again, the thought of "Flip to Silence" feature came straight away in my mind and I just turned the phone over on the table (upside-down while ringing) and it went silent on me. Well yes! it sure is a little but impressive feature.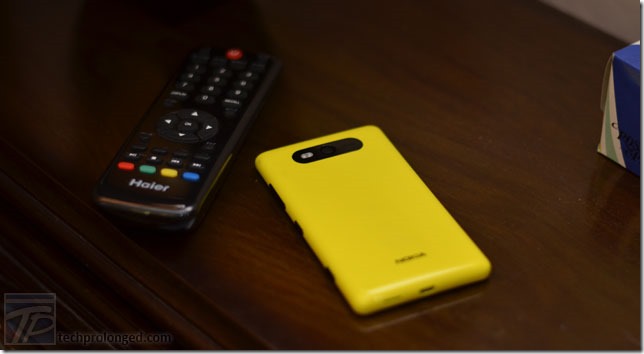 The short story above really tells everything about the "Flip to Silence" feature. Just turn the phone over when it annoyingly keeps ringing and you don't want to hang up. You need to turn this feature on by going into "Settings > audio > enhancements"

Flip to silence (left) – Double tap to wake (right)
Double tap to wake up phone: Another feature, which was borrowed from MeeGo powered Nokia N9, is the "double tap to wake". When the phone is completely locked with the black screen or the new Glance screen, you just need to double tap on the screen to wake it up and then unlock via swiping up.
Lumia Colour Profile: Lumia Colour Profile is useful in helping set your Lumia screen colours as perfectly as suites your eyes sight. You can change between saturation and temperature feel on the image.
You can go through "Settings > display" and then "adjust" under the Lumia colour profile.
Call and SMS blocking: One of the features which almost every user wants to look for in the phone or in app store is the option or an app to block unwanted calls and/or SMS. The feature gets enabled in the Lumia devices once upgraded to "Lumia Amber" software update. The only thing you need to do after upgrading to "Lumia Amber" is to go into Windows Phone Store app and update the "extra+info" to get the feature listed in your settings.
After the "extra+info" is updated, you can go through "Settings > call+SMS filter". A brief but complete management of the blocked calls and blocked SMS. From right there you can see all the blocked numbers. From the "advanced" settings you can turn on/off Block withheld numbers, App Live Tile and Notification. App Live Tile presents quick look at the recent blocked items counter while the notification pops up when an block event occurs.
To block a number you need to go via call log from the phone app. Long tap on the call entry and choose "block number". Blocking a number will block all future calls and SMS from the number you just blocked. You can also check the blocked SMS in full detail in the "call+SMS filter" settings.
Final words
Where Microsoft has done better to improve and enhance the Windows Phone 8 user experience as well as system performance, Nokia on their part has done really impressive to push up the Windows Phone 8 experience with their legendary features from previous platforms and camera improvements let apart the Nokia Pro Cam user interface for manual camera operations.
If you have got Nokia Lumia device, well there is no word like "No Go!". If you have still not upgraded, then do it now. And ask us anything you want to, sure about this topic.
http://techprolonged.com/wp-content/uploads/2013/09/gdr2-lumia-amber-glance-screen.jpg
350
640
Khurram Ali
http://techprolonged.com/wp-content/themes/TPRO-Theme/tpro/img/tpro-logo-blue-header.png
Khurram Ali
2013-09-06 21:24:30
2013-10-20 20:05:57
Lumia Amber and GDR2 Software Update - An In-Depth Review