Nokia has done well with the Lumia series since the Lumia 800 and Lumia 900. "the later gets better" – will be a good line for Lumia series. Lumia 920 was considered much better than its predecessors in its class or in other classes. With Lumia x20 series it's not only Nokia, but Windows Phone OS also got better with Windows Phone 8 OS. The only thing, hardware wise, which was objected in Lumia 920 was it's over weight.
With Lumia 925 it was a real change, that Nokia did just according to demand. Nokia Lumia 925 came in aluminium outfit making it much lighter than its previous alternate Lumia 920.
Nokia Lumia 925 has also got improvement in its camera and other hardware components. Let's find out more below.
Hardware & Display:
Nokia Lumia 925 has got almost everything inside from Lumia 920 leaving just a few things behind but upgraded them.
Features & Specifications:
Display: 4.5″ AMOLED WXGA (1280×768), 2.25 D sculpted Gorilla Glass 2, ClearBlack, High Brightness Mode, Sunlight Readability, Super Sensitive Touch for glove and nail usage.
Weight & Dimensions: 139 g – 129 x 70.6 x 8.5 mm
Processor: 1.5 GHz dual-core Qualcomm Snapdragon S4 MSM8960 with Adreno 225
RAM: 1GB RAM, 16GB internal memory; 7GB free SkyDrive cloud storage
Primary Camera: PureView 8.7 MP with Optical Image Stabilization, Autofocus, short pulse high power dual LED flash, most advanced lens technology, 1080p HD video at 30fps with Optical Image Stabilization. Includes Nokia Smart Camera mode.
Front Facing Camera: 1.2 MP wide angle
Connectivity: Micro SIM, Charging via Micro-USB, 3.5 mm audio connector, Bluetooth 3.0 , Wi-Fi: WLAN IEEE 802.11 a/b/g/n, NFC, Wi-Fi Channel bonding
Battery: 2000 mAh battery (non-removable), Wireless Charging supported via an accessory cover.
Maximum 2G talk time: 18.3 h
Maximum 3G standby time: 440 h
Maximum 3G talk time: 12.8 h
Maximum cellular network browsing time: 6 h
Music playback time: 55 h
Maximum Wi-Fi network browsing time: 7.2 h
Free global HERE Maps and HERE Drive+;Free HERE Transit available in the Store
Supported Frequencies: GSM 1800, GSM 1900, GSM 850, GSM 900, LTE Band 1 (2100), LTE Band 20 (800), LTE Band 3 (1800), LTE Band 7 (2600), LTE Band 8 (900), WCDMA Band I (2100), WCDMA Band II (1900), WCDMA Band V (850), WCDMA Band VIII (900)
You can check a features comparison between Lumia 925 and Lumia 920 here.
The Display:
First thing first! what I disliked most after the bulky weight of Lumia 920 was its IPS display. Always when compared to the AMOLED display I prefer the later and I wanted Lumia 920 to have an AMOLED display as well. That's what we get in Lumia 925.
With the Nokia proprietary ClearBlack coating, Nokia Lumia 925 features the AMOLED display. The main difference is just that. Nokia calls the display on Lumia 925 "PureMotion HD+". Along with the Gorilla Glass 2 protection the display works smoothly with the finger nails and gloves on your hands.
4.5" screen with WXGA display resolution of 1280 x 768 pixels, of course is no match to the Android flagships with full HD 1080p display resolution, however 332 PPI density on Lumia 925 gives nice result with text and graphic sharpness in most of the situations. More or less, it's the maximum yet on the Windows Phone 8 OS.
Outdoor visibility on Lumia 925 is very good. Contrast ratio on any smartphone has not surpassed the one we have seen on Nokia 808 PureView, but the one on Lumia 925 is much better than predecessors. For any reason if you are uncomfortable with the colours saturation, additional visibility options via software are provided in "Lumia Colour Profile" under display settings; just suite yourself.
Super sensitive touch technology, introduced during the range of Lumia x20, still supports Lumia 925 which lets you keep your gloves on while working fine with touch input. For ladies, the nails also work on the touchscreen. Reduced screen glare on Lumia 925 is appreciable, thanks to Gorilla Glass 2 and Nokia proprietary ClearBlack technology.
Glance Screen is an additional input in the software from the Finish phone makers which lets the Lumia 925 or any other compatible Lumia device sleep as well as giving a glance of big digital clock with a bit of other informative indicators. That's one of the Symbian features Nokia has brought into Windows Phone 8 OS. Glance Background is another visual feature for the adopters.
Build & Design:
One line on the first impression of the Nokia Lumia 925 from one of my friends was none other than that "It's an elegant design". He loved rotating again and again from left to right and top to bottom. My say on that, he was telling just a truth while having a Galaxy SIII in his own hands. There were more talks which were went on smartphones while having the BBQ party that night. but let us stay on topic here.
Being a successor really means to have some real thing to show. Lumia 925 does that exactly. It loses 46 grams down from its predecessor Nokia Lumia 920. Lumia 925 weighs only 139 grams (6 grams higher than Galaxy S III). Lumia 920 got one objection a lot that was its weight being 185 grams. We can say that Lumia 925 zips up the mouths objecting about the weighing factor of the Lumia PureView. Plus Lumia 925 really gives an upgrade in design by not only reducing the weight but introducing the metal finish with aluminium frame and putting some some polycarbonate on the back plate.
Black stripes on either side are just in the way before the aluminium body ends on top and bottom. A mouthpiece (microphone 1) is placed on the front glass just under bottom side before joining the body.
Gorilla Glass 2 with curved edges is nice coupling with the aluminium body frame which is crafted quite beautifully but it's just the way it was on unibody predecessors. However with aluminium frame it feels even better.
On the front glass, the top side of the display hosts the earpiece with the Nokia branding below it, then the secondary font facing camera. If you look closely just besides the front camera, there is the proximity/light sensor.
Bottom side of the display gives you the standard Windows Phone 8 navigation keys, Back, Start and Search keys. They are all capacitive touch keys.
Hardware elements to which users can interact on just positioned on the top and right sides of the Lumia 925 while leaving left and bottom just blank.
Right side of the device hosts three of the standard Windows Phone 8 operative keys which are the requirement from the OS makers.
From right to left in above photo – the right side of the devices hosts single volume rocker (up and down clickable button), a power/lock key is in the center and a dedicated two-step camera button is provided. Two-step camera key, if you are not familiar unlikely, is to focus first and capture second purpose key on dedicated digital cameras.
Top side of the device hosts the communication interfaces.
From right to left in above photo, the top side of the device houses the Micro SIM holder, then Micro-USB connector for data connectivity and power charging. A 3.5 mm audio connector for headphones and/or external speakerphones or speaker/subwoofer. Along side the audio connector a little hole is the presence of the microphone (microphone 2).
Two microphones are placed into Lumia 925 for uplink noise cancelation.
SIM holder a bit different to handle. Unlike previously iPhone-like SIM card holder in unibody devices from Nokia that ejects itself when you push the eject-key inside, in Nokia Lumia 925, the SIM card holder unlocks from inside when you push the eject-key in and you need to get the key out when it brings the holder out with it.
Back panel is completely another part from the aluminium frame, built of polycarbonate which actually tells that Nokia really wants to put this stuff in its devices. Well that's actually good! polycarbonate gives its feel while handling.
Dual-LED is just placed above the camera module and the Nokia PureView banding in the middle.
Following part of the back panel houses a loudspeaker grille with the three terminals above it. They are for wireless charging covers to make the phone chargeable wirelessly with available accessories like the Wireless Charging Pillow Fatboy/simple Pad or the Nokia+JBL PowerUp Speaker.
With the design, we have almost no objection with the Lumia 925. It is really an elegant design to get into hands and seriously! to show off.
The Software: WP OS8 GDR2/Lumia Amber
Windows Phone 8 OS itself of course is not yet comparable to the top two which obviously are iOS and Android. If you talk about the user interface and experience then I can say there is only customization which is not up to the Android's one but usability and apps integration with social connections is well comparable with Android's current available builds/ROMs.
We should really not talk about app ecosystem. Windows Phone 8 is way behind then the iOS and Android. But Nokia has put its efforts into Windows Phone 8 OS with its own software features specifically available to Lumia devices. As Lumia 925 reached us with the GDR2/Lumia Amber pre-installed in it.
Glance Screen & Glance Background: That's what traditional rather loyal Nokia users since old days know very well about sleeping screen with a big clock and a few information indicators. Nokia brought that feature to the Windows Phone 8 devices with the Lumia Amber software update. Lumia 925 features that. Glance Background is the add-on option in the Glance Screen that puts user opted background on the black screen along with the clock. Read more.
Flip to Silence: Lumia 925 features with an option to put the phone on silent mode just when it's ringing for an incoming call. "Flip to silence", that is you need to just flip over the phone when it's ringing and you are not yet ready to attend the call but put it on silence.
At first, it was not much impressive feature to me when I heard about it. But it didn't take longer than a few hours when I was in an important conference call on my computer having the phone in front when it suddenly started ringing. I avoided it first but when it rang again, "Flip to Silence" feature came straight away in my mind and I just turned the phone over on the table (upside-down while ringing) and it went silent on me. Well yes! it sure is a little but impressive feature.
The short story above really tells everything about the "Flip to Silence" feature. Just turn the phone over when it annoyingly keeps ringing and you don't want to hang up. You need to turn this feature on by going into "Settings > audio > enhancements".
Double tap to wake up phone: Lumia 925 borrows a well appreciated feature from MeeGo powered Nokia N9, the "double tap to wake". When the phone is completely locked with the black screen or the new Glance screen, you just need to double tap on the screen to wake it up and then unlock via swiping up.
Lumia Colour Profile: Lumia 925 features with the "Lumia Colour Profile" that lets you set your Lumia screen colours as perfectly as suites your eyes sight. You can change between saturation and temperature feel on the image.
Call & SMS blocker: One of the features which almost every user wants to look for in the phone or in app store is the option or an app to block unwanted calls and/or SMS. With a few simple steps the Lumia 925 gets enabled for the feature. After upgrading to "Lumia Amber" and then updating the "extra+info" settings via Windows Phone store brings the said feature into Windows Phone Settings. Click here for more information on how to workout with that.
FM Radio, however, is the hardware feature but that was enabled into Lumia 925 after Lumia Amber software update.
Camera Apps/Features/User Interfaces: Native Camera settings provide option to change primary camera app to open on the hardware camera key. Special camera features, apps and user interfaces in Lumia 925 are noticeable and appreciated. The major thing about camera apps is the Camera Pro Cam. The camera app introduced by Nokia for devices with capable camera modules. Other camera apps/lenses will be discussed in the camera section below.
Camera: PureView with Optical Image Stabilization
Camera module in Lumia 925 appears to be mostly identical to the one found in Lumia 920. When the Lumia 925 was launched globally, the objection was still rising about a Windows Phone lacking the giant sensor like the one came in Nokia 808 PureView but now when the contender has stepped in, in the form of Lumia 1020 with the 41 megapixels sensor, we don't need to start the same thing again. Let's checkout the Lumia 925's camera specifications.
Lumia 925 Camera Specifications
Primary Camera:
Carl Zeiss optics with OIS (Optical Image Stabilization), 6-element lens design.
8.7 megapixels sensor, BSI (Backside illuminated), 1/3″ sensor size, 1.4 µm pixel size.
8 megapixels usable – Resolution: 3552 x 2000 for 16:9, 3264 x 2448 for 4:3
Lens aperture: f/2, Focal length: 26 mm for 16:9 and 28 mm for 4:3. focal lengths are 35mm equivalents.
Focus range: 8 cm to infinity.
Other features: Short pulse high power dual LED flash, Auto and Manual Exposure, Auto and Manual White Balance, 4x digital zoom.
Video recording features: 1080p (1920 x 1080 pixels), 30 fps, Continuous Auto Focus, Optical Image Stabilization, Video Stabilization,
Secondary Camera:
Still resolution: 1.2 MP (1280 x 960 pixels)
Aperture: f/2.4, 35 cm to infinity
Video resolution: 1280 x 720 pixels, 30fps
If you compare above with the Lumia 920's camera specifications, you will find hardly one difference but that difference is actually counted positively in digital photography. Lumia 925 comes with an extra element in the lens. Now the lens is a 6-element design.

Image from Nokia's advertisement video of Lumia 925.
We didn't find significant difference in photo shoot, however Nokia did mention that the camera in Lumia 925 is an improved version with the improvements in image processing which will offer improved detail in good and better lighting conditions as well as in low-light situations. Well we can't see that much difference with our eyes.
Full camera review of Lumia 925 is coming up with sample shots, video recording comparison with Galaxy S III. We'll give a link here too.
Power Performance:
Very first thing to tell about is that Nokia Lumia 925 packs a battery that is not user removable or replaceable. You need to take it to care center for such a reason. Battery capacity is 2000 mAh that can be trusted to live with you as long as a day. During the the whole test period with Lumia 925, I needed to charge it almost every 24 hours. Means a full charge at the end of the day would do the clean job.
Wireless charging is not supported out-of-the-box, you need to buy additionally a back cover with wireless charging capability, Nokia Wireless Charging Cover for Lumia 925 "CC-3065". You just need to put it on the back of the Lumia 925 to make it work with wireless charging accessories. Well if you got one of them, you really will want to get the charging cover for the device.
Specially if you ask about the battery performance after having the Glance Screen turned on. Then there is not a significant difference with it. I actually had most of the times Glance Screen turned on. The AMOLED display helps a lot in that factor. It lightens up only the white parts of the clock when enabled on the screen. However by default it's set to stay turned on for a specific time interval, you can change it to always on. By the way a quick glance at the screen with information like a clock, battery charge status and vibrate mode worth a minor battery consumption.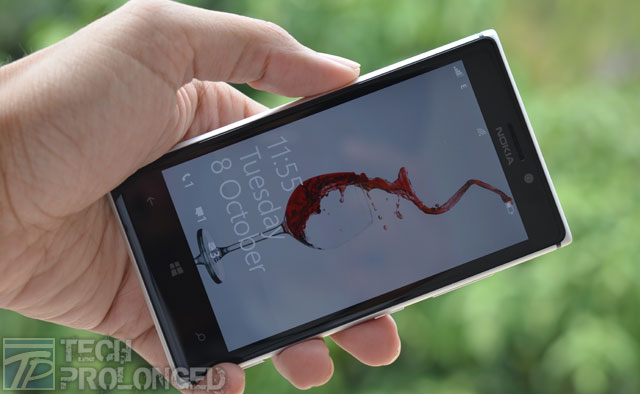 Conclusion:
Design wise, Nokia really nailed it with the aluminium build that as thinner and lighter as can be compared to Android flagships. Very elegant design is sure much to show off. 4.5" display on the other hand is just that I have already objected on the idea on big displays on the smartphones.
It's just personal choice of one to have bigger screens in their pockets or to get them nearer to their ears when talking. But remember they are first phones and then something else. I always preferred single handed grip on the phone. In fact 4.5" screen is also not reachable on all coordinates with the normal sized hands/thumbs. Well! we have to go with the time. Companies make what user demand. Apple tried really hard to stay at 3.5" but they also had to move on to fulfill demands of crazy users – oh! that's what I said. But sure bigger screens do have their advantages for being a smartphone to do most of the things around more than just phone calls. On Lumia 925, it's also better for people who prefer bigger screens. Sure I do like it here too.
Coming to the software part, then again many out there would disagree if they are specially Android or iOS fans that Windows Phone 8 worth a use. It gives most of the important things right out of the box which include your social needs whether its facebook or twitter. Photo sharing networks like Hipstamatic that connects to your Instagram account. More importantly the productivity with Microsoft Office suite is way better on Windows Phone 8 than any other smartphone platform.
Our camera review of Lumia 925 is coming up. We'll update here once it's live.
Full Gallery:
http://techprolonged.com/wp-content/uploads/2013/10/nokia-lumia-925-review-110.jpg
335
640
Khurram Ali
http://techprolonged.com/wp-content/themes/TPRO-Theme/tpro/img/tpro-logo-blue-header.png
Khurram Ali
2013-10-21 22:13:56
2013-10-31 11:16:24
Nokia Lumia 925 review - Executive & Elegant