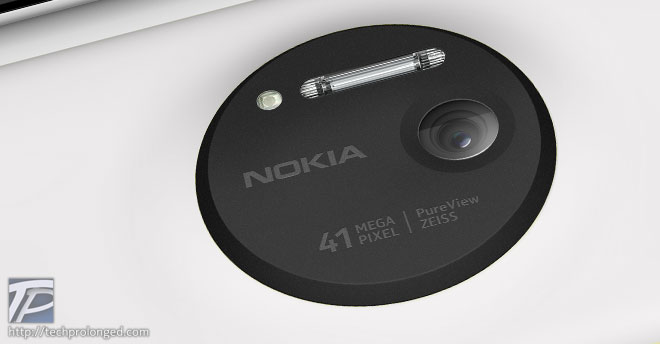 Here we have full review of Nokia Lumia 1020 covering profile and design elements, hardware, camera and its applications.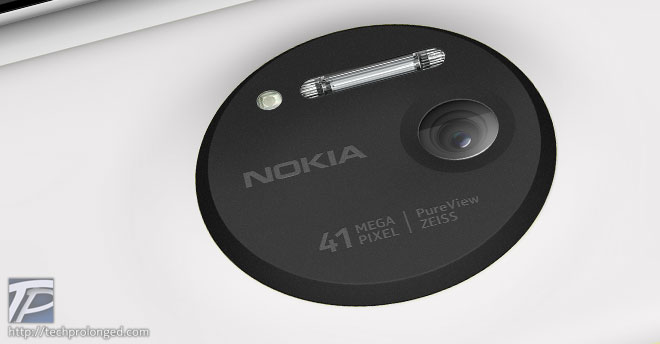 Back in 2012 at Mobile World Congress, Nokia amazed the attendees as well as live audience with the announcement of Nokia 808 PureView with 41 Megapixels sensor – which is still the largest sensor in size amongst smartphones to the date – leaving people wait for the same thing to appear with Windows Phone OS. Nokia 808 PureView was Symbian powered smartphone with 4" display. Today we are talking about that same thing with Windows Phone.
Nokia Lumia 1020 with that same pioneer 41 megapixels sensor announced a year after the original Nokia 808 PureView and later launched in Pakistan in December last year. Now it's here to fascinate us. Let's see if it gets successful in the same regard and does it really live up to the hype.
Specifications
OS: Windows Phone 8
Size and Weight: 130.4mm x 71.4mm x 10.4mm – Weight 158grams
Display: 4.5″ AMOLED WXGA (1280×768), 2.5 D sculpted Corning Gorilla Glass 3, PureMotion HD+, ClearBlack, high brightness mode, sunlight readability, super sensitive touch, Nokia Glance Screen
CPU: 1.5 GHz dual-core Snapdragon S4
Memory & Storage: 2 GB RAM, 32 GB internal memory; 7 GB free SkyDrive cloud storage
Primary Camera:

PureView 41 MP with optical image stabilization, Resolution: 7712 x 5360. Sensor size: 1/1.5 inch. Carl Zeiss Tessar lens. f-number/aperture: f/2.2. focal length: 26 mm. Xenon flash. Backside-illuminated image sensor, 6-lens optics, High resolution zoom 3x.
Light sensitivity: Automatic, ISO 100, ISO 200, ISO 400, ISO 800, ISO 1600, ISO 3200
Includes Nokia Pro Camera. Xenon flash for still images, LED flash for video.
Video Recording: 1080p (Full HD, 1920 x 1080) @30fps

Front Facing Camera: HD 1.2 MP wide angleVideo resolution: 720p (HD, 1280 x 720)
Connectivity: Micro SIM, Charging Pads, Micro-USB, 3.5 mm audio connector, USB 2.0, Bluetooth 3.0, Wi-Fi: WLAN IEEE 802.11 a/b/g/n, NFC, Wireless Charging with Snap-on back cover
Battery: 2000 mAh battery, wireless charging supported via cover
From full specifications
Nokia Lumia 1020 borrows the outfit from Lumia 920 as well as matches its hardware components which are also common in Lumia 925. However the display on Lumia 1020 will surely be preferred as it's borrowed from Lumia 925 which is AMOLED with Nokia's proprietary ClearBlack display and additionally an even upgraded version screen protection layer is added onto Lumia 1020's display, the Gorilla Glass 3.
I personally would have preferred a Lumia 1020 in Lumia 925's outfit that is actually a different design than the most common line of designs from Nokia lately appeared in Lumia 920 first started with Nokia N9 and Lumia 800 with a few variations in later versions. What distinguishes Lumia 1020 from Lumia 920 in appearances is solely the bigger hump with its giant camera sensor inside.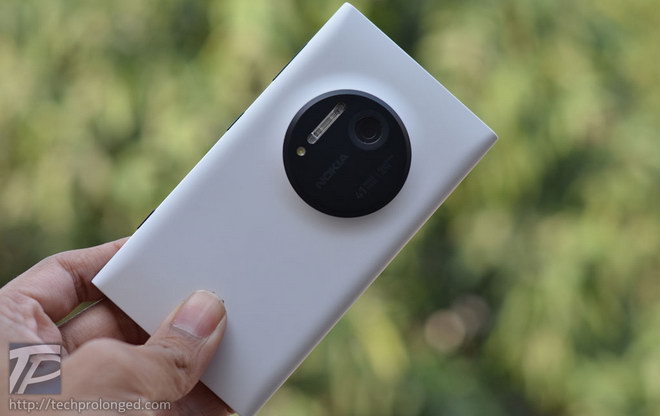 When we have started comparing it with Lumia 920, I guess we should finish it with the homeland comparison of the hardware between the both before we start discussing the elements in Lumia 1020. The hardware differences in Lumia 1020 can actually be said as real upgrades from the ones from Lumia 920. Check the following table.
Nokia Lumia 1020
Nokia Lumia 920
AMOLED Display
IPS LCD Display
Corning Gorilla Glass 3
Corning Gorilla Glass 2
2GB of RAM
1GB of RAM
Barometer
No such a thing
Aluminium buttons
Ceramic buttons

41.3 MP sensor
Effective
33.6 MP on 16:9 aspect ratio
38.2 MP on 4:3 aspect ratio
Xenon Flash
6-element lens

8.7 MP sensor
Effective
7.1 MP on 16:9 aspect
8 MP on 4:3 aspect ratio
Dual LED
Watch the video below to take the visual glimpse of Nokia Lumia 1020 we unboxed last month.
[YouTube]

[vimeo]

The Display & Look and Feel
Looking much like Lumia 920, the Lumia 1020 has a straight away handling difference with its bigger camera housing on the back which also gives much support to the hand grip.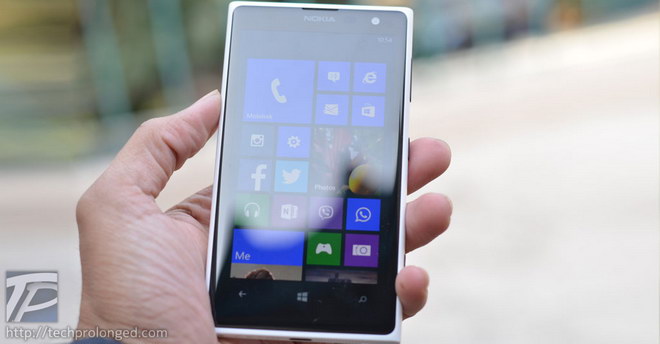 Matte finish additionally gives easiness to hold the device firmly. For that finish I'll give it positive remarks. Coated with the anti-glare, the AMOLED display is good in viewing indoor and outdoor. Gorilla Glass 3 upgrade on the screen also is an appreciable addition. Touch performance is just brilliant on any of them including Lumia 925.
Gorilla® Glass 3 is not only chemically strengthened — its atomic configuration is formulated so that the glass is more durable. Corning® Gorilla® Glass 3 with Native Damage Resistance™ (NDR) is fundamentally tougher and more damage resistant even before chemical strengthening.

Gorilla® Glass 3 with NDR enables improved damage resistance and toughness compared to former glass compositions and is up to three times more damage resistant than Gorilla Glass 2. This type of Native Damage Resistance is a unique feature of Gorilla® Glass 3. Something Corning is able to provide due to a proprietary glass composition that is better able to resist the deep scratches that cause glass to break.
Design
Unibody of polycarbonate covering the phone fully with no removable or movable parts, Lumia 1020 feels solid and smooth with the big circular camera housing on the back. If doesn't suite your desired design, the camera hump can even suite your handgrip while holding the phone in a casual way.
Nokia has never attempted smartphones putting their main focus on the weight of the device, hence the Lumia 1020 can also not be considered a light weight smartphone. It's neither heavy as well unlike Lumia 920. I liked the Lumia 925 being much lighter in handling and carrying, 158g Lumia 1020 is 19 grams heavier than Lumia 925 while 27 grams lighter than Lumia 920.
Matte finish on the polycarbonate body with the anti-glare coating makes it really cool all the time with no visible spots of your finger prints.
Bottom of the device serves with a lanyard/wrist strap a micro USB port and a speaker. An additional wrist strap could be included with the retail package in various regions. For the Pakistani customers, you guys need to buy it separately.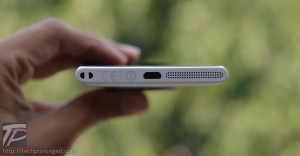 Top side of the device hosts the 3.5mm audio jack in the middle, one of the microphones, and a micro SIM door.
Opening the SIM door is rather easy with the SIM door key (provided with the package).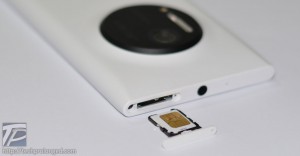 Right side of the Lumia 1020 provides access to the standard Windows Phone 8 buttons to serve volume controller, power/lock button and a two-stage camera button. The buttons in the Lumia 1020 are made of aluminium instead of ceramics in Lumia 920.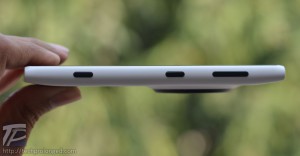 The back side of Lumia 1020 has quite a big camera housing that won't let it reside on the table very straight of its back. Look at the following profile view, the Lumia 1020 getting up on from the top side. What do you think of it be a good or a bad point?
Well, that is enough space for your fingers to pick the phone up in hurry and it really let me feel good with it as it was easier to pick up the device than any other phone residing straight to the table.
If you have read the specifications of Lumia 1020 then you would know it doesn't bring the wireless charging capability built-in. That was one of the key features of Lumia 920 however. There are a lot of reasons why the feature was not put into Lumia 1020. Well it doesn't make you feel bad with this lack of a feature, you can purchase "Nokia CC-3066" accessory back cover with the Qi wireless charging capability. For that purpose Lumia 1020's external connectors are absolutely visible on the back of it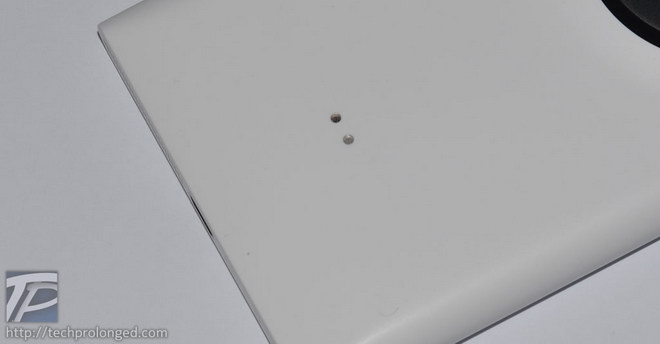 The Camera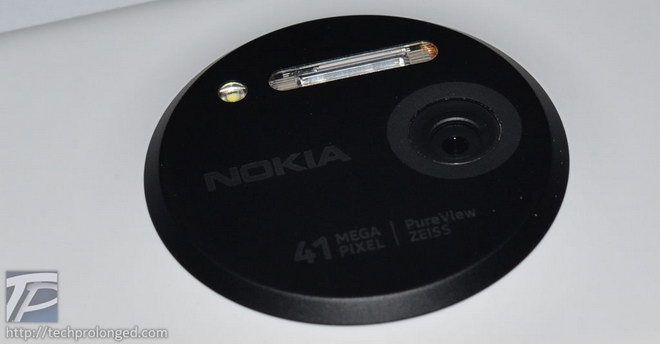 As the camera being the flagship factor in Lumia 1020, we'll cover the camera with its performance in later blog post, here we'll discuss some elements of the camera only with the aspect of design of the phone. The big camera housing serves all-in-one camera components including single LED bulb to support video recording in lowlight when indoor with a small range. Xenon flash for still photography indoor when needed in low-light or to fill the deep spots with some light. The bigger lens with OIS is perfectly noticeable when moving to keep the image steady. Other labeling, which include Nokia, 41MP, PureView, ZEISS are all placed onto the camera housing.
As mentioned earlier the camera module is bundled with the most of it in the smartphone category. 41.3 megapixels BSI sensor serves full available width and height of the sensor in 16:9 and 4:3 aspect ratios respectively

An illustration of the sensor of Nokia 808 PureView showing optical format areas how does it cover full width/height for respective aspect ratios.
Nokia Lumia 1020 was initially came with Lumia Amber software update installed already having improved imaging algorithms over the Lumia 920. Hence during the time of posting the Lumia Black software update has been rolled out. In a single line I can tell that Lumia Black really takes the camera of Lumia 1020 to a significant upper level. We'll talk about differences we felt specially for the photography and imaging.
The Camera Grip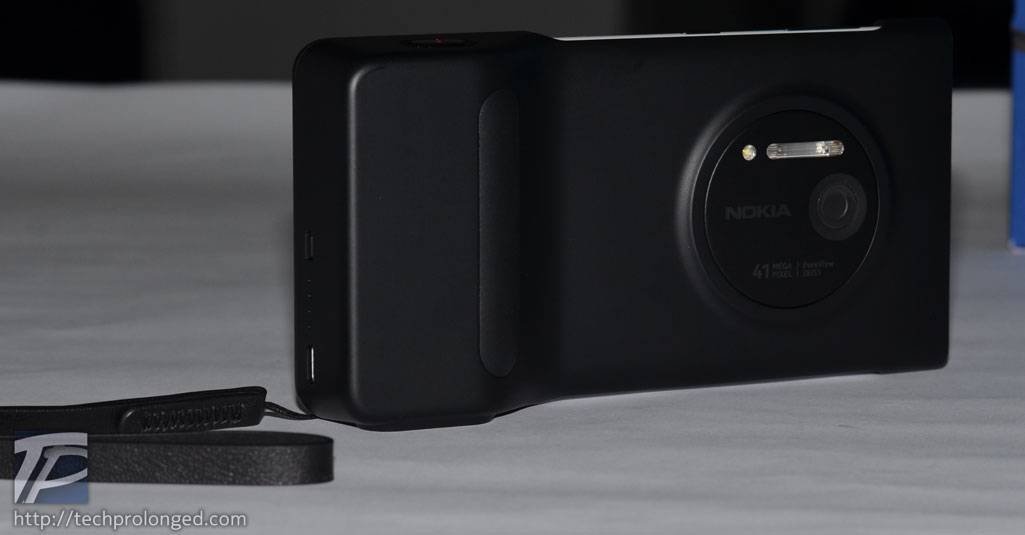 Camera Grip is an additional cap on the Lumia 1020 which gives it a form factor of some dedicated camera grip as well as an extra battery of 1020mAh is there to charge the Lumia 1020. We have done a review of the the Camera Grip, you must read out.
The camera grip is not included with the sales package of Lumia 1020, you need to purchase it separately.
Partial Verdict & Conclusion
We have a camera review in detail separately with still pictures and video samples. So we'll reserve our verdict and conclusion until then. But being a smartphone OS Windows Phone 8 is worth to use if you are not into troubles of the thoughts of app ecosystem. Specially when it's Lumia branded Windows Phone, you really get updates from Nokia for its customers. Currently running Lumia Black comes with even more special inputs into the software features.
Believe it or not, it really stands in hands that people look at it with its huge 41 megapixels tag.
Keep your eyes open for the upcoming Lumia 1020's Camera review in detail. The camera review has been published. You can comment below and ask your questions about the device.
http://techprolonged.com/wp-content/uploads/2014/11/nokia-lumia-1020-review-banner.jpg
344
660
Khurram Ali
http://techprolonged.com/wp-content/themes/TPRO-Theme/tpro/img/tpro-logo-blue-header.png
Khurram Ali
2014-01-15 00:47:07
2014-02-08 16:29:14
Review: Nokia Lumia 1020 - The PureView Stance