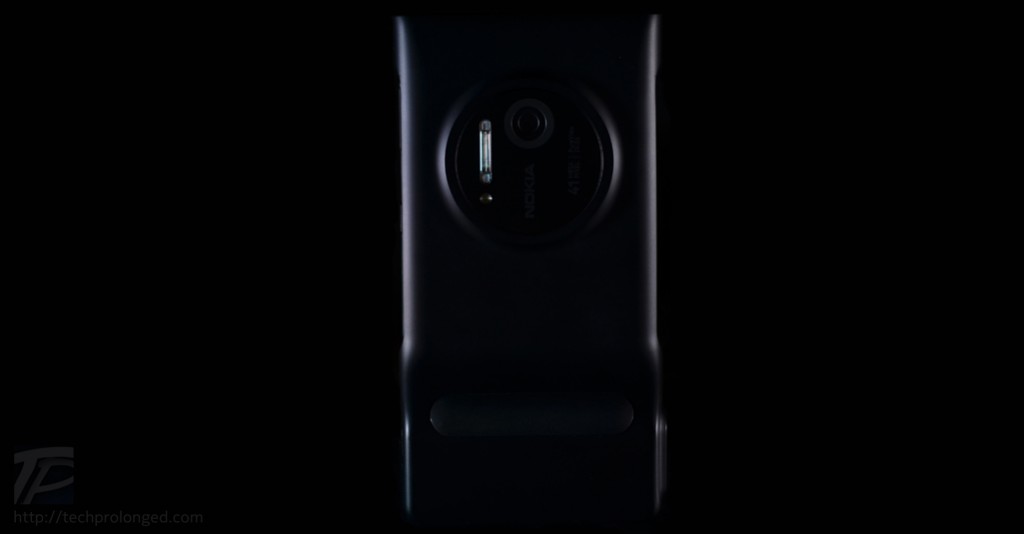 Just by the side while we are having experience with Nokia's pioneer camera smartphone Lumia 1020, We've got our hands on an important accessory for Nokia Lumia 1020 that is known as "Camera Grip" with the official accessory name as "Nokia PD-95G". One point, that it's an expensive accessory for what it does but it does bring advantages to smartphone that already has smart camera.
Review: Nokia PD-95G Accessory
Camera Grip to help Nokia Lumia 1020
First of all, the grip costs around $75 (approx PKR. 7500/-) that will add up to 40% battery capacity and a better looking design for a camera form factor. For the time being let's forget the cost of the grip and see what the accessory brings in detail. So whatever, first of all the extended battery capacity would always be accepted by users and if the user wants to up-lift with the dedicated camera form factor on their smartphone then this camera grip is what could be added onto the Lumia 1020.
Two things are completely different when you them from different fields. Making your smartphone similar to what a camera looks like doesn't mean one would prefer a dedicated camera instead of a smartphone with a camera grip. You in fact get most from the two worlds. So I wouldn't say the attempt of Finnish phone makers is just a gimmick and just another item in their accessories line. It could be welcomed as per users' desires. For other uses of the camera grip, continue reading on.
Not even having your hands on it, the size of the grip can easily be identified as the Lumia 1020 exactly fits inside it while leaving a few centimeters on the bottom extended with a slot for the wrist strap to pass through and attach onto the Lumia 1020 itself.
As the grip is packed with a battery, the power output and capacity information is printed on the bottom part inside while you can see a slot on the bottom left corner for the feasibility of wrist strap to pass through that is already attached to the Lumia 1020 – shown later below.
Micro USB connector is fixed on the bottom inside to provide connectivity to the device that works for giving its charge to the device as well as electronically provides an interface for the camera shutter release key on the grip.
If you heard "electrical connection" then you are told that there is no physical/mechanical connection between the shutter button on the grip and the button on the Lumia 1020. It works via USB connection – that means other accessories like wired/wireless remote shutter releasers may be introduced later even by third party manufacturers, if such a programming API is provided by the OS makers – we are not sure about that yet.
Look at the following bigger shutter release button on the grip that is, according to standards, provided under the right hand control with your index finger.
The camera shutter release is a two-stage key for focusing first and capturing later. Well a bigger button is actually a good go for making it a camera friendly. While a big handgrip with the battery inside is a good design for comfort and steadier with a rubber strip positioned correctly to stay under your three fingers other than the index finger that would always be on the shutter release.
The opposite side against the shutter release the a standard tripod mounting thread is provided for even better steadiness for low-light shots and the longer exposure shots which the Lumia 1020 is really capable of.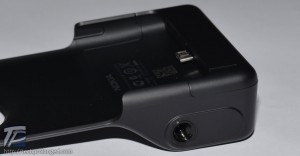 Some would even say that it's unnecessary for a smartphone camera but that absolutely is not the case. Even though the Lumia 1020 works as a genius in hands being as much steady with its optical image stabilizer as a classy DSLR lens would do with its vibration reduction or image stabilizer. But even an optical image stabilizer has its least limit taking shots with hand held camera. Lumia 1020 does give much stability down to 1/15th of a second shutter speed for blur free photos – a very steady hand can take it even more down to 1/8th of a second. But the lens on Lumia 1020 currently can hold for an image for up to 4 seconds longer which none of the smartphone in currently can do. There comes long-exposure shots specially in low-light when you would really need to fix your Lumia 1020 onto a tripod. So the grip that makes a phone a camera, it must give you as much features as a camera would give you.
The exact bottom surface contains micro USB port for inbound USB connection along with a battery meter that gives information about of the battery capacity of the grip itself as well as in different ways it indicates about the state of being charged at what level. Each of the four indicators may reflect 25% of charge. The battery indicator key on the right most is press-able. Pressing once will indicate the remaining charge level.
— Charging the grip fully may take up to 3 hours. All the indicator lights stay on for 15 minutes when fully charged. The charger should be disconnected when fully charged. Charger can be anything that can charge your device itself, whether it's your computer with a USB cable or a compatible wall charger with Micro USB connector —
Another function of the battery indicator key is to switch between "stop" or "start" charging your Lumia 1020 which is already connected to the grip. Camera grip automatically starts charging Lumia 1020 when it is first connected. To stop charging, while it is connected, pressing and holding the battery indicator key for at least 3 seconds will do the trick. All the battery lights will blink twice and charging stops. The same steps will resume charging when it's stopped.
— In between switching, the camera shutter release key remains functional. Camera functions and charging are completely different in their jobs —
TIP: To completely switch off your phone while connected to the camera grip, stop charging your phone first.

"Camera Grip User Manual"
Fixing the phone into the grip is rather easy and left untroubled. Pushing in on the bottom grip holders just fixes the phone inside with the micro USB connection. Once fixed and connected to the USB connector. Press the phone inside through the upper clips and that's it.
The wrist strap is included in the sales package with the camera grip that you can attach to your phone prior to fixing inside the grip.
The shutter release key on the grip exactly functions as the camera key does on Lumia 1020. Long pressing can unlock your device (if it is locked) and directly take you to default camera application on the phone.
Camera grip with the Lumia 1020 fixed in it feels really solid in hand and can be held and operated with single hand without trouble. On top the wrist strap gives extra easiness to hold the camera grip.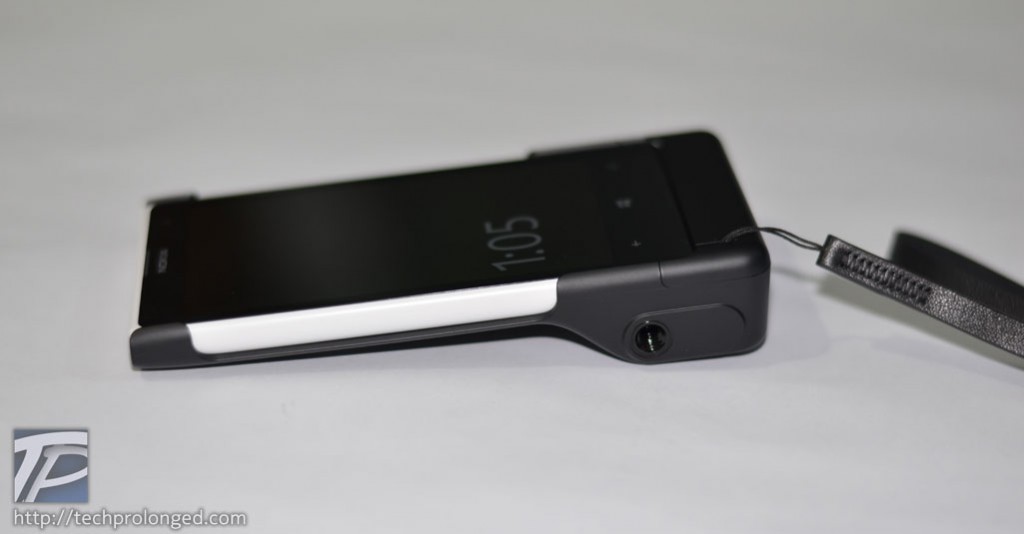 Following the standards, the grip is designed for right handed use of the camera. No doubt that left handed users have always left with this same structure of cameras.
Using the camera with the camera grip was far better than directly with the Lumia 1020. Of course there is a purpose to serve for shooting. It's rather heavy and you will not want to carry both attached just along in your regular days but when you are on a trip, having them both attached would not be any hard for you. With the usability and easiness I am perfectly alright with it in hand and on the tripod.
Not as much capacity as it should have
Being a camera grip, it serves what it targets at. But for the price it additionally gives extra power with a packed-in battery (non-removable). It only comes with 1020mAh battery capacity that is not impressive. Giving your Lumia 1020 a push with extra battery power is no less than something good. But it takes up to 3 hours to charge at full via external power source while it transfers as much charge to the phone as it could very fast.
You would always want to charge it more than you will charge your Lumia 1020. A double or more of the capacity would have been an interesting and better for being an extra power capacity in you bag.
FIXING
Fixing the Lumia 1020 into the camera grip is easier as told above. But you can find it difficult when taking the phone back out of it. You may use your nail or thumb very gently ease one of the upper clips outwards and pull the phone to the front. Do the same with the other upper clip and when the device is free of both of the upper clips, it can easily be extracted out of the grip.
You really would want to care specially when easing the upper clips for not letting the device+grip slipped out of your hands.
Verdict & Conclusion
The question might be raising in your mind that if you really need to buy it when it costs as much as you could buy another feature phone? When it can give your Lumia 1020 an extra 40% battery capacity as well as real looks of a camera and a healthier grip when in hands.
When suggesting to purchase something or not, I never pointed out the reasons for not buy something. To me! in my point of view! these push-up accessories are mostly purchased, not due because you actually need them, but to add-on features at more extent to your gadgets. However the cost of this camera grip doesn't really justify with the features it brings to Lumia 1020 but specifically for your photo shoot purposes the addition may be a good deal for you.
If you are not very interested with different kind of photography specially long-exposures and low-light still captures then you should not buy this accessory.
Gallery
FINAL WORDS
Lumia 1020 is very well capable of taking shots in low-light while hand held. But there are situations when you can't hold your hands steady but your Lumia 1020 can stand and stay hold. In those situations, the camera grip is good helper for you with a tripod. Handgrip is also a good for holding the camera as well as your Lumia 1020 gets some more battery capacity to be good.
You are welcomed to comment below if you think the camera grip does look good and provide interested features to the Lumia 1020?
AVAILABILITY
Nokia PD-95G Camera Grip is officially available from Nokia Retail Stores or Care Centers. The grip may cost you between PKR. 7000/- to PKR. 8000/- We'll update the post with the exact price of the camera grip in Pakistan after confirmation. The grip is also available on Amazon stores for $75 to $80 or £50 on Amazon US and Amazon UK.
http://techprolonged.com/wp-content/uploads/2014/11/camera-grip-lumia-1020-nokia-pd-95g-1024x534.jpg
534
1024
Khurram Ali
http://techprolonged.com/wp-content/themes/TPRO-Theme/tpro/img/tpro-logo-blue-header.png
Khurram Ali
2014-01-11 18:25:47
2014-01-11 23:10:38
Review: Nokia PD-95G - Camera Grip for Lumia 1020