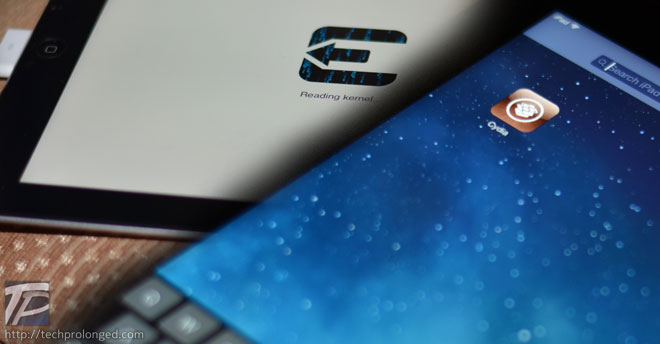 Later last year the Evasi0n iOS 7 jailbreak came and brought some controversies as well as leaving benefiting the community to let their devices jailbreak on the latest versions of iOS 7 on almost every iPhone, iPad and/or iPod touch.
The jailbreak made most users face an issue regarding the device stuck at Apple logo as well as another specific issue "boot loop" discovered on iPad 2. An update on the jailbreak utility evasi0n released soon after a few days to fix boot loop issue particularly on iPad 2 with the build Evasi0n7 1.0.2.
This article covers "how-to jailbreak" with the updated version of Evasi0n 7 1.0.2 which fixes the iPad 2 issue. The issue regarding "stuck at Apple logo" completely depends on your concentration on the steps that may let you avoid it. Read carefully the following statement from the jailbreak team.
Over The Air updates of iOS 7 are known to create an issue and make the jailbreak fail. Some devices are then stuck on the Apple Boot Logo. Until we fix that, please restore your device to 7.0.4. with iTunes first.
Supported devices on iOS 7 Jailbreak with Evasi0n 7:
iPhone 5s
iPhone 5c
iPhone 5
iPhone 4S
iPhone 4
iPad 2
iPad 3
iPad 4
iPad Air
iPad mini
iPad mini 2
iPod touch 5
Users Stuck at Apple Logo:
Well if you have got into that trouble, you can just proceed as below after putting your iPhone, iPad or iPod touch into DFU mode. Entering into DFU mode is required only if you are stuck at Apple logo on your iDevice. If you are holding up for Jailbreak and having your iDevice running fine, you can continue without putting your device into DFU mode.
Please read the above paragraph again and before attempting any step below, read all of them before starting with your device to avoid any further troubles.
Step 1 through Step 3: contains information about upgrading your iPhone, iPad or iPod touch to iOS 7. If you are currently on any previous iOS software version than iOS 7 then you need to first upgrade your device to the latest iOS 7.0.4 as of currently available. Continue with the Step 1 below.
If you are already on any iOS 7 7.0.1, 7.0.2, 7.0.3 or 7.0.4, you can directly start with Jailbreak at Step 4. However it's recommended to upgrade to the latest 7.0.4 as it contains major iOS software bugs and fixes.
Make sure you have updated to the latest version of iTunes.
Step 1: Connect your device to iTunes.
Step 2: Restore your device by selecting iOS 7.0.4 IPSW (Download iOS 7.0.4 IPSW).
(Shift+Restore on PC) or (Command+Restore on Mac) and choose the downloaded IPSW file for your device.
Step 3: Confirm restore by pressing the "Restore" button when prompted and wait for the process to finish.
Wait for a few minutes while your device will be restored to iOS 7.0.4 and iTunes will prompt you with the success message.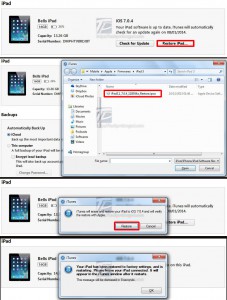 Jailbreak iOS 7, 7.0.1, 7.0.2, 7.0.3, 7.0.4
Step 4 through Step 8: Jailbreak your iPhone, iPad or iPod touch running iOS 7 – 7.0.4 in just 5 minutes.
Step 4: Download Evasi0n 7 1.0.2 from http://evasi0n.com/ for Windows PC or Mac. Direct links are below from different mirrors.
Step 5: Run the evasi0n7 from the location you downloaded it to.
Step 6: Connect your device to your computer and wait for evasi0n7 while detects the device and prompt you to continue.
Step 7: When detected, the evasi0n 7 will tell you if the device is supported or not. Just press the Jailbreak and let it do its job.
Step 8: You can wait for it to complete and read the on-screen instructions for unlocking your device in-between the process of jailbreaking.








The process should take only 5 to 6 minutes and will give you your device with Jailbroken features and Cydia on SpringBoard.
After Jailbreak
Update Cydia: After when your device is jailbroken, open Cydia and perform "Upgrade Essentials" which also contains the updated version of Cydia 1.1.9 for iOS 7.
Install AppSync for iOS 7: In Cydia, go to "Sources".
Tap "Edit" then "Add" and enter: "http://repo.hackyouriphone.org"
After the source has been added, go to "Search" and search "AppSync". Choose "AppSync for iOS 7.0+"
Install "AppSync for iOS 7.0+"
After installing AppSynch, iTunes sync will start working with non-store apps.
http://techprolonged.com/wp-content/uploads/2014/01/evasi0n7-jailbreak-11.jpg
138
493
Dr. H.
http://techprolonged.com/wp-content/themes/TPRO-Theme/tpro/img/tpro-logo-blue-header.png
Dr. H.
2014-01-01 20:29:38
2014-01-05 20:32:14
[Tutorial] How to Jailbreak iOS 7 - 7.0.4 on iPhone, iPad and iPod Touch with updated Evasi0n7 v1.0.2