Overview and Technical Aspects
A review of Nokia Lumia 1020 has already been published. What was left is the main factor for what the Nokia Lumia 1020 was hyped so much and that is its camera with 41 megapixels sensor inside.
Windows Phone, 41 MP, Optical Image Stabilization
The Review: Nokia Lumia 1020 PureView
As mentioned earlier the camera module is bundled with the most of it in the smartphone category. 41 megapixels BSI sensor serves full available width and height of the sensor in 16:9 and 4:3 aspect ratios respectively. That says, all 41 megapixels won't be available for shooting but the concept of making larger sensor is what Nokia is putting into its flagship smartphones since the introduction of original PureView branded Nokia 808 PureView.
True Multiple Aspect Ratio
Nokia Lumia 1020 equipped with 41 megapixels sensor that serves a little bit less resolution than Nokia 808 PureView's 41 MP. 4:3 mode photos will contain 38.2 MP (7136×5360) and 16:9 mode photos will contain 33.6 MP (7712×4352).
This sensor makes use of full width and height of it within the standard 16:9 and 4:3 optical areas respectively. Unlike that, other image sensors in most smartphones contains exact amount of pixels to shot with. For example a common 8 MP camera makes use of full width and height in a shot of 4:3 aspect ratio but in 16:9 mode, instead of giving wider field of view, it will crop the same 4:3 image from top and bottom to make it 16:9. That is, you end up with the same widths in both the 4:3 and 16:9 modes when shoot with a common 8MP camera smartphone.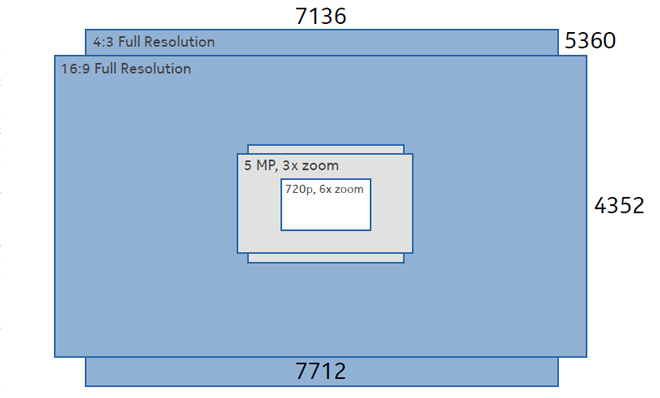 So in result, with the sensor like illustrated above, the effective resolution of final pictures shot with Lumia 1020 will be 33.6 MP on 16:9 aspect ratio and 38.2 MP on 4:3 aspect ratio. You get wider field of view horizontally in 16:9 mode and larger field of view vertically in 4:3 mode. And that's what Nokia calls it "true multiple aspect ratio", and we believe it too.
Following image will give broader explanation about the differences of field of views from different smartphones with their different aspect ratios.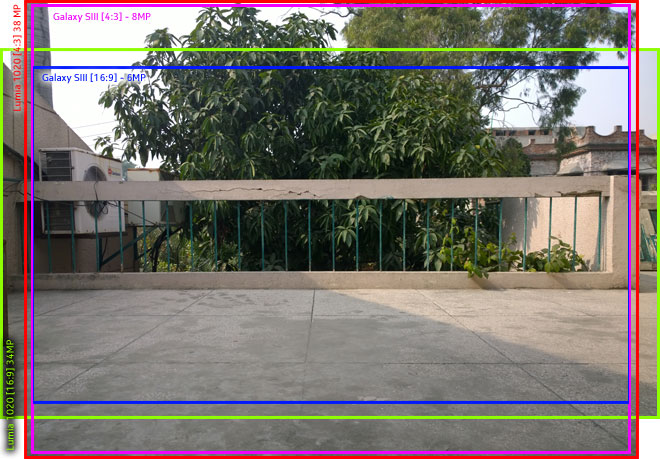 As you can see the "red" and "green" outline the Lumia 1020's field of views in 4:3 and 16:9 aspect ratios respectively. The field of views from Galaxy SIII with "purple" and "blue" outlines remain the same at width. In addition you can clearly see the field of view from Galaxy SIII is a little smaller than the Lumia 1020's 4:3 view. That's due to the focal length of Lumia 1020 being 27mm bigger than what Galaxy SIII's; that's 28mm. In 16:9 mode, Lumia 1020 provides a focal length of 25mm.
PureView vs PureView
We have seen many contenders from Nokia itself as well as other manufacturers which directly compared with the original Nokia 808 PureView (detailed camera review) but none of them could have actually beaten it in numbers. What caused Nokia 808 PureView couldn't get enough push to be successful was the platform it was running on – Symbian. Specially when Nokia had already decided to abandon the long running operating system and partnered with Microsoft adopting Windows Phone OS on their hardware. However Nokia 808 PureView did get appreciations for it's unique and pioneer camera hardware with new concept of oversampling, people showed interests in something like same with Windows Phone OS. With that target in mind Nokia first launched Lumia 920 running Windows Phone 8 with the PureView tag on it and introduced first ever Optical Image Stabilization (OIS) in a smartphone which attracted photography enthusiast but couldn't replace the title what Nokia 808 PureView had been labeled.
Following the same target to achieve the photography power in their smartphones, Nokia finally introduced Nokia Lumia 1020 last year which actually brought competing camera hardware with again 41 megapixels sensor from Nokia 808 PureView as well as the OIS from 2nd PureView product the Lumia 920. We can tell Lumia 1020 actually put a period on the questions that raised after Nokia 808 PureView and let you think Nokia has beaten its own pioneered camera smartphone with another. We have seen sample shots from Lumia 1020 which are actually promising as well as reviewers have also have gave their point of view if Lumia 1020 can now stand against the Nokia 808 PureView. Well that's what for which we have a chance to see ourselves right here, right now.
http://techprolonged.com/wp-content/uploads/2014/01/camera-grip-lumia-1020-pd-95g-271.jpg
535
1025
Khurram Ali
http://techprolonged.com/wp-content/themes/TPRO-Theme/tpro/img/tpro-logo-blue-header.png
Khurram Ali
2014-02-08 04:03:50
2014-02-09 23:24:49
41MP Camera Review: Nokia Lumia 1020 PureView, Sample Pictures and Videos