Apple has announced the upcoming iOS 8 which is said to be bringing better user experience, widgets, third party keyboards and OS X continuity. Apple opens it a little bit for developers which will bring swype like keyboards to your iOS devices. The new iOS 8 will go public this fall.
Following are the key features which will come with the iOS 8 upgrade.
iOS 8 and Mac OS X continuity
The new iOS 8 stays connected with Mac OS X while you can make and accept calls on your Mac or iPad when your iPhone is not near you but they all are connected to the same Wi-Fi network.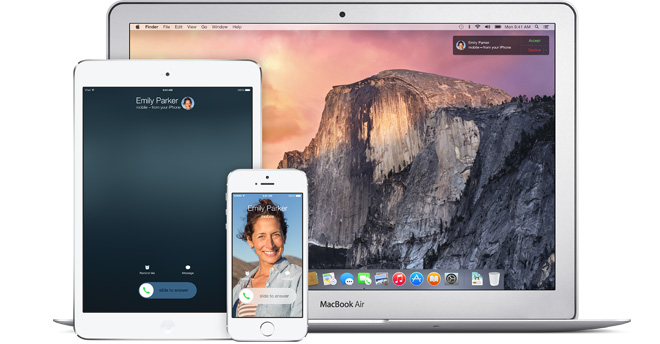 Incoming calls show the caller's name, number, and profile picture. Just click or swipe the notification to answer, ignore, or respond with a quick message. And making a phone call from your iPad or Mac is just as easy. Simply tap or click a phone number in Contacts, Calendar, or Safari. It all works with your existing iPhone number, so there's nothing to set up.
Having a conversation with friends and family who don't use an iPhone will be possible because you can now send and receive SMS and MMS text messages from your iPad or Mac. That's when a friend texts you from any kind of phone, you can respond using iPad or Mac. You can also start a conversation from your iPad or Mac by clicking a phone number in Safari, Contacts, or Calendar.
Instant Hotspot feature in upcoming iOS 8 will be useful in case of unavailability of Wi-Fi network. Your iPad or Mac can connect directly to your personal hotspot in iPhone running iOS 8.
That feature is interesting and reminds me of a Bluetooth connectivity between Nokia mobile/smartphones and Windows PC where you could interact with the contacts on your phone by sending/receiving SMS and receiving calls on Windows PC.
QuickType Keyboard
The most accurate on-screen keyboard in iOS gets welcoming features including predictive text which suggests the next word as you type. It learns and suggests what you are likely to say next to your contact.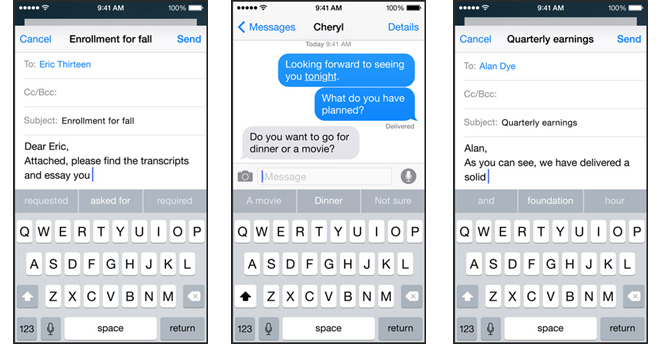 The iOS 8 predictive text engine is optimized for 14 countries. Which means as you type, you'll see suggested words and phrases that are commonly used in your region. And as you use the keyboard over time, it will learn the way you communicate, get to know your favorite phrases, and suggest a logical next word.
That's some kind of surprise when Apple opens something to developers. That's the keyboard. For instance any third party keyboard could be enabled to use on your iOS 8 device when they will be available. Swype keyboard is the example of such third party keyboards which is expected to come to iPhone/iPad
Interactive Notifications
Notification center was there in iOS 7 already but not more than a quick overview of the incoming notifications and some weather reports. iOS 8 makes it interactive enough for you to respond back right from the notification without leaving the the app you are currently busy with.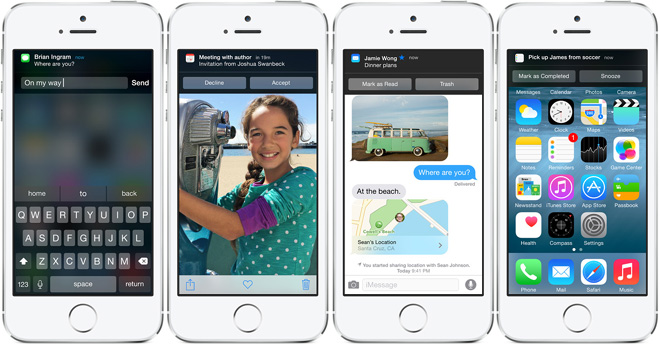 You can reply back to your incoming text messages, emails and respond instantly to the calendar events and reminders. Even you can respond to facebook notifications with comments and liking something.
Additionally widgets can be added to the notification center.
iCloud Drive
With iOS 8 you can work with the document of your choice on the device of your choice. Documents like presentations, spreadsheets, PDFs, images, and any other kind of document can be stored safely in iCloud Drive which can be accessed from iPhone, iPad, iPod touch, Mac, or PC.
Using iCloud Drive means you'll always have access to the latest version of all your documents from any device. For example, you can start creating a presentation on your Mac at home, then make final edits and present it in class using your iPad. All the changes you make along the way appear automatically on all your devices.
Photos, iCloud Photo Library and Camera
iOS 8 brings the new Photos app and iCloud Photo Library. You can search your entire photos library on your by date or time the photo was taken, location, or album name. New Photos app can edit the photo for you or you can take control and edit the photo yourself in most of the aspects. Smart Composition tools can automatically straighten, horizons and even can crop automatically.
You can modify the overall light in a photo. Photos app intelligently adjusts exposure, brightness, contrast. Filters can be applied.
Every photo and video taken stores in iCloud giving you the ability to access your library from any device.
A new mode is added to the Camera that is Time-lapse videos. With iOS 8 you can snap photos at dynamically selected intervals. A video will be created showing a sequence of the photos taken over time intervals.
Messages support Voice and Video
The Messages app on iOS 8 will let you add audio and video recordings to the conversations you are having. This is to make your native messages app competitive to the apps like Whatsapp. There are also some other enhancement including group messages which are made up similar to Whatsapp.
You can share your location in your conversations and can share multiple images and videos at once.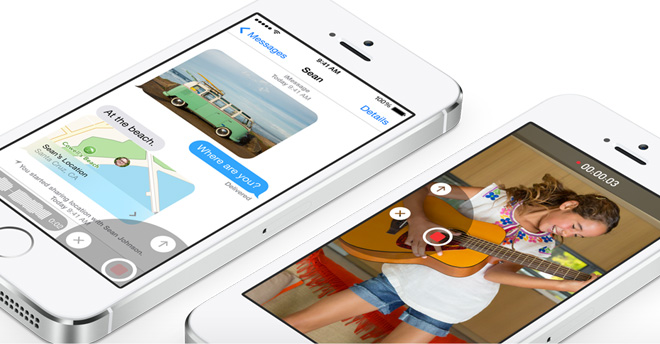 The Health app and HealthKit for Developers
iOS 8 brings health and fitness information of yours, for you. New Health app comes with the new iOS 8 which provides easy to use dashboard as per the company says. Additionally the new HealthKit provides the ability to developers to make their apps work together with the health and fitness data.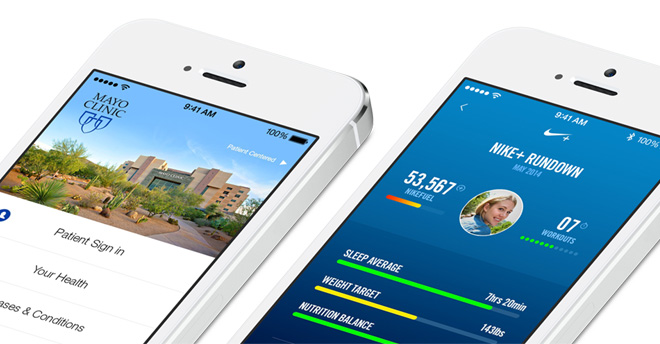 Heart rate, calories burned, blood sugar, cholesterol — your health and fitness apps are great at collecting all that data. The new Health app puts that data in one place, accessible with a tap, giving you a clear and current overview of your health. You can also create an emergency card with important health information — for example, your blood type or allergies — that's available right from your Lock screen.
Family Sharing
Family Sharing is the one that I personally find a good option to have. Family Sharing lets you have 6 people from your family, to whom you can share your purchases from iTunes, iBooks, and the App Store without sharing accounts. You can pay for your family members.
You can share photos, a family calendar, and more to help keep everyone connected.
Spotlight
Spotlight is improved. As per the company states, it intelligently considers things like context and location before it answers to your search queries. Type in a word, and it will search accordingly from e.g. Wikipedia, News, Restaurants, iTunes Store, App Store, iBook Store, Suggested websites, Movie showtimes and so on.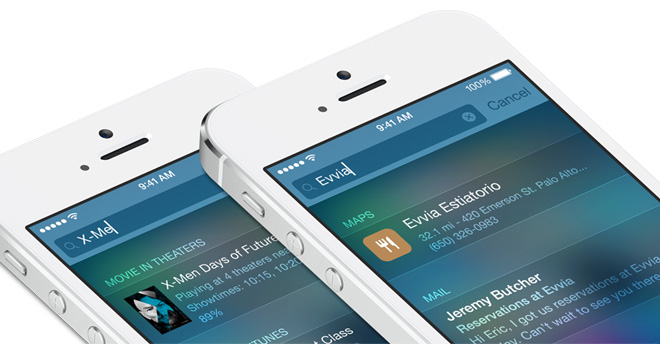 Availability
The new iOS 8 software update will be available this fall and will be available for iPhone 4S and later iPhone devices. iPod touch 5th generation, iPad 2, iPad (with retina display), iPad Air, iPad mini and iPad mini (with retina display) will receive the iOS 8 when available.
http://techprolonged.com/wp-content/uploads/2014/06/apple-ios8.jpg
344
660
Khurram Ali
http://techprolonged.com/wp-content/themes/TPRO-Theme/tpro/img/tpro-logo-blue-header.png
Khurram Ali
2014-06-03 16:33:22
2014-06-07 01:01:52
Apple iOS 8: Features - Widgets & Third party keyboard