In our last review of Lumia 532 Dual SIM, we mentioned that Microsoft has focused on the low-end devices with their Windows Phone OS. Lumia 435 Dual SIM is another lower-end Windows Phone from the company which is yet the cheapest in its family.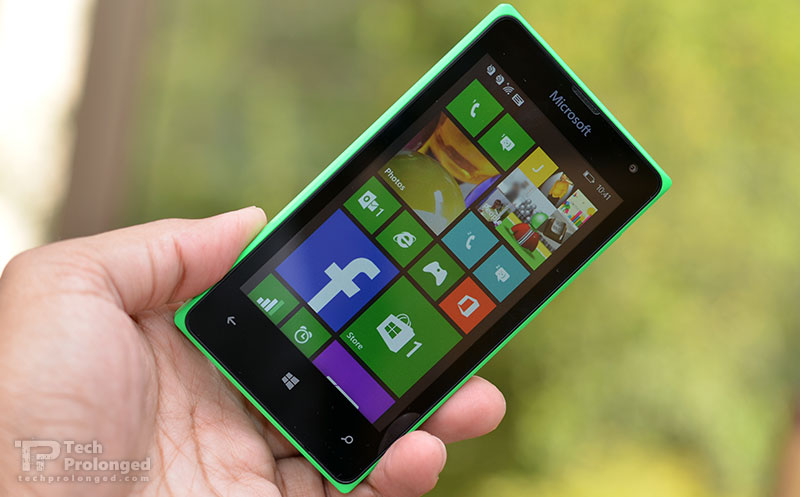 Microsoft announced Lumia 435 along side the Lumia 532 in Pakistan in late February this year. While we have already talked in detail about the Lumia 532, the Lumia 435 Dual SIM has most of it in common with the former. However you should have knowledge by now that this smartphone is targeting the lower-end market with low budget so you know that what you are reading here.
Unboxing the Lumia 435 Dual SIM
We received the Lumia 435 along with the 532 for review, while it's getting late day by day so we have decided to list down the unboxing right besides the review.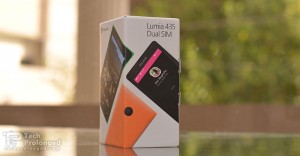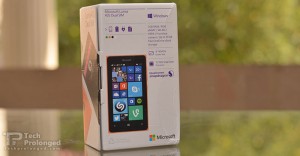 The package doesn't reveal anything special but a regular head phones along with a travel charger which is also fixed with a wire with micro USB connector at the end. It does not ship with an add-on USB cable inside the sales package.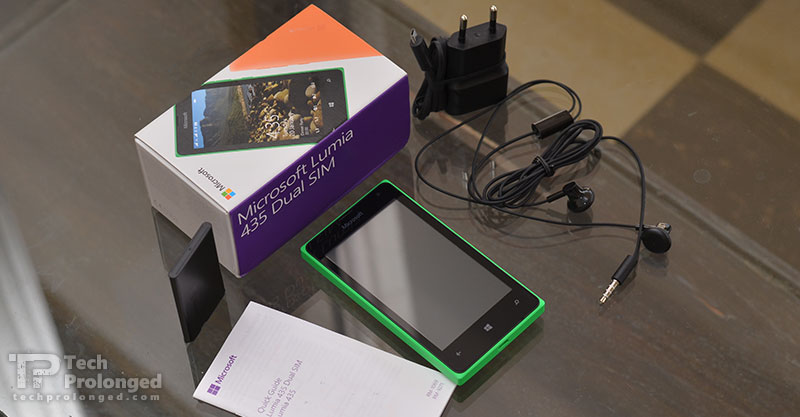 I really think, including a factory manufactured USB cable must be included even if they need to increase a price with a few hundred rupees. Because people do need that cable and get bad quality cables from market. Even the company can remove a fixed wire from the charger and make it open with USB port to be usable widely.
A short list of items the retail package will give you.
Retail Package Content
The device – Lumia 435 Dual SIM
Battery – 1560 mAh
Charger
Headphones
User Manual
Unboxing session in video
Following the characteristic from Lumia 532, Lumia 435 is also pre-loaded with Windows Phone 8.1 and Lumia Denim software update. Having the screen size of 4 inch with transmissive LCD and resolution of 800×480 pixels with 233 PPI. Battery capacity is also same as 1560mAh. Powered up by a 1.2 GHz dual-core processor with Qualcomm Snapdragon 200 SoC. RAM is also 1GB. Memory figures are also same as 8 GB of Mass Storage which is expandable up to 128 GB via micro SD card. Extra 30 GB will be available on cloud.
Lumia 435 Dual SIM is a 3G capable handset.
Primary camera in Lumia 435 Dual SIM comes with an even lower resolution sensor of only 2 megapixels which is also a fixed focus while on the front the VGA (0.3 MP) camera for selfies or video calling is present. The good thing is that Lumia 435 supports on regular 2G/GSM 850, 900, 1800 and 1900 MHz as well as on 3G – WCDMA/HSDPA at Band 1 (2100 MHz) and Band 8 (900 MHz).
The Hardware, Design and Build
The 4″ screen in a smartphone now a days is usually the impression for anyone to know as it's a budget or mid range phone. Going with the time and fashion, the Lumia 435 with its 4″ display is sure a low-end Lumia device. But for the value, it has a lot to serve as a good smartphone for huge base of consumers just like Lumia 532. However you can easily decide between the two which one suites your budget more as you will find very rare differences which you can again easily decide to have or not to have for your hard earned money. Just keep reading below to find out more.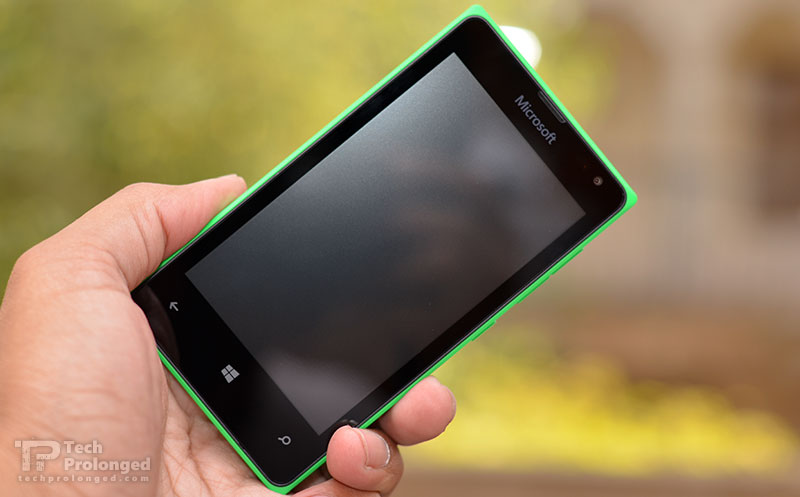 We are talking here about phone with 4″ screen which must be handful for many. Sure it is, at some extent but its thickness is something that will make you wonder what's really inside it. With 11.7 mm profile, It's even 0.1 mm thicker than the Lumia 532. Well, 0.1 mm doesn't really make a difference but overall it sure is thicker than many think.
However its gripping isn't that uncomfortable as it seems. Unlike any slim and plainly finished device, the Lumia 435 is unlikely to slip from your hands. Be noted that it will be easily prompted in your pockets.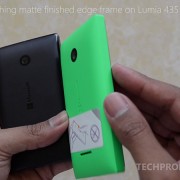 Just as I have mentioned it's a lot similar to Lumia 532, the first impressions of this device also remind of Nokia Asha series phones as well as some about the Nokia X. Here again we have difference between the two siblings. Unlike Lumia 532, the Lumia 435 has straight matte back cover till its edges. I'll again mention here that thickness apart, the design is compact and solid.
Following the design elements on Lumia 435, you can find on top side of the phone as it hosts a 3.5 mm headphone jack while the bottom side sports a micro USB port for connectivity and charging purposes.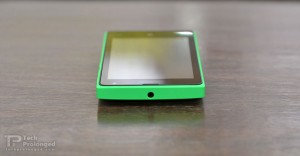 On the right side of the phone, two keys for volume control and a power button. Unlike many Lumia devices, the Lumia 532 features a fixed focus camera hence the dedicated hardware camera key is not present on the device – you will need to use the on-screen camera capture key.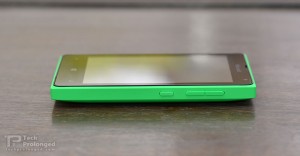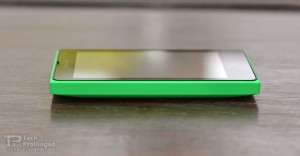 You can see that on the left side of the phone it's just plain with no component on this side.
Looking at the front, the Lumia 435 also follows completely its other sibling as the top portion has the "Microsoft" branding under the earpiece which is just on the edge of the glass joining with the back cover. A front facing camera is also present on the right corner along with the proximity and ambient light sensors.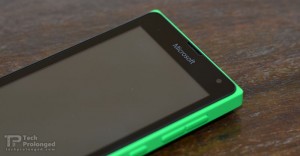 Standard Windows Phone navigation – back, home and search – keys are under the display with a mouthpiece on the glass-edge.
On the backside, we have have 2 megapixels camera with no LED light or flash on the top side and speaker grille on the bottom. The center prints the manufacturer logo. Back side of the cover is matte and feels solid and the edges of the cover also matches the same finish – unlike Lumia 532 which has glossy finish around the cover.

Opening the back cover is similar to what low-end and budget phones from Nokia have been designed with a push from the center-back while pulling the cover backward from top corners.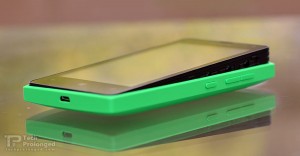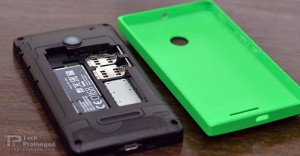 Like Lumia 532 or any other phone from Microsoft (formerly Nokia), the battery in Lumia 435 needs to be removed first to reveal the two SIM slots parallel to each other and a micro SD card slot at the top side. None of them is hot-swap and the removal of battery is required every time you need to remove or replace the micro SD card or SIM card.
The overall design is quite good and we'll not blame it for the thickness only.
Check out the Lumia 435 side by side of Lumia 532
Display
If you are not a fan of larger screen, then 4″ display of Lumia 532 will be more than fine for you as it's not that small as we have used 3.5″ displays much easily before the rise of larger displays. What's important is the visibility, quality and protection on the display. And the display on the Lumia 435 is not even an IPS and did not impress us at all in outdoor visibility. A little credit I'll give to the "Sunlight readability" feature of Windows Phone 8.1 that helps a little bit outside or otherwise you will be blindly struggle to see anything out of it. So let's just talk about the indoors which is usually the most usable time of the phone for anyone.
The 4″ display on Lumia 435 delivers good pixel density at 233 PPI with the resolution of 800 x 480 pixels. The screen size with this resolution is not bad combination for reading experience. Viewing angles are not too good which struggle to show something to two of you. More simply if you, with your partner, are watching a movie, it will not be real good experience. What left is the sticking to your phone from direct as mostly would you. There you will have quite sharp and vibrant colors with easy to read text due to a good pixels density. The display screen is prone to get finger prints as there is no glass protection over the screen.
Unfortunately, the Lumia 435 does not feature the Glance screen support on its display as well as the double-tap to wake feature is also not present. We have seen them on Lumia 532 surprisingly with non-AMOLED screen. I wonder what made the Lumia 435 incapable of these two features while having the same display hardware components as of Lumia 532.
Considering the rare chances you use your phone outside in direct sunlight, the score to deduct would rather be low. But the camera feature is what can be used indoors or outdoors equally so let me tell you that it's real hard to use camera in Lumia 435 outside in direct sunlight when you will be looking at the view finder.
The Software and UI
Lumia 435 comes with Windows Phone 8.1 and the Lumia Denim software pre-loaded. The dual SIM version comes with special features which are really friendly while operating between two SIM cards whether you are calling or sending text messages. Other than the Dual SIM option in 8.1 there are various other features including the notification center, start screen and themes, the storage and data sense, Wi-Fi sense. VPN support over IKEv2 and L2TP with IPSec.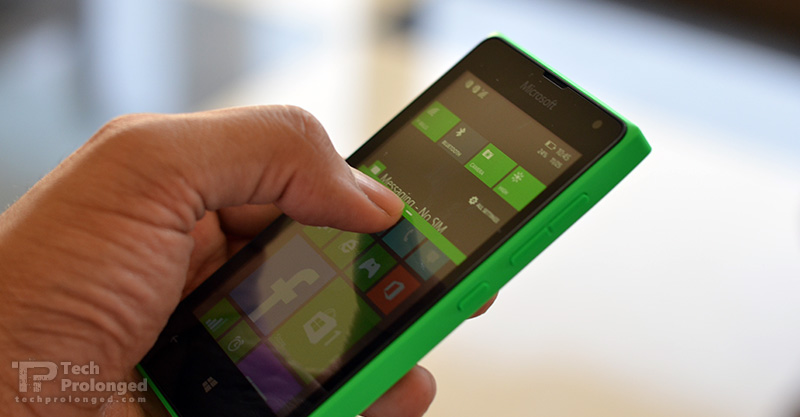 If you have read the list of features in the Windows Phone 8.1. Background customization and the start screen customization are two of them. Lock screen can be customized with desired notification items as well as notes from various supported apps like calendar. On the other hand the start screen can be customized with the background behind the tiles that floats as you scroll up and down on the screen.
A new new third column option is also present in Windows Phone 8.1. You can see the 3rd and 4th screenshot above with the settings interface and start screen with extra space on the 3rd column. Practically you will find it more useful and brilliant on the high resolution devices and not like the Lumia 435 as the smaller tiles were not really friendly for me.
As mentioned above, Windows Phone 8.1 introduces the support of dual SIM into Windows Phone devices with some exclusive user interfaces you will see below.
Dual SIM Support:
Windows Phone 8.1 gives a distinct way of presenting you with the different tiles for both the SIM cards for calls and messages. By default you can initiate call or text message by tapping on the relevant SIM tile. The Phone app presents the history of calls and other information that is related to the SIM you entered with into the Phone app. 2nd screen below shows the SIM1 history when I tap on the SIM1 Phone tile.
But additionally there is an option to link both the Phone tiles that will present all the phone calls history from both the SIMs in one screen. When in a Phone app, you have the option to link the it to other Phone tile.
Once linked, you can see all the history in one screen with all the calls from both the SIMs. Every log entry then labeled with the SIM information it's related to as shown in the most right screenshot above. You can always unlink them if it suites you better.
Messaging behavior is also just like that you can link two separate listing and management of text messages on both of your SIMs. You can choose right in the composer which SIM to use to send this text message.
If you don't like the way of linked information, you can just unlink them back to see individual conversations from both SIMs.
The dialer screen also serves the option to switch over the SIM you want to dial the number with. The other facility in the dialer interface is the Skype integrity Windows Phone 8.1 introduces in the OS.
When you call a number, the next screen provides you with a few options including the new one introduced in Windows Phone 8.1, "Skype".
Official: You can switch from a voice call to a video call if you and the person you're talking to are both signed in to a compatible video-calling app, such a Skype, and both have the app installed on your phones. When you do this, your cellular voice call will end and a new video call will start right from there. This feature isn't available on Windows Phone 8.
Overall Windows Phone OS is growing and Microsoft trying best to bring to their smartphone OS with the upcoming Windows 10 and we are expecting it to be good among competition.
I wonder why don't anyone talk about the clipboard life in the Windows Phone. If you have not noticed yet, then the copy/paste content through the system only lives before you lock the device. Once you lock the Windows Phone device, any thing in the clipboard will be destroyed. That's not convenient for me at least. Microsoft should really make upgrade the feature for better use.
Camera performance and User Interface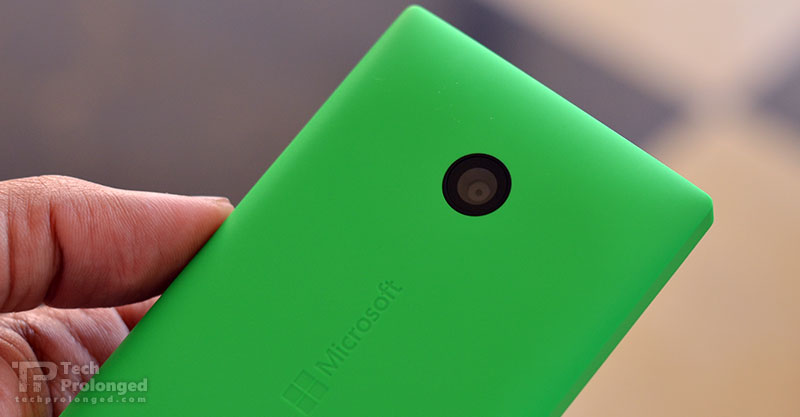 Lumia 435 comes with a very low 2 megapixels primary camera which also do not have a flash along side it. There is no dedicated camera button on the phone for quick shooting and it's fixed focus camera. If there is any good thing about the camera in Lumia 435, it's the Lumia Camera (formerly Nokia Camera) which is now a default camera app in Lumia devices which delivers competitive user experience with its manual controls.
For the camera specifications, the images from the camera are not that bad if you are going to use them for only sharing purposes. They won't look any better on your computer screen in it's actual size. But of course we'll give the credits to the "Lumia Camera" app for the manual control. Or otherwise in low light the the auto settings will be unusable.
Some low light or night shots are listed below which were taken with manual settings at lower ISO sensitivity to have lowest possible noise. I had to keep my hands steady with this as with lower ISO the camera will use slower shutter speeds and make it more likely to take shaky objects in the image.
You need to know that the camera can not go further down from 1 second for exposure. In fact 1 second is more than enough to introduce shaky objects in your image. If your hands are steady enough then you can take a bit good image (with no moving subject) with a little faster than half a second of exposure.
Just to see a difference how auto settings of cameras perform in most smartphones today with the manual settings from Lumia Camera, look at the following photos.
Overall the camera is average in day light however the low light images can be better with manual settings. Considering a low budget phone they are not that bad and for sharing they are fine for you.
Battery and Power Performance
Lumia 435 is packed with a 1560 mAh battery which is removable. For such a phone this battery has moderate power backup. We used the phone as our primary phone the whole day repeating for a couple of days and found it really well capable of staying live around 15 hours easily with all sensors and connectivity options turned on. Browsing and surfing on the web through Wi-Fi when ever available or otherwise on the 3G all the time.
The regular phone usage include calling, text messaging, browsing over web, surfing on social networks, discussions on instant messaging, music, online video playback etc. Also note that we do not turn off background apps for push notifications for the testing the performance. This time on Lumia 435 we didn't test the gaming however we believe it won't be any different experience than from the Lumia 532.
Overall, the battery performed well with no objections.
Verdict and Conclusion
We have a few objections over the factors like the thicker design and the display performance in direct sunlight. However the presence of 1 GB of RAM in the low-end budget phones is appreciable. Also consider the fact as Windows Phone is not a memory hog operating system, the 1 GB of RAM is healthy addition to the budget smartphone phones from Microsoft.
For Rs. 10,000/- the Lumia 435 with dual SIM support is a good option to choose among other brands' budget phones. Yes because most of them run on Android OS which is really not comparable for performance on a phone with 1GB RAM and in the Windows Phone, we believe you will get most of what you need. If beginning with a smartphone, the Lumia 435 is a good option for you.
If you really care about its screen visibility and readability when you are out and under direct sunlight, Lumia 435 will make you struggle with it. So make your choice accordingly.
Second if you prefer a a good camera with you can just head over to and get Lumia 532 instead of this one as you will get a little more features like Glance Screen and double-tap to wake options for another Rs. 2,000/-
We hope you will a good opinion in above review for your purchase of budget smartphone. Take a look at the following short visual aspect of our review.
http://techprolonged.com/wp-content/uploads/2015/05/microsoft-lumia-435-review-wide-31.jpg
417
800
Khurram Ali
http://techprolonged.com/wp-content/themes/TPRO-Theme/tpro/img/tpro-logo-blue-header.png
Khurram Ali
2015-05-25 08:30:12
2015-05-25 16:03:30
Microsoft Lumia 435 Dual SIM: Review, Cheapest Lumia