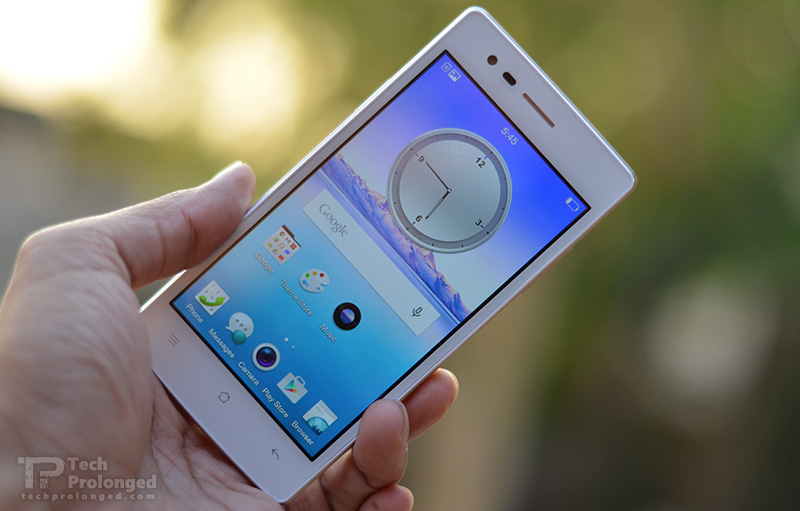 OPPO Neo 5s is the lower mid-range smartphone from Chinese phone manufacturer and it costs you only Rs. 19,990/-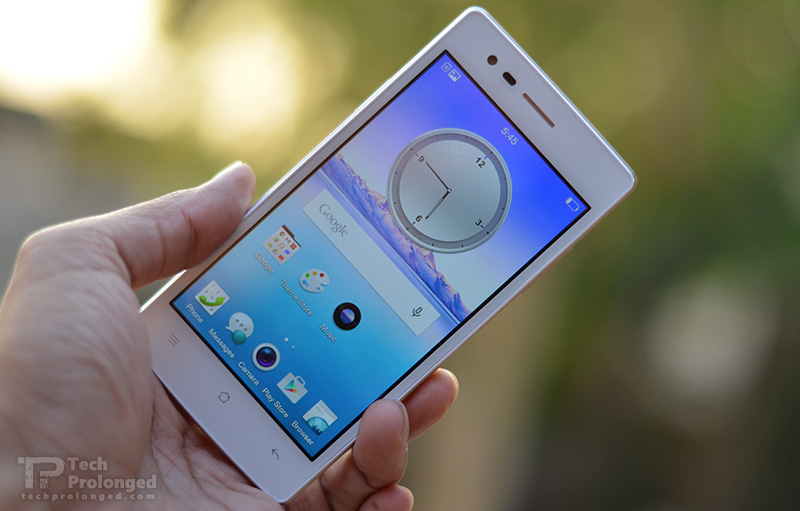 Overview and Introduction:
This is the second smartphone from the company that we are given an opportunity to review and share our thoughts with our readers. If you are curious to know which one was the first, then it's OPPO R5 – World's Thinnest Smartphone, you should check if you have not already.
Having experience with only a couple of handsets from OPPO whether it's a lower or higher end smartphone, we have set our mark for its build quality and we'll be disappointed to see any thing lower than that. Yes! we are happy and impressed with the build quality of OPPO Neo 5s. Nevertheless, it's a lower mid-range device according to its price point but when you look at it and have it in your hands, it will sure give your a sturdy feel.
Neo 5s is just moderately thicker in average smartphones with 8.0 mm thickness and compact enough to be held easily with your hands and operate single handed.
Why not you have a look at the key features from this smartphone so we can go further with the details.
OPPO Neo 5s Specifications:
Size/Weight: 131.9 mm x 65.5 mm x 8.0 mm / 135 gram
Display: 4.5 inches, IPS TFT, FWVGA (854 by 480 pixels), Pixels Density is 218 PPI
SoC: Qualcomm Snapdragon 410 MSM8916
CPU: Quad-core 1.2 GHz
GPU: Adreno 306
OS/Software/Flavor : Color OS 2.0.1, Android 4.4.2 KitKat
Memory: 1 GB RAM
Storage: 8 GB internal and expandable up to 128GB via microSD card
Camera:

Primary/Rear: 8-megapixel

LED Flash, f/2.2
720p/480p video @ 30 fps.
Normal, Colorful Night, Slow Shutter (8 sec), Expert Mode, Beautify, HDR, Panorama
Auto focus, face detection, touch focus

Front camera: 2-megapixel, aperture f/2.8

Battery: 2000 mAh Li-Po Battery(non-removable)
Connectivity: Bluetooth 4.0, GPS, WiFi 802.11 b/g/n, OTG
Ports and Slots: Micro USB, Dual SIM (1 Nano + 1 Micro). Micro SD card
Sensors: Distance sensor Light sensor, G-sensor, E-compass
Carrier Frequencies (International):

GSM:850/900/1800/1900
WCDMA:850/900/1900/2100
FDD-LTE:B1/3/7

Price: PKR 19,990/- (~$200 USD)
Retail Package Content:
If you have not followed us on this smartphone, you might have missed the unboxing session of the OPPO Neo 5s that you might want to look at to find out what are the items you would be having if you buy this phone
Box Content:
The device: OPPO Neo 5s.
A stereo headset.
A micro USB cable for data connectivity and charging.
Travel charger 1 ampere.
Two user manuals.
Moving on with the device review, we are starting with its design and outfit along side the hardware features.
Hardware and Design:
First thing first, the build quality, as mentioned above, is really good for its value. It's sleek but solid. Front side. With the screen size of 4.5 inch diagonal and occupying space on the front properly with only needed elements and components, the device is not awkwardly spaced with blank screen. It's screen to body ratio is around 65%. It's not bigger and it's not smaller as it perfectly fits into hands.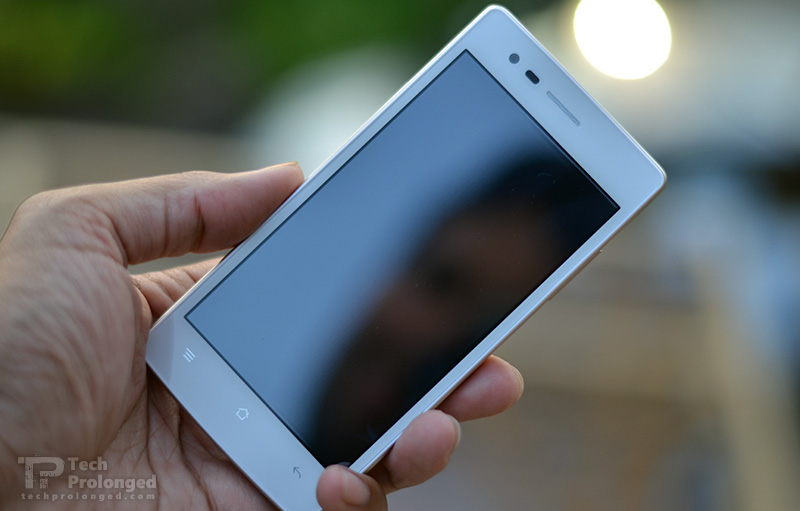 Front side hosts a couple of standard components to the smartphone including 2 megapixels front-facing camera alongside the proximity and ambient light sensors. In the middle top we have the earpiece.
While at the bottom-front there again a non-standard Android navigation keys. They are capacitive to touch – the menu key, home key and the back key from left to right order.
On the back we have a primary 8 megapixels auto-focus camera with an LED flash to the right. "OPPO" branding in the middle-top portion and speaker grille on the bottom portion.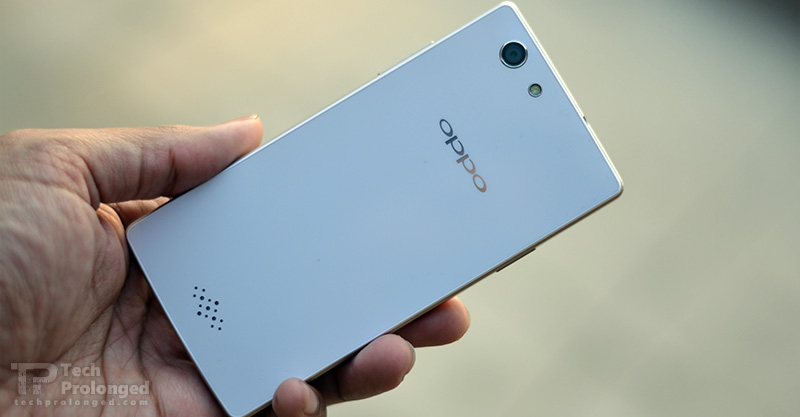 Back cover is thin plastic and I have some reservations about it as if not taken care of, while opening the back cover, you might break it. The back cover is only important to control your micro SD card and the Dual SIM card options which are a nano and a micro. Although both supports 4G/LTE connectivity. That's a plus point to be in a mid-range device as you can have higher data speed on your device if you have supported network connection on either of the SIM cards.
Well, you still can not remove or replace battery as it's screwed in the inner body. That was not so important to make it hidden and non-user replaceable even when you are giving the option to remove back cover. There of course may be reasons to make it that way but It's negative point from my side.
Pack it up and let's checkout the user controls, slots and the ports. Viewing from the top, you will see a 3.5 mm audio jack which is not placed in the middle nor on the left or right. It's somewhere in between.
The bottom side of the device frame hosts a micro USB port on the side while a mouthpiece is also placed there.
On the left side of the frame, there is the multi function power/lock/unlock button, while on the right side there is a volume rocker.
Display:
OPPO Neo 5s is good in its size which is compact to handle and grip. The display of 4.5 inches is IPS with FWVGA resolution of 854px by 480px which of course is not too good but remember that it's a lower mid-range device so you have to be with it. On the positive note, the screen size is moderately normal and not too big like many other lower and mid-range devices out there giving larger display with lower resolutions of no use. The average screen size of 4.5″ (according to today's trend) with the specified resolution gives you the pixels density of 218 PPI, is good – if not commendable, to read text mostly on various places such as browser or a document reader etc.
Outdoor visibility is also good due to higher contrast ratio. My recommendation is not to adopt to the stock light colored backgrounds. Instead get a darker background to have more appealing look.
Overall the display is fine for reading and the viewing angles are also good which may help you and your mate watch movies at the same time.
Software and Operating System:
The OPPO Neo 5s runs on version 2.0 of OPPO's custom Color OS on top of Android OS which is 4.4 KitKat. Like Huawei's Emotion UI, the Color OS also does not have any traditional app drawer. All the apps icons will be on the home screens, where you could re-arrange them, remove/uninstall app right from there, add widgets to the same screen. Some of you may like it that way, others won't.
OPPO has given some really good modifications over the stock Android OS. In fact you can tell that OPPO's customization and exclusive apps and features range make it somewhat unique among the UI flavors from other OEMs.
OPPO's ColorOS 2.0 brings some set of on-screen gestures to operate such as swipe down from the top and swipe up from the bottom. There are some gestures to work when the screen is off including the "Double tap to wake up", "Draw letter 'O' to open camera" and some music controls while the screen is off.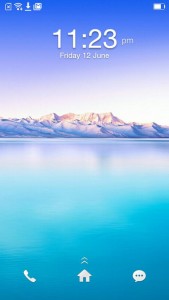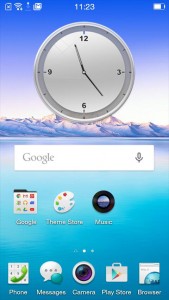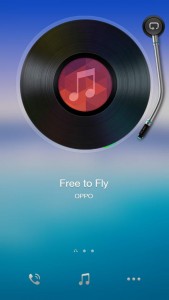 With the "Theme store" app, overall look and feel can be changed while the wallpapers and lock screen can be changed into several other styles available locally and online. With no app drawer additionally, the main home screens provides the apps to launch or uninstall directly when customizable mode is active. App folders work the same way as pop-up with the apps inside. To the most left on home screens a music player screen is provided with the old styled vinyl player.
Like other Android smartphones, smart dialing is available in ColorOS. Unlike dark screens in devices with AMOLED display, the ColorOS provides bright screens at most places in Neo 5s or probably with any other device with IPS displays. Well, that behavior is good to have in the software to give better experience with different types of screens.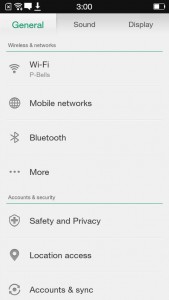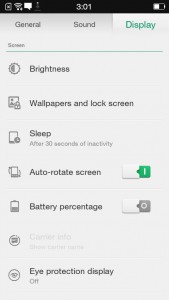 "Security center" provides access to a set of features like Memory cleanup, App Encryption, Data saving, Power Manager, Quite Time, Block – to block messages and calls, Data monitor, Permission Monitor and Guest mode. "Backup and restore" feature is available as a separate app.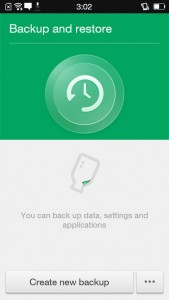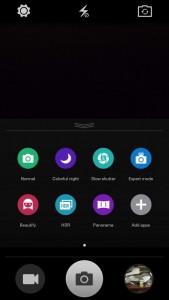 Unlike mostly Android skins, the camera app in OPPO's ColorOS is rather simple with a limited set of options in settings, however an "Expert Mode" is provided where you can set ISO sensitivity and Exposure compensation and interestingly the shutter speed too. Although only the slower shutter speed can be set manually from 0.5 second to 8 seconds.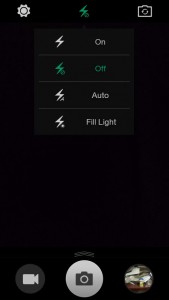 White balance can be set as well as Manual focus is also present with a simple slider to set the focus on some specific depth of field.
Built-in weather app provides live weather data for selective regions as well as your current position from Accu Weather.
Camera:
OPPO Neo 5s is packed with an 8 megapixel 8-megapixel camera on the back with an LED Flash. It's an auto focus camera with face detection. The lens opening is as large as f/2.2 and it produces videos not more than 720p at 30 frames per second. Software features include quick modes like Normal, Colorful Night, Slow Shutter, Expert Mode, Beautify, HDR, Panorama.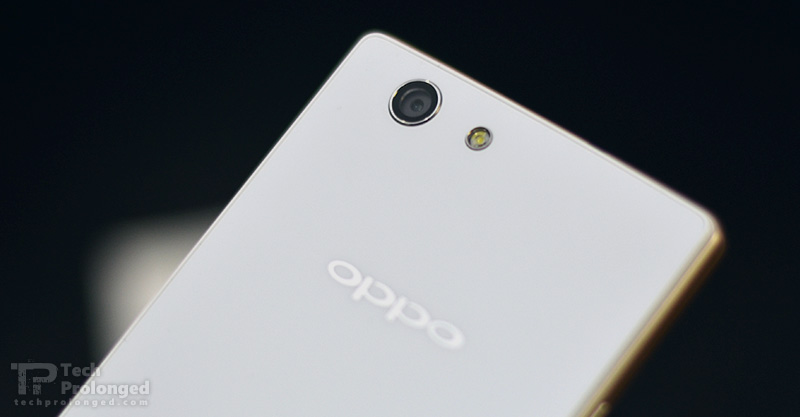 Neo 5s is running on OPPO's Pure Image 2.0+ camera platform which is company's latest and updated software pack of algorithms for camera to produce best (as they say) images out of their hardware with various varieties of options.
The user interface of the camera, as detailed in above section, is simple use with a very fewer options to work with unlike many other Android flavors. But for a camera to operate, these are the options you would love to use. Specially in expert mode where you can control ISO settings, Exposure values and most of that is the shutter speed. You can manually control camera in Neo 5s to take long exposure shots of up to 8 seconds.
In our tests during the day time, outdoors, with enough ambient light the OPPO Neo 5s could produce good images with much detail and a little low noise, however dynamic range is good when shooting in normal mode (no HDR enabled). However in night, the shots gave pleasurable feel which I did not expect from this mid-range device. So yes! OPPO's camera department also seems to be working hard and different than many major brands out there.
Following are the shots we took with Neo 5s in various conditions indoor and outdoor during daylight or dark. And I am really impressed with the very low noise in the images whether it's a shot in dark or in daylight. White balance seems not to be accurate mostly in bright sunlight where it gave less warmer color than it actually was. I think OPPO's system is not doing good with color temperature.
Daylight shots:
Night Shots:
Indoor (without flash):
Indoor (with flash):
Indoor (no flash, 4x zoom):
Performance and Throughput:
Let me remind you here that the Neo 5s is powered up with a Quad-core 1.2 GHz 64-bit processor (Qualcomm MSM8916 Snapdragon 410). It's the ARM Cortex A53 and is combined with an Adreno 306 GPU for graphics and gaming support.
On the memory side, we have 1 GB of RAM which is just moderate these days for Android platform. In our experience with ColorOS in Neo 5s, it's good to have running smoothly most of the time. Less lag in regular usage.
Battery Life and Power Management:
Qualcomm Snapdragon 410 SoC, 1GB of RAM and only FWVGA 480p resolution on 4.5 inch IPS display are supposed to take not a lot of battery power. 2000 mAh battery capacity inside this limited package is enough to run it all day long for one full charge with normal usage including calls, text messages, browsing over WiFi and 3G. The device is 4G compatible, however we couldn't test it over the LTE connection.
Following was the case when the GPS with high-accuracy on Google Maps was used for probably an hour or so along side the screen always stayed on with 100% brightness. It seems it won't last more than 18 hours looking at the battery average consumption detail when I am back home. It's still quite good for me. Let us know if don't want to charge your phone every night.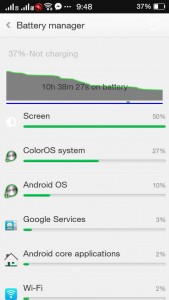 On top of that, the ColorOS fortunately comes with the two modes for power saving, where one is the normal power saving which has been there in mobile phones since decade. A super power saving mode is also present which we have seen in Huawei smartphones and the recent Samsung Galaxy Note 4. After turning on the super power mode, the OPPO Neo 5s leaves you with a set of very basic functions of the phone which are calling, text messaging, contacts, clock functions etc.
So in OPPO Neo 5s – or most probably on any OPPO smartphone, if you are running out of battery and basic power saving has been used, just turn the Super power saving mode for the most important features of a phone.
Pricing and Availability:
OPPO Neo 5s is now available across Pakistan for Rs.19,990/- with one year local warranty of OPPO Pakistan. You will have option to choose from two colors, crystal white and sapphire blue.
Also read: [Giveaway] Free OPPO Neo 5s.
Verdict and Conclusion:
The price tag of around 20,000 rupees in Pakistan for a lower mid-range device is a good price point specially when it also comes with some competitive features and components. We did find some features lacking from OPPO Neo 5, and one of them is the absence of a good screen protection. Only what you got is the factory-installed screen protector which personally I don't prefer to have on my phone. Screen's touch response was good.
The phone itself is affordable, if you want to spend your good money over a good lower mid-range Android smartphone, then I'll say, it's for you. If you are looking for an 4G/LTE device in such a price range, then OPPO Neo 5s is a healthy contender among any choices that you are looking for.
There are options for you like Samsung Galaxy Core Prime with similar pretty similar features and price range if you can deal with a little lower camera. Huawei Ascend Y550 is also in the same price as of Galaxy Core Prime but with even lower storage option and 5 megapixels camera. Huawei devices are also good in build quality but I'll OPPO Neo 5s for it's camera and build quality if put all together with other devices in similar price range.
We are satisfied for the camera results from such a device in this price range. The allover performance is also good if you are not an addict of heavy games with graphics. The UI/UX of the ColorOS is also preferable. What we are not sure is that if Lollipop will be arriving on the Neo 5s or not. You can also set it as a clause for your choice of your next phone.
For a quick overview of all above, take a look at the following scores we gave for OPPO Neo 5s.
http://techprolonged.com/wp-content/uploads/2015/06/oppo-neo-5s-big-2.jpg
511
800
Maroof Saeed
http://techprolonged.com/wp-content/themes/TPRO-Theme/tpro/img/tpro-logo-blue-header.png
Maroof Saeed
2015-06-14 23:17:05
2015-06-15 02:08:28
OPPO Neo 5s Review - Sleek and Compact