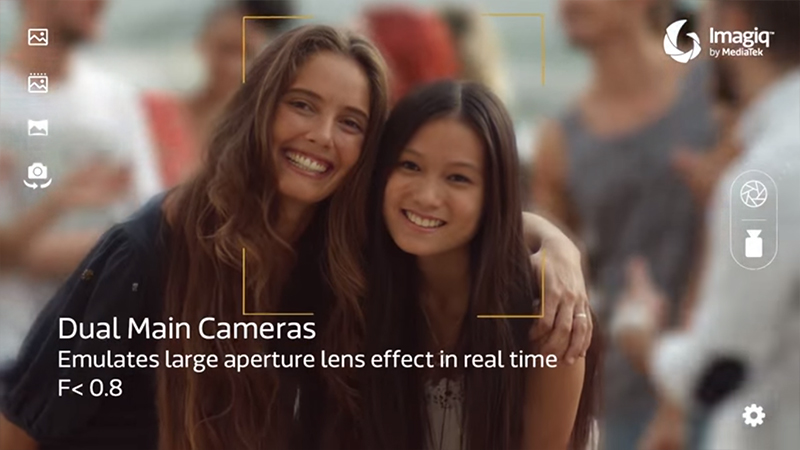 Taiwanese chip maker, MediaTek has launched the Imagiq Image Signal Processor (ISP) for their Helio smartphone chipsets to support dual-camera configuration and depth mapping.
Dual-Camera setup is suddenly becoming some kind of standard or a need in experiments for better smartphone photography. We recently have seen a real example of LG G5, launched at MWC 2016 last month, while we are already hearing about Huawei's next flagship P9 to feature dual-camera as well as iPhone 7 is also being rumored to have dual-camera configuration.
MediaTek's new Imagiq ISP supports a hybrid autofocus with phase-detect and laser autofocus for faster focusing in all lighting environments. The ISP also features an image stabilization system that combines four shots into one image to eliminate blur issues mostly caused by camera shake.
It's worth noting that MediaTek's Helio P20 and Helio X20 are already featuring the Imagiq ISP.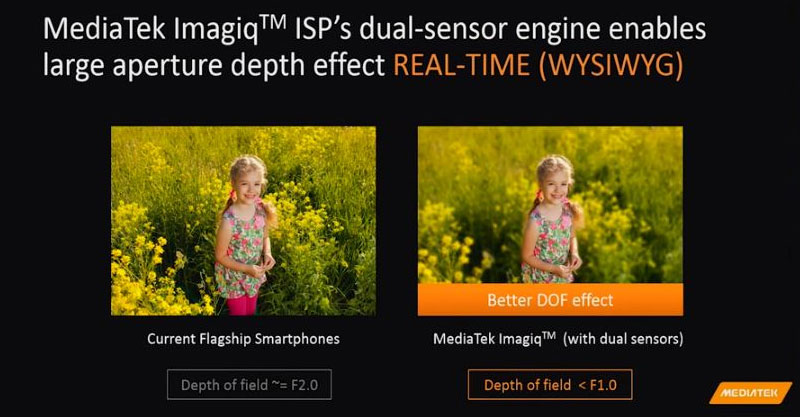 Imagiq ISP – Still Photography Features
Hybrid Autofocus (Phase Detection Auto Focus (PDAF) and Laser Auto Focus) – Combining PDAF and Laser AF to realize a faster autofocus speed, which is also applicable in dimly lit environments.
Pixel-Level Auto Focus – A focus speed and accuracy comparable to the human eye. The focus speed is four times that of traditional autofocus, making it especially suitable for shooting fast-moving objects in real-time.
New De-Mosaic and Sharpness Engine – With its large-scale texture recognition and implementation of adaptive color image abilities, Imagiq produces smoother and sharper images, which is especially useful when taking photos in dimly lit environments.
New Adaptive De-Noising Engine – Imagiq reduces image noise even in low-light environments, allowing the ISP to render high quality video and pictures with near life-like quality.
Automatic Image Stabilization (AIS) – Imagiq can rapidly combine four consecutively captured images into one image, eliminating common blur effects from camera shake.
TrueBright Engine – With first-time RWWB sensor support, Imagiq powers twice the sensitivity to light of a traditional RGB sensor, allowing consumers to take crisp, clear, high-quality photos even in low light.
Upgraded 3A HW Engine– Imagiq helps cameras capture more natural, vivid and detailed photos.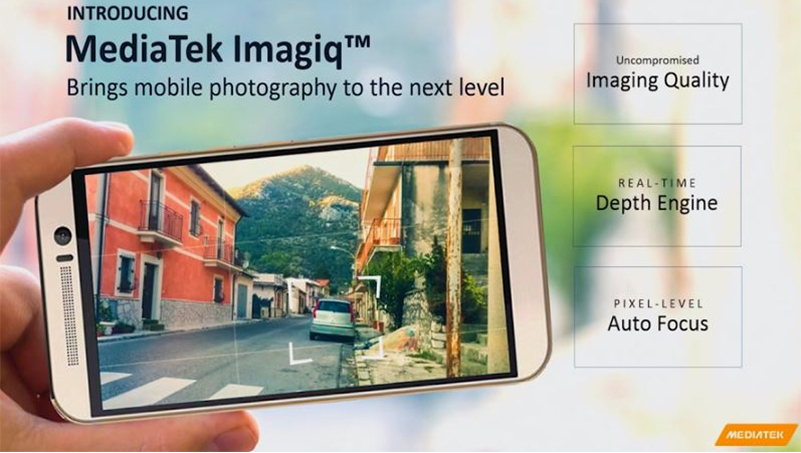 Imgeiq ISP – Videography Features
Electronic image stabilization (EIS) and Gyro – Using a sophisticated hardware engine to predict motion, Imagiq eliminates a video's camera shake and distortion.
1/32 Super-Slow Motion – In addition to supporting 720p video, Imagiq can shoot 1080p video at 480 frames per second in 1/32 super-slow motion playback, resulting in a 960 FPS video. Users are also able to edit videos using super-slow motion.
Temporal Noise Reduction – Imagiq uses advanced temporal noise reduction to locate and reduce pixel movement in videos, resulting in cleaner and more detailed video quality in both video previews and filming.
4K HDR Shooting – Support 4K HDR shooting for the first time, producing more compelling video image quality.
The Imagiq ISP promises the following purposes for better camera results
Real-Time Large Aperture Depth-of-Field Effect: It's kind of a simulation of real-time shallow depth-of-field as visible in image preview above. "With the built-in 3D sensor, the ISP can capture depth mapping in real-time, and with a large aperture of greater than f/0.8, it can produce large aperture depth-of-field effects in real-time even for previews."
Reality Depth of Field (DOF): to distinguish between background and foreground elements in a photo and to create layers and then apply other effects. "Users can map objects and backgrounds to multiple layers with a DOF feature. The smartphone can smartly position the object and background and apply creative effects to each layer in real time to produce photos or videos with DOF effects."
Bayer and Mono Cameras: It actually reduces image noise and increase detail. "This multiple-sensor design can capture three times the light of a traditional single-bayer sensor, thus reducing image noise and increasing quality."
Dual Camera Zoom: Improved digital zoom quality by combining images from two cameras. "The ISP is equipped with a wide-angle lens and a telescope in its dual camera system. Imagiq combines these wide-angle and zoomed captured images into one image, dramatically increasing image clarity when shooting distant objects.Improved digital zoom quality by combining images from two cameras."
http://techprolonged.com/wp-content/uploads/2016/03/mediatek-imagiq-depth-of-field.jpg
450
800
Khurram Ali
http://techprolonged.com/wp-content/themes/TPRO-Theme/tpro/img/tpro-logo-blue-header.png
Khurram Ali
2016-03-12 23:38:06
2016-03-24 20:35:46
MediaTek launches "Imagiq" ISP for Dual-Camera and Depth Mapping in Smartphones