The most anticipated smartphone from Huawei this year was none other Huawei P9 specially because of their partnership with the high-end German camera makers and the P9 is bundled with Leica's expertise in camera. Here we have just got our hands on with the latest flagship from the Chinese manufacturer – The Huawei P9 in Mystic Silver color.
One can definitely say that Huawei's packaging is used to be impressive. The Huawei P9 comes packed in a simple white box with canvas-like textured and lined on the outside.
The box prints not more than the "Huawei" and LEICA's branding and the device identity label on the side of course. Some material information is also printed on the other side of the box however.
Opening the box can give you some tough time as it's air tight and trying to extract the inner part will always be hard. Being easy with it and shake a little to loose it and open it will do the trick. Then what we have is the Huawei P9 residing on its tray, wrapped pretty well with a protective plastic paper.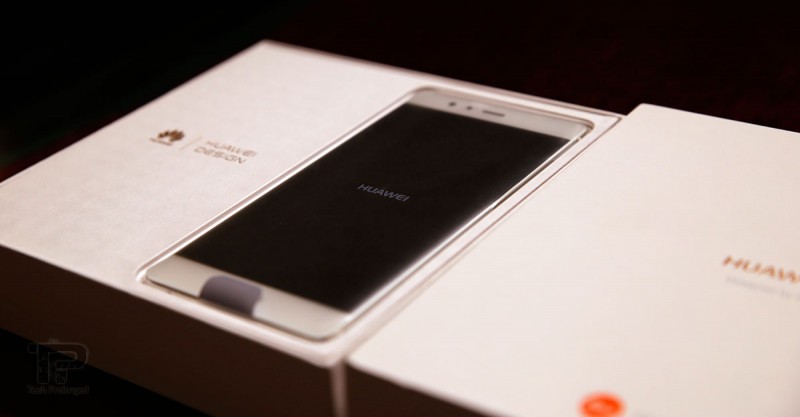 Pulling the phone is easy with the tip extend through the wrapper. First thing you would do, of course, is to open the wrapper and see what you got.
It was very pleasing to hold the phone as it feels really good in hands with its curved and sleek body, the aluminium on the rear, the deep black screen and smooth glass on the front.
But hold on, and see what else is there with the packaging. Not much, quite what you'd expect mostly with a new smartphone. Contained within the separate boxes, there's a 2 ampere charger, a USB Type-C cable for charging and connectivity as Huawei seems to welcome new standards. A stereo earphones with pretty much long wire for easiness.
What else you'd expect? Oh there sure would be a user guide with any smartphone you buy but for some reason – as it's a review unit may be, we got an empty container for that but only a SIM eject tool attached within.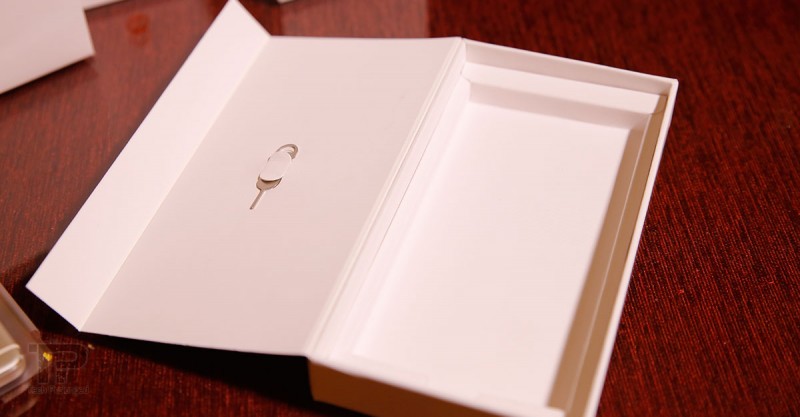 Well, you hardly would read that guide anyway, so leave it and let me tell you here, that it's a really nice and simple packaging which actually feels premium. Apart from its white color, it mostly matches the previously launched Huawei Mate 8. But considering the fact as it's a successor to the last year's Huawei P8, the packaging of P9 is much more simple. I also liked the P8 plastic packaging however.
As mentioned above, the Huawei P9 really feels good in hands. It's comfortable to hold and should fit perfectly in most hands. The unibody is fully metallic built with fine aluminium with matte finish and top dual-camera panel is covered with the smooth glass as well as antenna stripes are on the rear bottom part, while you can see them on either sides of the phone at both the top and the bottom.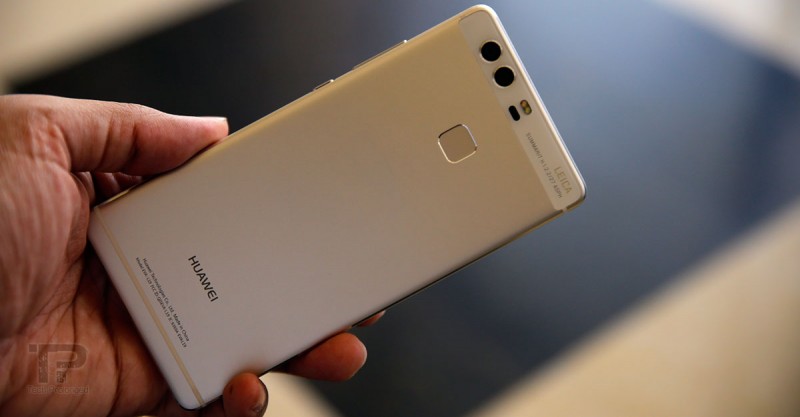 Size of the phone is much friendly for me and the grip is also not something to bother about – thanks to the matte finish around.
And on the front there is 2.5D curved glass that is enough smooth to be liked with white panels on top and bottom part. The screen has much deep blacks that joins the body at all ends with a slight plastic (seems to be) at screen edges. The display is impressive with its sharp and bright colors.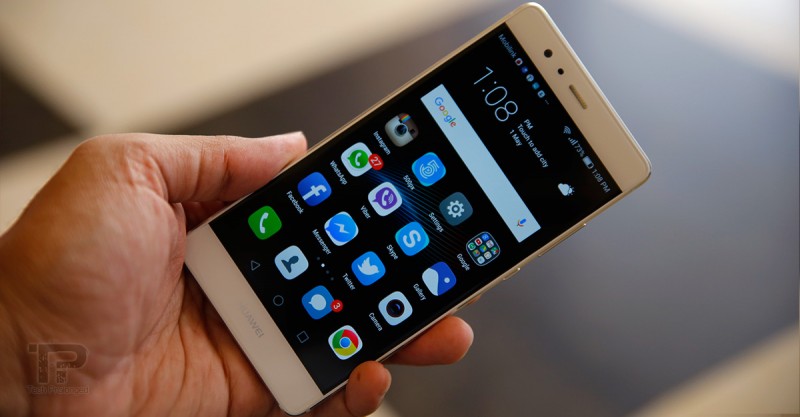 Another thing which is all the hype about, is the dual-camera setup that is co-engineered by Leica, The phone has a special "bokeh" mode – also known as background/foreground blur among consumers, it offers to adjust depth-of-field with simulating as larger aperture as f/0.95 of Leica's own Noctilux-M Lens and can go down to f/16. That too with the option to re-adjust the focus as well as to change aperture simulation in post processing within the phone's EMUI software which lets you save as another JPG file with modified version. So from one shot, taken in bokeh mode, you can generate as many images in post editing with different focal points at different depth-of-fields as you like.
So my first impressions are really too good with it. The full review is just a few days ahead so please bear with us. You can ask us anything about the phone so I could cover and answer it in the review coming up.
http://techprolonged.com/wp-content/uploads/2016/05/huawei-p9-review-4.jpg
626
1200
Khurram Ali
http://techprolonged.com/wp-content/themes/TPRO-Theme/tpro/img/tpro-logo-blue-header.png
Khurram Ali
2016-04-30 21:47:19
2016-05-05 14:45:21
Huawei P9 with Dual Camera - Unboxing and First Impressions