Since the day one, where the Huawei P9 with dual camera is being appreciated among various enthusiasts, it's also been labeled as another iPhone clone by some – specially who actually in love with Apple.
No wonder the Huawei P9 has similarities at some extent with the iPhone 6s. The recent teardown by iFixit is just a breakdown of another smartphone as they usually do but how they write it, could be extremely abusing for Huawei perhaps as wired has also noted and extended the fact.
Writing Apple first and cutting it through with Huawei, is just an act to give impressions of being mistaken by appearance of something – that's usually what we do when we want to taunt. Here is how the the repairing folks write it "The Apple Huawei P9 looks classy, familiar, and well-built, and has been making waves even far from Huawei's original audiences. Just how far did Huawei go to imitate (and perhaps surpass?) the iPhone?" It doesn't keep them to do it again through out the article.
iFixit couldn't remain negative all the time about the P9 and believes that the Huawei's version has something better than the iPhone "Huawei beat Apple to the smooth-rear-case-punch, offering a slim phone, without the infamous camera bump."
"Antenna bands, chamfered edges, brushed aluminum and—Pentalobes? The P9 seems to have taken the iPhone design as law, down to the nasty proprietary five-lobed screws." I guess it's not exactly right.
"Pentalobes" are something which Huawei used and may be intentionally to make the bottom of the P9 exactly like the iPhone 6s.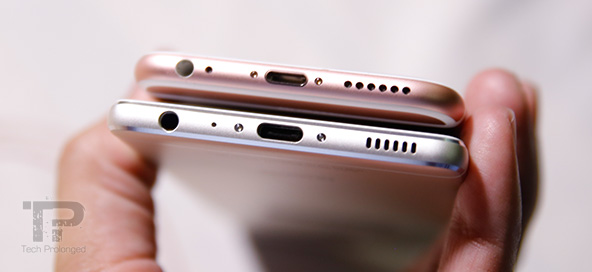 Well yes bottom side of Huawei P9 here, it matches exactly the iPhone 6s how the components are hosted. I really wonder how Huawei will explain this thing but it's purely a matter of requirements and other feasibility where a component gets placed in a device.
We still believe the Huawei P9 has similarities with the iPhone 6s but the P9 can be said as more polished and comfortable. As we have review coming up for Huawei P9 soon, we'll reserve our remarks till then. How do you feel about the two? do tell us in the comments below.
http://techprolonged.com/wp-content/uploads/2016/05/huawei-p9-vs-iphone-6s.jpg
417
800
Noaman Rasheed
http://techprolonged.com/wp-content/themes/TPRO-Theme/tpro/img/tpro-logo-blue-header.png
Noaman Rasheed
2016-05-07 01:55:50
2016-05-17 04:28:58
Do you think of Huawei P9 as an iPhone clone?