As you might know, Infinix Mobility has been performing pretty well in low-end and mid-range smartphones in developing markets. The company started operations in Pakistan last year with launching the first smartphone – Infinix Hot Note which actually did good in market following by Zero 2 and then the most affordable from the company, the Infinix Hot 2.
Currently Infinix is offering the Infinix Note 2, Infinix Zero 3 and the Hot 3 in Pakistani market for Rs. 15,999/-, Rs. 20,899/- and Rs. 9,999/- prices. Another model of Infinix Hot 3 with 4G/LTE connectivity is also coming soon with a Qualcomm Snapdragon 415 chipset. But here we have the current version of Infinix Hot 3 with 3G connectivity for review which is now complete and published below.
Overview and Features
Original model of Infinix Hot 3 is powered by a MediaTek MT6580 SoC which quite old now among various healthy chipsets. No wonder what makes Hot 3 a cheaper smartphone. But additionally the phone has 1GB of RAM as well as 16GB of internal storage which is good for the price to have. With the battery capacity of 3000mAh, Hot 3 runs on Android 5.1 with a little modified default UI called as XUI being an Infinix flavour of Android user interface. They are doing balanced development and interact with a community setup at bbs.infinixmobility.com which is one of the good way to interact with the customers.
Let's have an overview with the spec sheet of Infinix Hot 3.
Infinix Hot 3 – Full Specifications
INFINIX HOT 3
CHIPSET / CPU / GPU
MediaTek MT6580
1.3GHz Quad-Core
ARM Mali-400
DISPLAY
5.5 inch, HD Display, full-laminate GFF technology
Resolution: 720 x 1280 HD
RAM
1GB RAM
STORAGE
16GB, micro SD card: up to 32GB
REAR CAMERA
8 MP, OmniVision OV8865 Sensor, 5-element lens, pixel size 1.4 μm.
FRONT CAMERA
2 MP, 16:9 sensor and 1.6 µm large pixel, 84°wide-angle
OS / SOFTWARE
Android 5.1 Lollipop, XUI
NETWORKS
2G, 3G
2G: 850/900/1800/1900 MHz
3G: HSDPA 900 /1900/ 2100
CONNECTIVITY
WiFi 802.11 b/g/n, WiFi Hotspot, USB 2.0
Bluetooth 4.0, AUX,
GPS/AGPS
SENSORS
Accelerometer, Proximity Sensor,
BATTERY / POWER
3000mAh Li-Po
PRICE
PKR 9,999/-
Infinix Hot 3 comes in three official colors including gold, grey, blue and pink.
Unboxing and Retail Package Content
Infinix Hot 3 comes in sealed package with a plastic wrapper which, upon tearing apart, leaves you with a fold-in box design. The top/front side of the box illustrates the Hot 3 handset with front elements. The bottom side of the box prints with the key features as shown.
Opening the box reveals the smartphone lying on top in yellow tray and underneath we again have two yellow boxes containing a charger, USB cable, earphones and the user guide.
Here is the content comes inside the retail box.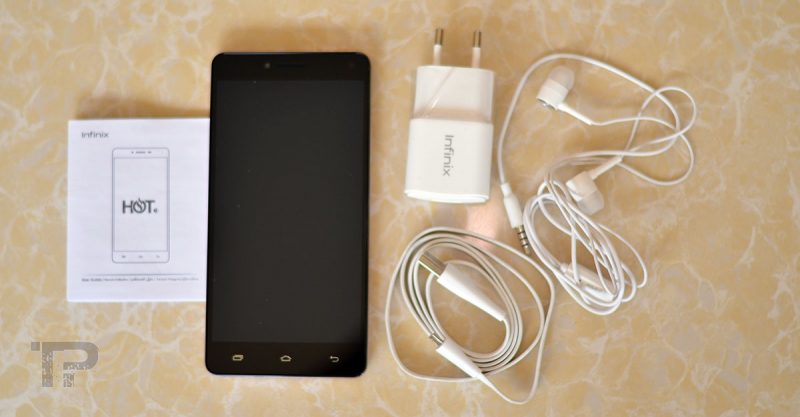 Breakdown of the Package Content:
The device: Infinix Hot 3.
A stereo headset.
A micro USB cable for data connectivity and charging.
Fast Travel Charger – 5V/1.5A.
User guide/manual.
Moving on with the Infinix Hot 3, we are starting with its design and outfit along side the hardware features.
Hardware & Connectivity
Infinix Hot 3 features a 5.5 inch HD display with 720p resolution making it only a 267ppi. There is no glass protection on the screen so one sure has to apply a screen protector on it. Inside, MediaTek's MT6580 chipset is powering the phone with 1.3GHz Quad-core processor and Mali 400 GPU. 16GB of internal storage is also good for a phone with such a price tag which is also expandable up to 32GB via microSD card.
The phone comes with 1GB or 2GB of RAM but only present in Pakistan is the 1GB RAM which is good for for moderate performance when running multiple apps but it's not quite useful if not managed well with the system. Hot 3 runs on Android 5.1 which is quite old but with the spec like Hot 3 has, I don't expect it to run later versions of Android. It will be better if what comes with the phone, runs well.
Infinix Hot 3 with its dual-SIM, features 3G connectivity at maximum and can be connected to 3G network with only one SIM (any of the two) supporting all bands in Pakistan. Other SIM will be switched to 2G/GSM. Other connectivity options include Bluetooth 4.0, WiFi, micro USB.
Design and Build Quality
Coming over to the design and the outfit of Infinix Hot 3, I guess the company can't manage to be on track with their smartphone ranges. It's awkward to see their low-end phone also increasing in size following their other mid-range devices. Comm'on, it's a low-cost smartphone and has features that suite the price range. It sure has to be under 5 inch in display size which could have delivered much better display performance with its resolution as well as a lower battery capacity would also do in pretty much same way. It looks like companies has only one idea that people fall for larger displays – may be it's true as people don't see other aspects related to it. They actually should.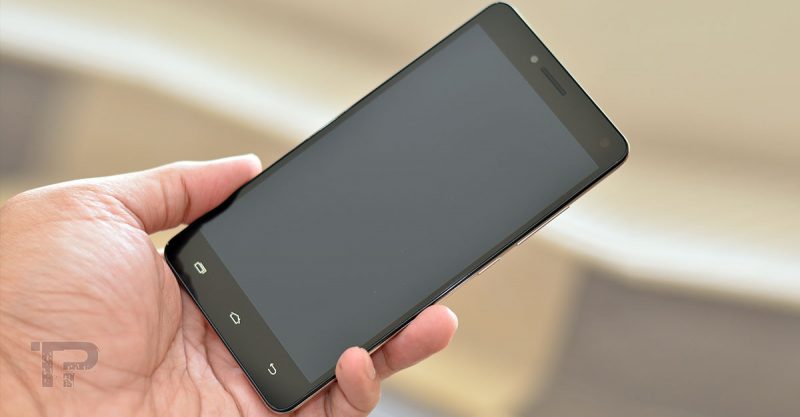 But I would have preferred 4.5 to 5 inch display for Infinix Hot 3. But if you like larger displays even on cheaper smartphones, sure Hot 3 could be one of your choices.
Let's move on with the components and controls.
Components, Controls, Ports and Slots:
Like usual, front side hosts a couple of common and required components of the smartphone including 2 megapixels front-facing camera alongside the proximity and ambient light sensors. In the middle top we have the earpiece. On the most right there is a soft LED flash – yes! that's for front facing camera. It's good for taking selfies in lowlight.
At the bottom-front we have capacitive touch navigation keys recent apps, home and back key.
Viewing at the top, we have a 3.5 mm audio jack which is placed on the left side when looking from front. Along side the audio jack there is the micro USB port in the middle. Down there at the bottom side there is a mouthpiece.
Left side is plain and free of anything while on the right side the volume rocker and the power/unlock key is present.
The back side of the the phone is beautifully curved on the sides which helps picking the phone up from the desk or when you hold it. There is an 8 megapixel camera along side an LED flash on the upper side. If you look closely, there is also a mic right below the camera lens – that is the secondary mic for noise canceling during voice calls. Both the mics combined, can also be used for stereo audio recording.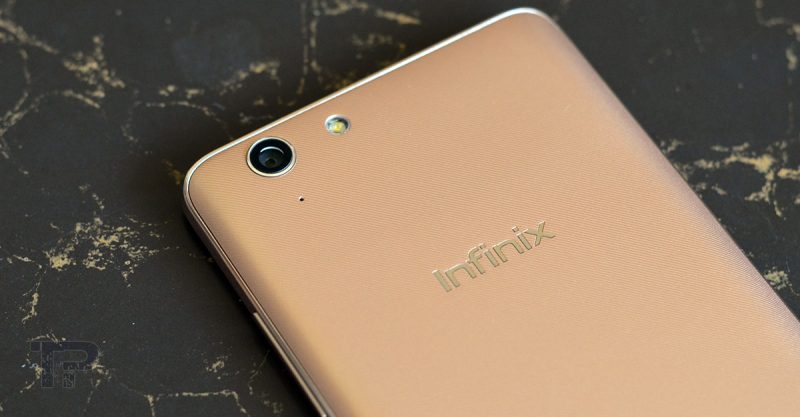 In the middle, there is "Infinix" branding. "HOT" branding is labeled at the lower part where on the left side of it there is speaker grill. Right there on the side, there is a notch to open the back cover which is easy to go.
The back cover is very thin but flexible too for not getting broken easily however it still is fragile like the most out there.
The back cover is removable and you can take the battery out of it. Also note that both the SIM slots and micro SD card slot are locked when battery is fitted. To replace any of the cards, the battery needs to be removed. On the other hand you can connect on 3G networks via either of the SIM slots.
3000mAh battery is indeed long lasting on the with single full charge.
Display
Where the bigger size of the Hot 3 could be equally good or bad for various people with different mind sets, the 5.5″ inch LCD display with HD resolution of 1280px by 720px gives pretty nice colors but not very high contrast ratio which may affect outdoor legibility. Viewing angles are fine however.
The pixel density of 267 ppi is not as good as highly remarkable but it's good enough for reading in normal conditions over e-books, documents or the web pages. Considering phone's price range, its also justifiable that it's not that bad.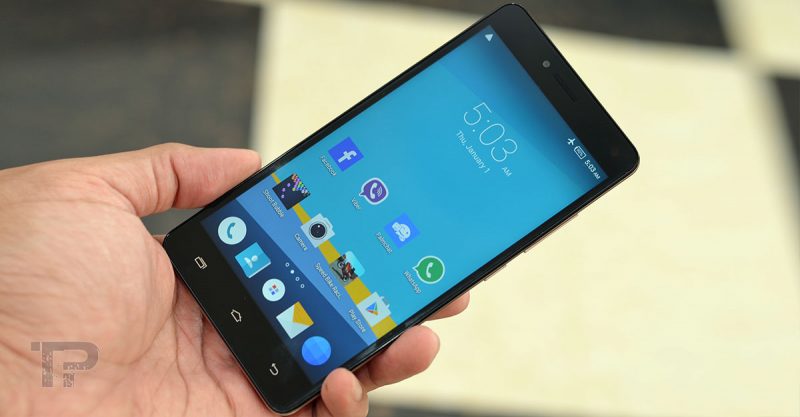 Overall the display is fine in most cases. It's anti-glare performance is also good but what it lacks is the glass protection. There is no such coating to protect the screen from scratches and you may need a screen protector for that. I don't recommend screen protectors mostly but only when there is screen protection like Gorilla Glass because screen protectors decrease the touch experience.
Software and Operating System:
Infinix Hot 3 runs on Android 5.1 with company's XUI which has little makeover of the default Android UI. A standard lock screen with with minimal items on top status bar and a quick short buttons at bottom that including call and camera with an unlock button in the middle. drag anyone of them to center to unlock the phone and go directly to the app if you dragged the call/camera button.
The interface comes with the home screens and app drawer as well as on the home screen folders work in very plain way as they pop out of the folder. Notifications/switches drops from the top status bar.
Home screens editor can be initiated by long tapping at a blanks space on the screen to delete or add the home screen. Wallpapers can be switched and widgets can be added. Recent apps running in the background are listed in a vertical slider view where the apps can be killed by swiping aside or all the apps can be killed by pressing the RAM button at the bottom.
Phone manager is a good feature to manage the apps and features like Mobile Cleanup, App Manager, App Lock, Bandwidth Manager, and Harassment Block.
Performance and Battery Life
Performance wise Infinix Hot 3 is just good at most of the basic things. It doesn't lag but usually you would face delays with the apps having a cold start. It may not be a problem for beginners but really not a good experience for users who have used a little better smartphone previously.
For gaming, it could be good for playing most of the addictive games but titles like Need for Speed or alike 3D games, you will be having a nightmare with Hot 3 for long lasting startup time. Take NFS for example; initial start may be longer than usual, between one race to another there could be lagging from slide to slide, however once a race started, it will be a cool experience but may not be as smooth as one would expect. But at last you'll end up with low-memory that may even cause crash.
Hope that if the 2GB variant will appear in Pakistan with a 1000 or 2000 price increase, I believe that will be better at some extent. Or the one with LTE connectivity powered by the Qualcomm chipset may also be good to try.
Infinix Hot 3's 3000mAh battery is good to run the phone for 2 days if you don't use 3G connectivity at all. Where 3G connectivity and the data usage on 3G network may not be as good as said. Still then, a moderate use may give you about day in one full charge. An extensive use of Hot 3 may lead you to fully drained out battery in only 10 hours or may be 1 more grace hour.
The phone comes with Ultra Power Saving mode that kicks out everything which makes up a smartphone, smart. You will be left with most of a phone functions – calls, text messages, a clock, a calculator, or at most a sound recorder or a notes creator. Ultra Power Saving mode is intended to use when you are away from charger but needs the phone for basic connectivity to last as longer as possible. For that reason, all services and apps that are not very important are turned completely off.
Camera
Infinix Hot 3 features an 8 megapixel camera on the back with an LED flash and 2 megapixel front-facing camera too with a soft flash.
The XUI provides a simple to use interface in camera app with a set of filters which can be applied right before capturing. The top row of four icons contain the filter, settings, flash switch (off, on, auto) and front/rear camera switch. Down below the viewfinder, there are the modes beautification, photo, video, and panorama and then at the most bottom you get the keys to capture, record or go to gallery.
Still photos can be captured at up to 8 megapixels with aspect ratio of standard 4:3 or wide 16:9. 5MP or 2MP are also the options to shoot if you want to save space on your storage – these two options provide 4:3 shots. While you can record videos at 1080p, 720p or 320p.
However for still photos, the camera has an array of options to choose including, store location info, setup volume key for capture; zoom etc, capture sound, grid lines, HDR, touch shot, smile shot, voice capture, gesture shot, self timer, resolution, exposure, white balance, anti-flicker, burst mode, or ISO. Where as video recording come with only a few that includes location, custom volume key to record, capture sound, video resolution, exposure, and white balance.
Camera quality which is an important thing with the camera is not impressive – no wonder it's a low-end smartphone. Color rendering is not too impressive, less image detail and visible noise even when shot with flash. Dynamic range is very poor. Outdoors in good light the camera produce some good images but still the white balance doesn't seem to be something important for the camera as it's really inconsistent from shot to shot. One liner for the camera would be that it's just good for sharing pictures online and viewing on smaller sized screens. Don't expect more from it.
Outdoor Shots
Indoor Shots
Using Flash
2MP front camera is a fixed focus that has 82º degree angle of view to cover wider area helping out with groupfies (or group selfies) which sure is good thing. The front camera can also record 480P video. Specially the front camera too comes with the beauty mode to make skin soft and clear. But in result and quality. The photos are too soft with very less sharpness and when viewed at 100% much noise is visible. But photos in actual size (no 100% crop) which actually are the purpose to shoot with front camera and share online are good to go with.
Conclusion and Final Remarks
Straight to the point, Infinix Hot 3 is good in looks, its curved back is attractive with a slight pattern throughout the back cover. Handling is fine with its light weight. Battery performs well in most cases.
With the hiccups on initial app launch (some apps, not all), following performance is good. Gaming wise most titles in Subway Surfer like category will work fine with a free memory. I won't seriously complain for a device costing Rs. 10k (only $95). So goes with the camera which is good considering the price again.
I am not impressed by the Hot 3 but it could be a better option among the price range. One thing I would ask Infinix, is to make available 2GB model of Infinix Hot 3 – may be for Rs. 11,000? or a little more hundreds. It would be a really great deal for consumers.
Update: Infinix Hot 3 Pro a 2GB variant with 4G LTE is now available for Rs. 14,599/- Which is a higher price tag. You should also consider General Mobile 4G instead which costs Rs. 13,499/- and packs with pretty much similar features but with a larger resolution and a Gorilla Glass on display while half a step down of Qualcomm's chipset – Snapdragon 410. It's an Android One and expect it to receive prior software updates directly from Google.
http://techprolonged.com/wp-content/uploads/2016/05/infinix-hot-3-review-29.jpg
626
1200
Noaman Rasheed
http://techprolonged.com/wp-content/themes/TPRO-Theme/tpro/img/tpro-logo-blue-header.png
Noaman Rasheed
2016-05-30 17:33:11
2016-06-23 13:14:40
Infinix Hot 3 Review