Press Release
PTCL will deploy 789kms of fiber for ZONG which will enable delivery of quality telecommunication services for the Pakistan market. An agreement to this effect was signed between Pakistan Telecommunication Company Limited (PTCL) and ZONG.
The agreement entails a fiber leasing agreement which will enable ZONG to utilize PTCL's extensive nationwide fiber optic footprint and its expertise in deploying, operating and maintaining a fiber optic network.
Pakistan's telecom market has recently started witnessing a sharp increase in the data usage preference of 3G/4G cellular subscribers. This emerging trend is pushing the need for aggressive 3G/4G rollout across the country and creating a demand for effective BTS backhauling for seamless data transmission. This agreement will enable ZONG to further expand its fastest 3G and 4G network nationwide.
Under the agreement, PTCL will deploy, operate and maintain 789 Kilometers of fiber line across the country connecting ZONG's BTS for data backhauling.
The strategic partnership is a step forward towards actualizing the MoU that was signed between the two companies in December 2015. The MoU declared PTCL as ZONG's preferred partner for providing infrastructure and technical expertise in a number of sub-sectors. This project is specifically aimed at enhancing and extending ZONG's footprint in order to offer high quality data and voice-based services to their rapidly expanding 3G/4G subscriber base across the country.
Mr. Daniel Ritz, CEO and President of PTCL and Mr. Liu Dianfeng (Chairman and CEO, ZONG) signed the agreement at a ceremony held at PTCL Headquarters in Islamabad on 17th August, 2016.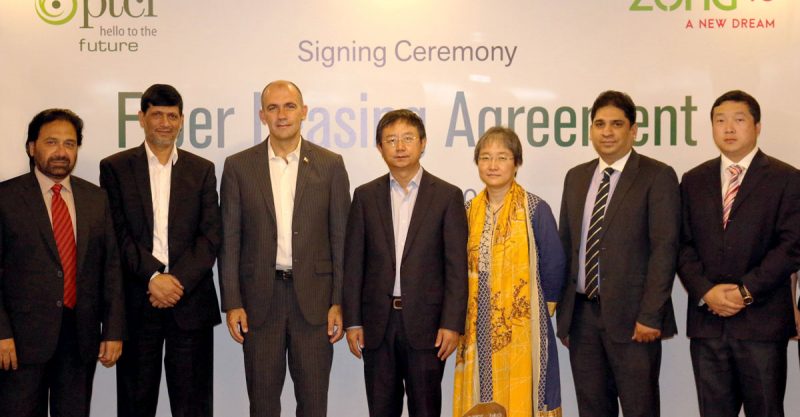 In the Picture: Mr. Daniel Ritz – CEO & President, PTCL is standing third from left with Mr. Liu Dianfeng – Chairman & CEO, ZONG (fourth from either side) to pose for a photograph along with their executives at a signing ceremony.
The signing ceremony was attended by senior management from both the companies, including Mr. Sikander Naqi, (Chief Business Development Officer, PTCL), Mr. Saad Warriach (Chief Technical & Information Officer, PTCL), Mr. Muhammad Nehmatullah (CFO, PTCL) and Mr Omar Khalid (EVP, Carrier Services and Wholesale), Mr. Maham Dard, (Director Corporate Affairs, ZONG), Ms. Miao Qiao, (Chief Technical Officer, ZONG), Mr. Mannan Shabir (Executive Director Procurement, ZONG) and Mr. Li Yewen (Director Network Planning, ZONG).
On the occasion, senior management of the two companies emphasized the need for deployment of cost-effective solutions which will enable delivery of quality telecommunication services for the Pakistan market.
It is expected that the partnership will go a long way in paving a bright future for both stakeholders.
This article contains content from a press release issued by the company and does not reflect any opinion or recommendation from Tech Prolonged.
http://techprolonged.com/wp-content/uploads/2016/08/Zong-PTCL-Fiber-Lease.jpg
417
800
Press Release
http://techprolonged.com/wp-content/themes/TPRO-Theme/tpro/img/tpro-logo-blue-header.png
Press Release
2016-08-17 23:33:02
2016-08-18 00:49:43
PTCL to deploy Fiber Optic for leasing to Zong