I happened to experience an app that visually tells you the time but in fact much more than just time. I haven't reviewed a mobile app for quite sometime but this is the one I'd like to share about.
What made me share about the app is, it actually could trigger some intuition in some one's mind that this is not something that you won't want to explore the things which happen around the universe, away from the globe when you are looking at the clock on your wall and outside it's just dark night or a brighten day light.
Ah well, we all know that how time works and how does a day light turns into a dark night. Most of us have read these things in our schools but how many have actually experienced this phenomenon in their hands? Ok! I don't know about that but if you are interested, you must check this app out.
A little bad thing is that the app is is not free and even there is no trial version or ad-based version in the stores. So you have to spend Rs. 455/- or $3.99 to download this app from Play Store or App Store respectively for Android or iOS devices.
An abstract time concept is now a tangible experience on a Mobile device – That's what the developers have to say and I believe it's true to much extent. The application has a really straight forward user interface with a set of buttons along both the sides of screen which allow users to switch the content while keeping the interactive 3D illustration of the universe on board.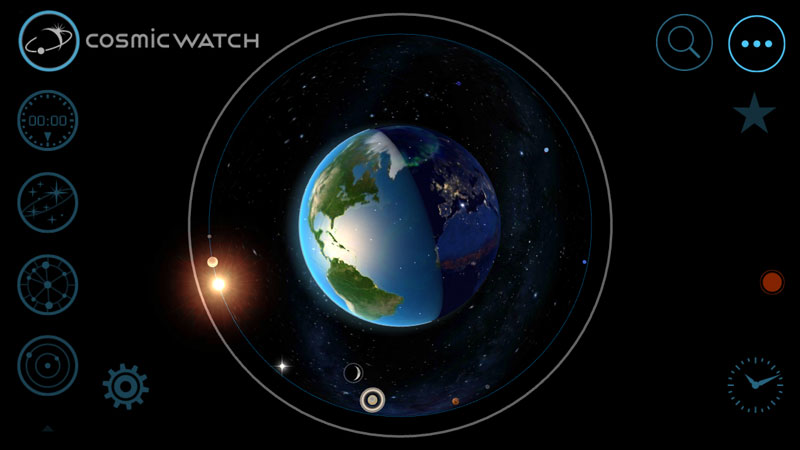 Four buttons on the left side are the content switches with an additional gear button for settings on the bottom and the main home button on the top left corner clears the content on the screen. The universe sphere remains intact but interactive throughout the experience which is truly smooth.
When screen is not serving any content, on the right hand side there is menu button (top-right corner) which additionally hides all the buttons keeping the content on-screen. Along side there's a search button which allows you to search cities or countries around the globe to position the globe into center. There is favorites lists of locations to keep and a clock button to show current local time of the selected location. A small red button simply takes the screenshot.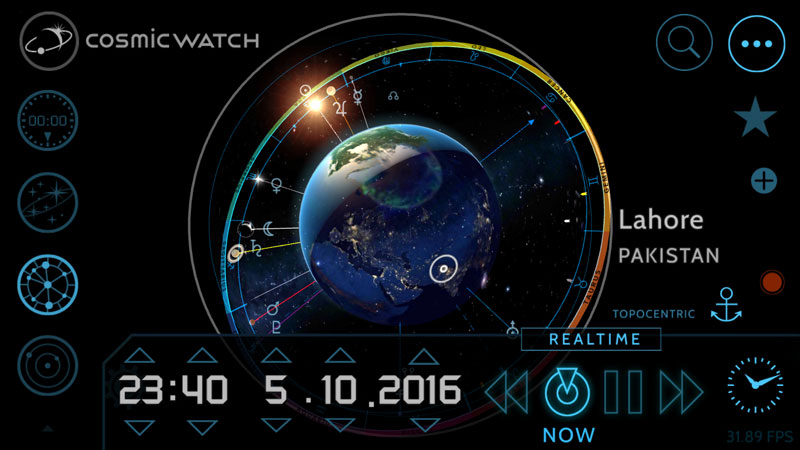 Three presets of content are provided including the real time clock around the globe with selected location on the globe to allow you easily see the time and other things around at that specific time. Celestial Navigation allows to align with the cardinal points and experience your real time position in our solar system. Explore any celestial positions in the past, present and future. It also detects the cosmic moments – yes the Solar eclipse.
Moreover it can be used to educate kids with fun. I believe they will understand it quite easily with this whole implementation of Solar system. Checkout the video after the break and have a look at some screenshots from the app to let you know what information this Cosmic Watch can deliver to you.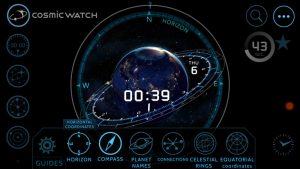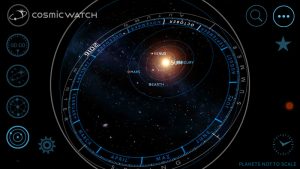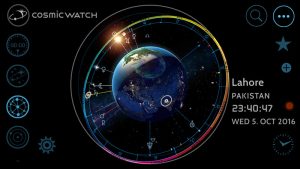 I can tell you that experiencing it in your hands would be more cooler than just reading here. If you have any interests, you can purchase the app and download from
Google Play Store
or
Apple's iTunes
for your respective Android or iOS devices.
http://techprolonged.com/wp-content/uploads/2016/10/cosmic-watch-lahore-time.jpg
417
800
Zohaib Butt
http://techprolonged.com/wp-content/themes/TPRO-Theme/tpro/img/tpro-logo-blue-header.png
Zohaib Butt
2016-10-06 01:10:08
2016-10-06 01:11:34
App Review: Cosmic Watch - A Tangible Experience with Time