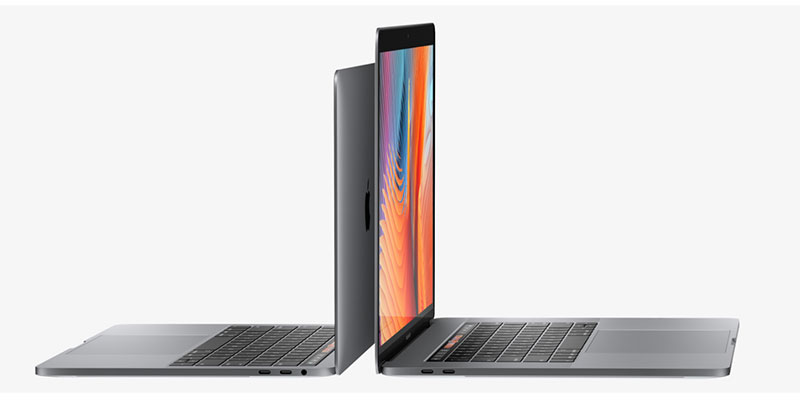 New MacBook Pro features Touch Bar, Touch ID and USB-C; But No Other Port
Apple has announced its latest generation of MacBook Pro laptops during an event "Hello Again". As the name of the event suggests, Apple launches the "redesigned MacBook Pro" laptops sizing 13 inch and 15 inch displays.
First marketed feature is of course the design and build of the MacBook Pro as announced in the launching video promo advertised to be built of incredibly extreme metal. But most prominent feature of the MacBook Pro is the OLED "Touch Bar" which can take lead from Microsoft's Surface Book i7. Pricing model also favors Apple's machine as Microsoft's laptop is only available in 13.5″ display but the latter has extra ordinary design for sure.
Prominent Features
Although not implicitly told but according to the features shown and presented at the event, this Touch Bar is most probably a secondary "touch" display which fully relies on the software. It's an OLED display supporting multi-touch, provides interactive information, shortcuts, color palettes, timeline, audio controls, phone controls, range of emoji icons and function keys. Provided, being a software operated display, it's customizable right from the main display – depending almost on any application you are running.
Once again like always, it's Apple's thinnest and lightest MacBook Pro ever. It features larger touch pads, keyboards with butterfly mechanism. The display is also better than before with 67% more brightness, 67% better contrast ratio providing 25% more colors. However the new MacBook Pro machines consume 30% less power than before. That's what Apple claims.
Components, Hardware and Pricing
As the new MacBook Pro comes in variations, 13-inch laptop is available with or without Touch Bar and Touch ID. The base model of new 13-inch MacBook Pro comes with 2.0GHz dual-core Intel Core i5 processor, 256GB SSD storage along with 8GB 1866MHz RAM. Two more variants of 13-inch new MacBook Pro have little faster components including 2133MHz 8GB RAM and 2.9GHz Core i5 processors. Latter is available in 256GB or 512GB SSD storage options however all three packages have integrated Intel Iris Graphics 540, 550 and 550 respectively and priced accordingly as $1499, $1799, and $1999.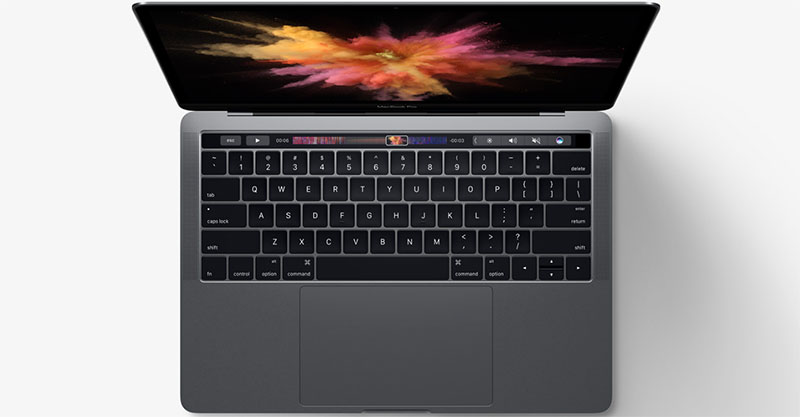 15-inch MacBook Pro comes in two packages where most of the components are identical with minor model variations. 16GB 2133MHz RAM, Radeon Pro 450 or 455 with 2GB dedicated graphics memory, Intel Core i7 (6th-gen) processor clocked at 2.6GHz or 2.7GHz with Turbo Boost up to 3.5 or 3.6GHz, 256GB or 512GB of SSD storage. Both come with Touch Bar and Touch ID. Both priced at $2399 or $2799 respectively.
Intel processors in new MacBook Pro is 6th generation. Only the base package of 13-inch MacBook Pro has two Thunderbolt 3 USB Type-C ports. All the other packages have four of them. Other than that there is only 3.5mm headphone jack. There is no SD card slot as well as no other dedicated ports for VGA, DisplayPort, HDMI, etc. as Apple advises you to use the available USB Type-C ports for any of those tasks such as DisplayPort or charging. It also supports Thunderbolt up to 40Gbps and USB 3.1 gen-2 up to 10Gbps. If you are thinking about MagSafe power, then yes; it's not present as well.
That's it, pricing has already been mentioned above and all of them are now available to be ordered from apple.com. Basic model is shipping right away, however the Touch Bar models will start shipping within next month.
http://techprolonged.com/wp-content/uploads/2016/10/apple-2016-macbook-pro-1.jpg
417
800
Rehan Rasheed
http://techprolonged.com/wp-content/themes/TPRO-Theme/tpro/img/tpro-logo-blue-header.png
Rehan Rasheed
2016-10-28 00:34:29
2016-11-04 15:40:15
Apple's new MacBook Pro brings "Touch Bar" as Secondary Display for shortcuts