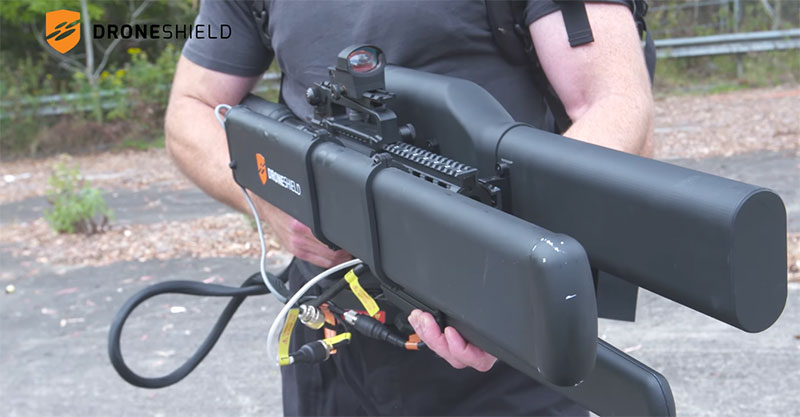 Spy Drones haven't yet gone aggressive, yet they got company!
A drone gun has been developed to counter the invading and spying drones into someones privacy or the area which is not supposed to have flied over with cameras.
This gun, called – DroneGun, is not like to shoot and destroy the flying drones. It's intended to aim at the flying drone to take it down safely without damaging it. The gun has three big antennas pointed directly at the target to jam the GPS, GLONASS or other positioning signals around the flying drone.
It's working distance is 1.2 miles (or 2 kilometers) – beyond that a drone is just not its piece of cake. DroneGun has the ability to either bring the drone home or make it return to its pilot – as the gun can also locate the piloting location of the drone.
BENEFITS OF DRONEGUN TACTICAL DRONE JAMMER:
Effective coverage: Allows for an up to 2km coverage, in a wide range of environmental conditions
Portable: Rifle shape with a backpack, one person operation
Easy to use: no technical training for set up or use required
Immediate video cease: immediately ceases video transmission back to the drone operator
Enables investigation: drone remains intact and available for forensic investigation
Considering, the DroneGun is not the first of its kind but it indeed could be the first to take down drones from as far as 2 kilometers of distance.
Battelle's DroneDefender – mere working distance is 400 meters.
2 kilometers are pretty good to take care of, but company has declared about the approval of this thing which is due by FCC. Until then it can not go on sale for consumers or companies in US as well as the law will be abode in other countries where applicable.
"DroneGun has not been authorized as required by the United States Federal Communications Commission ("FCC"). This device is not, and may not be, offered for sale or lease, or sold or leased, in the United States, other than to the United States government and its agencies, until such authorization is obtained. The use of DroneGun in the United States by other persons or entities, including state or local government agencies, is prohibited by federal law. Laws limiting the availability of DroneGun to certain types of users may apply in other jurisdictions, and any sales will be conducted only in compliance with the applicable laws."
http://techprolonged.com/wp-content/uploads/2016/11-12/droneshield-gun-3.jpg
417
800
Rehan Rasheed
http://techprolonged.com/wp-content/themes/TPRO-Theme/tpro/img/tpro-logo-blue-header.png
Rehan Rasheed
2016-11-29 23:36:09
2016-11-30 13:41:14
This Anti-Drone Gun can take down them from 1.2 miles away