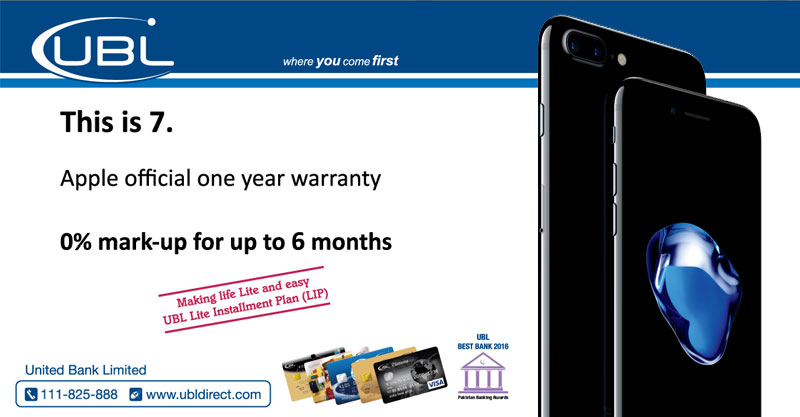 UBL offers 0% Markup for up to 6 months installment plan for iPhone 7 and iPhone 7 Plus
UBL has offered its credit card holders to buy iPhone 7 or iPhone 7 Plus on installments for which they can pay monthly in equal payments up to 6 months with 0% markup, nonetheless with a little higher offering price.
Recently SCB has also offered 0% markup for buying iPhone 7 on installments but interestingly in up to 12 months which is better than the UBL offering. However, on wards up to 36 months UBL's markup charges are much lower than SCB's.
Personally I'd prefer never to buy anything on installments with any markup and if comparing UBL and SCB where both listed same price value of the smartphone, SCB of course is offering far better option to pay in 12 months unlike only 6 months from UBL. But going forward up to 36 months, where UBL's maximum markup is around Rs. 53,000/- for iPhone 7 Plus 256GB, SCB's maximum markup is over Rs. 93,000/- for the same model. At the lower end, SCB's markup value for 18 month installment plan adds Rs. 31,472/– to iPhone 7's offering price whereas UBL's markup value for 18 month adds Rs. 17,540/- to the iPhone 7's offering price.
So the customers who prefer to go slowly with payments, no matter they are paying a huge amount in total at the end, the UBL credit card holders will have benefit over the SCB credit card holders.
You must note that the offering price of iPhone 7 and iPhone 7 Plus from UBL and SCB are same with added value to original official prices of both smartphones. with Rs. 1900/-, Rs. 2200/-, and Rs. 2400/- additionally to the original value for iPhone 7 32GB, 128GB and 256GB Respectively. Likewise, iPhone 7 Plus will cost you additional Rs. 2200/-, Rs. 2500/-, and Rs. 2800/- for 32GB, 128GB and 256GB respectively.
iPhone 7 and iPhone 7 Plus Prices with UBL Installment Plans
| | | |
| --- | --- | --- |
| | IPHONE 7 | IPHONE 7 PLUS |
| 32 GB | PKR 87,400/- (PKR 85,499/- + Rs. 1901) | PKR 103,100/- (PKR 100,899/- + Rs. 2201) |
| 128 GB | PKR 100,600/- (PKR 98,399/- + Rs. 2201) | PKR 116,300/- (PKR 113,799/- + Rs. 2501) |
| 256 GB | PKR 113,700/- (PKR 111,299/- + Rs. 2401) | PKR 129,600/- (PKR 126,799/- + Rs. 2801) |
Checkout the full detail of UBL installment plan offerings for iPhone 7 and iPhone 7 Plus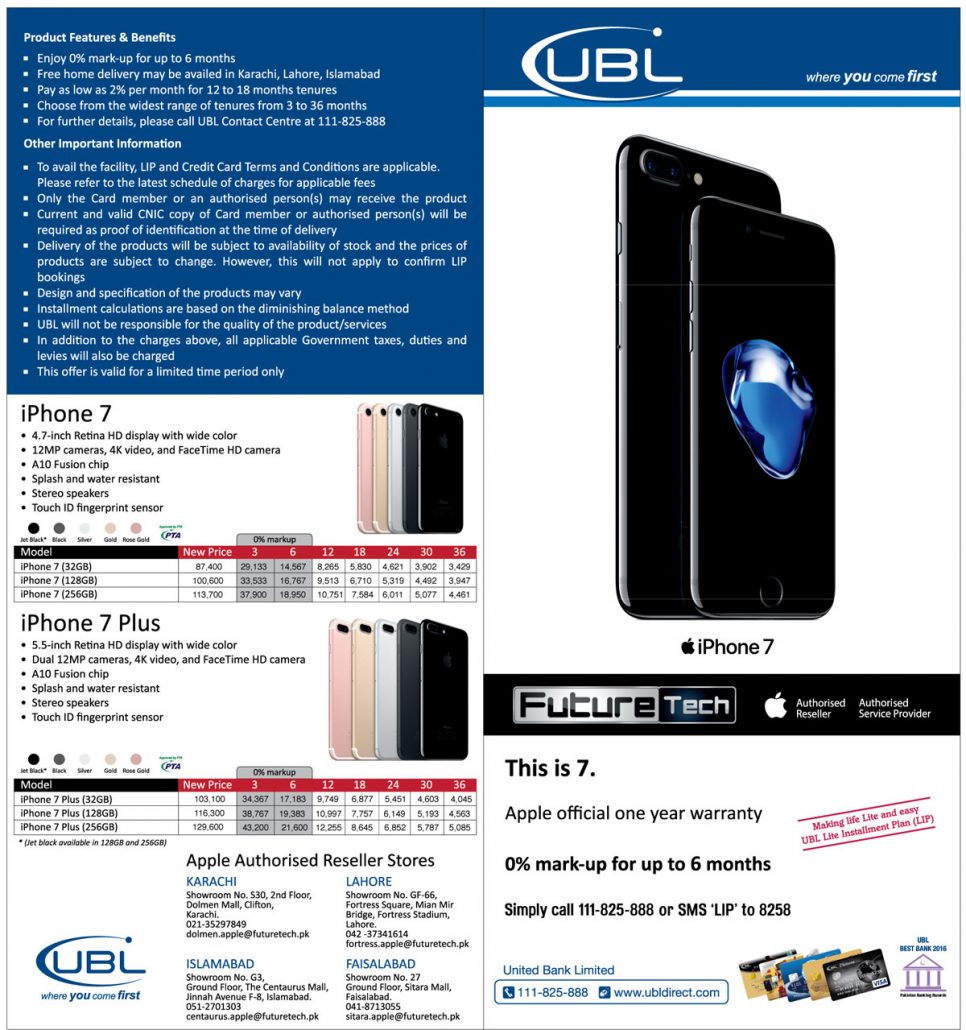 http://techprolonged.com/wp-content/uploads/2016/11/ubl-iphone7-installments-plans.jpg
417
800
Rehan Rasheed
http://techprolonged.com/wp-content/themes/TPRO-Theme/tpro/img/tpro-logo-blue-header.png
Rehan Rasheed
2016-11-10 00:12:56
2016-11-11 01:06:09
UBL also offers iPhone 7 and 7 Plus on Installment Plans in Pakistan