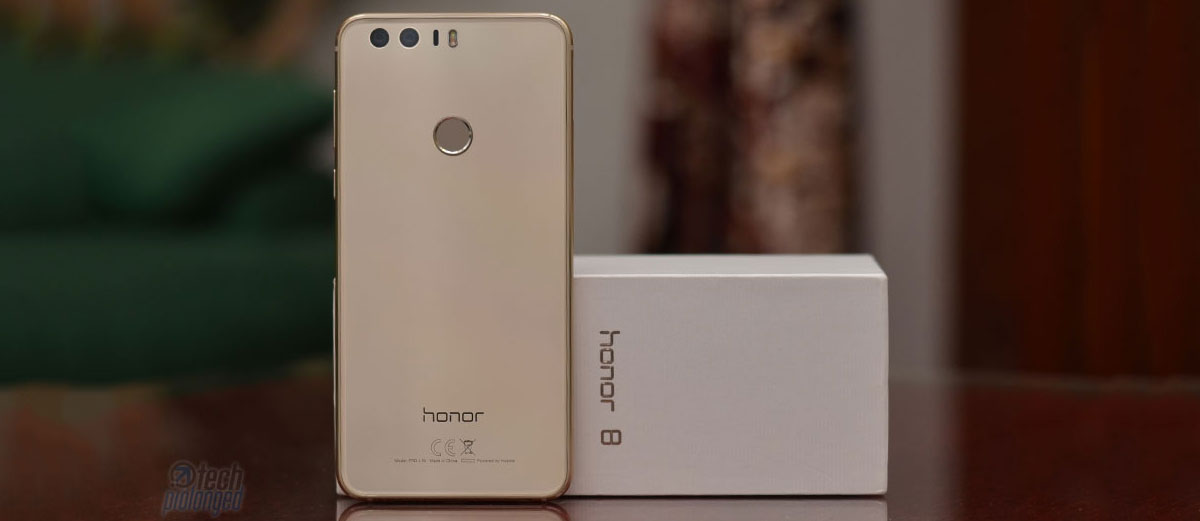 Build, Design & Display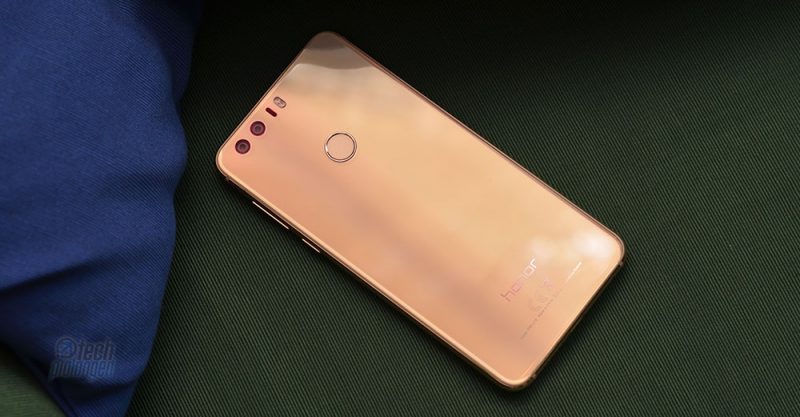 I really can't resist saying that Huawei Honor 8 is one of the best looking smartphone you'd ever see. The shiny back panel is made up of 15 layers of nano-etched glass that bounces off glowing reflections. However it's not like a mirror that reflects anything you bring in front of it as the glass diffuses the light before reflecting back.
A few of those 15 layers, to be precise, include filters, color-etched nano-film and a milled 3D diffraction grating that actually diffuses lights and reflections when you move the phone. The nano film inside contains swirled texture with various colors which reflect depending on the ambient light bouncing through it. Another thing is that the gold unit we got here sure is as good as I told but the midnight blue variant of Honor 8 is really something you would want to checkout before buying.
With all that premium and luxurious feel, handling of the phone is good but it's really prone to capture fingerprints that actually gives an awkward feel. As well there seems not to be any glass protection layer that catches scratches easily.
not so much secure due to its really slippery and smooth glass. While you can hold the phone easily but you really have to take care when you put your phone at some place making sure that the surface is secure enough that the phone will not slip from.
On the back, the glass is so smooth and flat cover every corner of the phone with 2.5D curved edges on all sides and corners. This single glass covers the camera lenses and the laser part on the back however the dual LED flash is apart from the glass with the silver wall around it. Aligned exactly to the glass, the isolating wall is hosting the LED flash a little inside to prevent light bleeding into lens when taking photographs with flash-on.
It all goes flat without a minor bump on the back but yes the finger print scanner is intruded inside. This time Huawei used a clickable button inside to make it work for other applications and not only the fingerprint scanner. Huawei calls it the "Smart key" – currently can be configured for single press, double press and long press (press and hold). Defaults are Camera app, Twitter app, Instagram app. The fingerprint scanner also supports swipe gestures such as swiping from top pulls down the notifications panel. Lower side of the back prints the branding "Honor" with make information.
If you missed the part when I told you how slippery and smooth this smartphone is, let me be very clear here. It would slip slowly from the surface, that you think is flat and horizontally leveled but it's not in real; you will get to know that your desk is not so horizontal if Honor 8 moves from the place where you placed it first.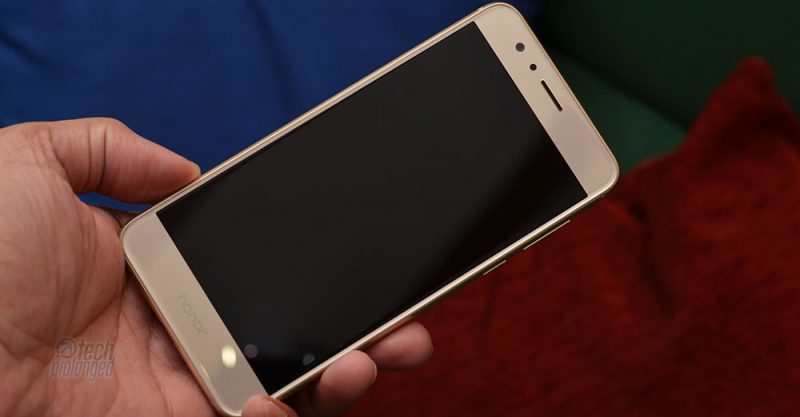 Front glass is also 2.5D curved matching the back panel's shape however not exactly the same as we talked above due to serving for the screen display, it has to be clear instead of any fancy looking rays and glows of reflections.
Both the front and the rear glass panels with the curves on their ends join at the middle rounded aluminium frame with chamfered edges. Although the glass doesn't blend directly into the frame – there is a plastic layer on both sides of the frame before the glass actually join in.
The good thing is that plastic strip layer around the glass at both sides directly attach to the antenna stripes which gives another flow of design rather than an awkward feel.
Ports and Components
Coming over at components, Huawei Honor 8 has nothing different than most smartphones instead of the placements. On the right, there are power button and the volume rocker whereas on the left a SIM/MicroSD card slot is provided.
It's a hybrid SIM slot that serves as a dual-SIM mode or a single-SIM + a micro SD card can be used at once but it can't serve all three simultaneously.
Bottom of the phone hosts all of the three, 3.5mm audio jack, a mono speaker and a USB Type-C port – it's fast when connected with USB 3.0 host. A primary mic (or mouth piece) is placed in side the speaker grill while a secondary mic for noise reduction and stereo audio recording is provided on the top side of the phone.
Along side the mic on the top, you can see the IR blaster which you can use as a remote to various of the electric devices around that support infrared remote. Huawei is shipping an app called "Smart Controller" pre-built into the software that works with the IR blaster and you don't need to look a third party app for that – detail will be covered in software section later.
Display
5.2 inch display on Honor 8 as serves with 1080p resolution is sharp enough to be true to the Huawei's commitment to keep this resolution as maximum in their high-end devices. Even on technical notes the pixel density of 424ppi is more than enough for all kind of content on the screen to view with naked eye. So at least I have no complaints with this display, even the Mate 9 that has bigger screen but has same resolution and lower pixel density which is also above the range that is good enough for human eye.
When talking about display, the things to count are the reading text, watching videos/movies or playing games etc. It's enough to tell that it's vibrant when viewing images or watching videos as well as playing games and the text is sharp to read.
Technically, the display is pretty similar to what we have seen on Huawei P9 previously, it's JDI's (Japan Display Inc.) IPS-NEO LCD panel that uses LTPS (Low Temperature Poly-Silicon) TFT technology which is considered better than the a-Si (amorphous silicon) TFT. However Huawei seems to have controlled the maximum brightness that it's not as brighter as Huawei P9.
On papers, Honor 8 delivers 500 nits of maximum brightness exactly as Huawei P9. it's good in most lightning conditions except direct sunlight. Contrast ratio is pretty much impressive on Honor 8 matching up to flagship smartphones from competitors.
Software allows to control display parameters with two options in the Display settings, Colour Temperature and Eye Comfort. The former allows the user to set the display temperature level at cold and warm output levels. Default is somewhere in the middle of two while user can also customise the temperature with a colour circle. The latter – Eye Comfort is just a switch that, when enabled, filters out the blue light from the display and leaves you with a yellowish tint for the eye comfort.
http://techprolonged.com/wp-content/uploads/2016/11-12/huawei-honor-8-review-unboxed-1.jpg
625
1000
KA
http://techprolonged.com/wp-content/themes/TPRO-Theme/tpro/img/tpro-logo-blue-header.png
KA
2016-12-10 02:29:42
2016-12-23 13:52:37
Honor 8 Review - Huawei's e-brand smartphone for most ages