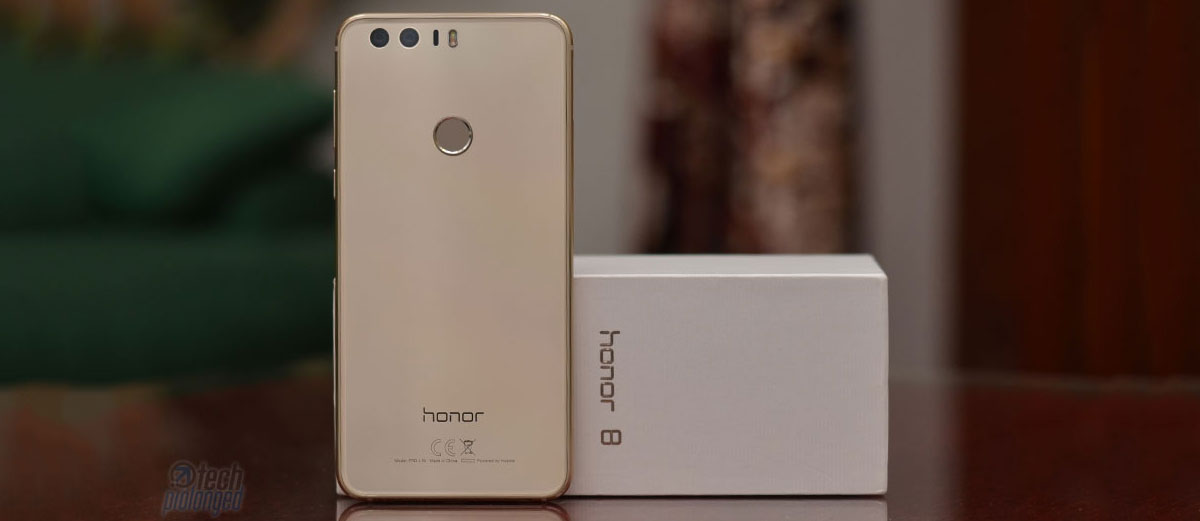 Dual Camera
The dual camera setup in Huawei Honor 8 is extremely similar to what we have seen in Huawei P9. The two 12 MP sensors – one is a standard that takes colour photographs while the other one takes monochrome or the black & white sensor that doesn't have a Bayer filter which is used in standard sensors to produce colour images. Due to not having the Bayer filter, the monochrome sensor in the dual-camera setup helps produce more detail along with obtaining as more light as three times than a standard colour sensor. That, in turn, helps take better pictures in low-light.
What we don't have in Honor 8's dual-camera, is the Leica optics that actually made Huawei P9's camera worth of putting it in high-end smartphone cameras lineup. It also means that Honor 8 won't be providing those photo/video features that came specifically to support Leica optics and produce vivid, sharp and smooth image results. I can tell you that it's a real thing as the pictures from Honor 8's camera didn't impress me, they indeed lack the vividness.
Another feature that Huawei P9 has, was straight out of the sensor black & white shots by using the single monochrome sensor. Honor 8 doesn't give you that thing. Instead it features the software based desaturation of a colour image via "Mono" filter before taking the shot. Due to having produced by the both the sensors involved, it would give better black & white results than most smartphone cameras but don't expect it to stand by the real monochrome shots from P9.
One difference that you will see instantly among these two phones' cameras is the user interface and experience. The camera app has clean viewfinder with a capture key on the bottom, photo/video switch on bottom-right and a gallery button on the bottom-left. On top there is flash switch, aperture mode fro shallow depth of field, filter button and front/rear camera toggle. There is no menu right there on screen but the interface has a swipe gesture from left edge that reveals all the camera modes and swipe gesture from right edge reveals the available settings for current/active camera mode.
Quick camera modes include taking photos automatically, or with manual settings in Pro-photo. Beauty mode in still photos as well as when recording videos. There is also a video mode with manual settings in Pro-video. Other modes include Panorama, HDR, Night shot and Light painting etc. The settings interface completely depends on the mode you choose.
Of course auto mode could be a best choice for most of the users but now a days smartphone cameras have become an important part of photographers and enthusiasts which always want to take photos according to their own terms. Pro-mode in Huawei's system has pretty much good options to deal with. Although Honor 8 also has pro-mode for manual settings, it doesn't offer RAW format unlike P9.
Like still photos, video recording also support manual settings but not as extensive as in still photos. Although white balance settings in Kelvin temperature values from 2800K through 7000K is a good option in practice. Single tap focus and continuous focus is also supported along with manual control over focus.
1080p video recording at 60 frames per second is supported but can't use video stabiliser and object tracking, both of which can be used when recording at 30fps.
Thanks to the same dual-camera setup with similar sensors and configuration, Honor 8 can indeed achieve depth information and provide you with the bokeh feature in exactly the same way (picture 4 above). Aperture can be set from f/0.95 to f/16. You can edit those photos to readjust focus and aperture f/stop.
Now that we just checked the aperture control mode above, let's start with this first. This feature is an output of the configuration of two sensors that help the system to calculate the distance between the camera and the subject quite precisely. That also involves Huawei's Hybrid and Laser autofocus. With all the data information in hand, the system creates a depth map of the whole scene in the frame, and it's used to recreate linear blur on the background or foreground or both while having crisp focus on the subject within the frame.
Well this couldn't be referred to as an optical bokeh or optical shallow depth of field anyway, it's still generated by the software algorithms. However it's impressive, as Huawei did good with all the information to create an impressive bokeh effect. The appreciable thing is that you can see bokeh preview in the live view before taking the picture. Likewise, the images can be later edited right in the phone to change aperture control and even the focus point.
Photos with Aperture Control / Bokeh Effect
First of all, all the above photos were taken with aperture control at various f-stop – you can visit the picture at flickr to see EXIF, except the last one. The last picture actually depicts the real/optical blur caused due to the object being closer than minimum focusing distance. So just take it as a reference image for an optical blur if you want to compare it with other pictures above.
Secondly, the system still has flaws most importantly when you try to take a portrait of someone. As I have experienced, with this phone or any other smartphone featuring such a bokeh effect, they might be better with flat subjects lying down in a sequential order but when they had to do some complex job like say on a portrait, they are less than better. Sometimes some errors are also visible clearly such as in the picture of my daughter above. Let alone the soft glow around the clothes she's wearing, the background blur just couldn't keep up efficiently and lost near the bottom of her sweater where you can see clear background on the edges as well as the sweater has been smudged.
Other shots are pretty nice but I didn't like the blur on the tree away from the train track in the third photograph.
Low light shots
Without using Pro-photo mode to take some quick shots, following low light shots were pretty much appealing from Honor 8 – specially the outdoor night shots.
The camera seems to be doing great job with its monochrome sensor to reduce noise at an impressive level. The photograph of the baby was taken at ISO 1600 and the noise level is really impressive. with all the good detail.
Shots with Flash
I actually never rely on flash in the smartphone camera specially when it's LED or dual LED or some true tone flash etc etc. Mostly they make the picture worse than without using flash. But at some places they do work great. First photo below, for an example, is actually lit up with the flash but it didn't help reduce the noise level while on the other hand the second picture is what you will like to see. It brought up skin tone much closer to real as well as the flash didn't just burst out to over expose the shot.
Flash also vanishes the background completely as the light doesn't reach beyond 1.5 meters mostly.
Daylight Shots
Honor 8 has captured the photos with great detail in a full sunny day. It did pretty good with dynamic range as well as noise levels were good too if not better. What was not impressive, is the colours. As said before, the vividness is something this smartphone camera really doesn't know about. The colours are just on and off with no solid reason. But if to tell in general, these shots are really good.
At some places you might need HDR feature to bring some light to shadowed areas in your frame. However with me, it hardly worked. I even can't identify from my pictures if there is significant difference.
Here are some panorama shots, which are good but not taken at full strength.
So in simple words Honor 8's dual-camera handles exposures very well with impressive dynamic range. Noise reduction is impressive too, even in low-light situations it performs well above average. Colour saturation is quite good and very accurate to actual scene but sometimes it lacks the good colours in the photos and doesn't appeal to the eyes.
Feature full modes and options in Honor 8's camera app are quite impressive with likes of aperture control that also works mostly well. There is Pro-photo mode for enthusiasts who want to do more with the smartphone camera according to their own brain. I am not sure about HDR because I was failed to distinct those images shot with HDR mode enabled, with the images that were shot without it.
Considering P9's HDR images which were pretty good as well as its camera performed very well if compared to the Honor 8's camera, I can tell that both are quite different. The Leica optics on P9 is the known difference but it's true that, if the underlying sensors are same in both devices, Honor 8's camera is not well optimised with the system. Huawei really needs to consider this in upcoming updates planned for this device, if there are any.
Front Camera
Coming over at front, Honor 8 features an 8 megapixel with not as wider lens as many others are now supporting, it's f/2.4. Even though there is no flash on the front, the system uses bright screen splash to illuminate the the face enough to capture the picture.
In result, it's much better with the colours and contrast that actually bring some detail into the skin tones. But "beautifying" feature is also there which turns on by default in selfie mode and it vanishes the skin marks making it smooth as really unreal with almost zero detail. So I personally never liked this beauty thing in selfie cameras.
Video Recording
Like with still photos, Huawei Honor 8 provides provides good features with video recording as well. The phone doesn't have optical image stabilisation (OIS) however, in video recording, an electronic image stabiliser (EIS) works to stabilise the footage pretty well, not impressively though.
Object tracking (OT) is also available that works with tapping an object within the frame to focus it and the system keeps the object in focus while it moves around. This feature actually works well with objects if they are not moving too fast. There are other situations when the camera can lose track of the object; e.g. when the exposure changes suddenly.
Unfortunately, both of the above features EIS and OT are not available when shooting at 60 frames per second. See the table below for more information on the supported video formats.
| Mode | Video Profile | Audio Profile | EIS/OT |
| --- | --- | --- | --- |
| FHD 1080p 60 fps | 1920×1080, 16:9, AVC/H.264, ~35 Mbps | 48000 Hz, 192 Kbps, Stereo, AAC | NO |
| FHD 1080p 30 fps | 1920×1080, 16:9, AVC/H.264, ~17 Mbps | 48000 Hz, 192 Kbps, Stereo, AAC | YES |
| HD 720p 30 fps | 1280×720, 16:9, AVC/H.264, ~12 Mbps | 48000 Hz, 192 Kbps, Stereo, AAC | YES |
| VGA 640×480 30 fps | 640×480, 4:3, AVC/H.264, ~5 Mbps | 48000 Hz, 96 Kbps, Stereo, AAC | YES |
| QVGA 320×240 | 320×240, 4:3, AVC/H.264, ~1.2 Mbps | 48000 Hz, 96 Kbps, Stereo, AAC | YES |
| MMS 176×144 | 176×144, 1.222, AVC/H.264, ~195 Kbps | 48000 Hz, 96 Kbps, Stereo, AAC | YES |
Again like in photo modes, Video recording also allows to record in Pro-video mode which gives options to control manually – the metering mode, exposure compensation, focus, and white balance. There you can't adjust shutter speed or aperture manually but it's quite extensive if compared to other smartphones. Also note that adjusting aperture is also not present in Pro-photo mode as the feature has its own mode separately – Aperture Control, that only works with still photos. In fact manual white balance control gives exactly same options in video recording as they are in photo mode. With a several presets, white balance can be adjusted manually from 2800K through 7000K in 100K increments.
One key thing is that once video recording has been started, you can't change anything you have set before hitting the record button. Take a look at the following offers for video recording.
Video Sample: 1080p 60fps
Video Sample: 1080p 60fps
Video Sample: 1080p 30fps, Electronic Image Stabilisation (EIS) Turned On
http://techprolonged.com/wp-content/uploads/2016/11-12/huawei-honor-8-review-unboxed-1.jpg
625
1000
KA
http://techprolonged.com/wp-content/themes/TPRO-Theme/tpro/img/tpro-logo-blue-header.png
KA
2016-12-10 02:29:42
2016-12-23 13:52:37
Honor 8 Review - Huawei's e-brand smartphone for most ages