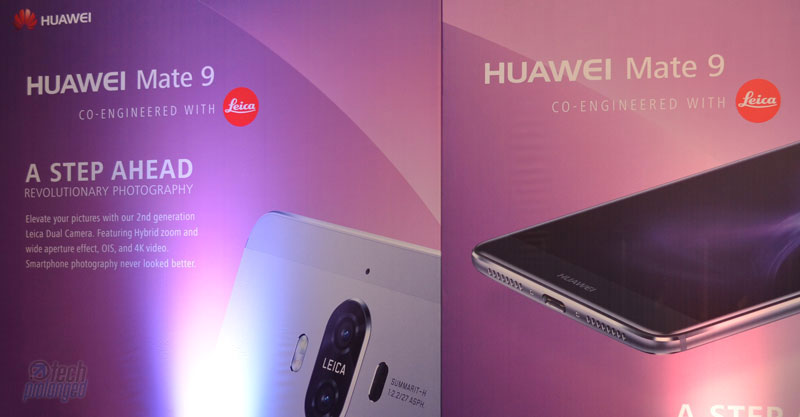 Huawei hosted an exclusive first-hand experience event at Nishat Hotel, in Lahore to introduce its latest smartphone – the Mate 9. Hosted by Huawei Pakistan, the event was attended by prominent personalities of the Tech industry including bloggers and media personnel. All of them had gathered to check out and personally experience the features of Huawei Mate 9.
While giving introduction to the latest phablet which is going to be available for consumers in the country in coming days, Huawei had officially disclosed that the price is going to be around Rs. 70,000/- exactly what we reported earlier.
Running Android 7.0, the Mate 9 is equipped with a completely redesigned UX in EMUI 5.0. The smartphone is packed with 2nd generation Leica dual-lens camera with Hybrid focus and Hybrid Zoom. Huawei Mate 9 is powered by proprietary Kirin 960 chipset with Huawei's Machine Learning Algorithm, which is promised to deliver a fast and smooth experience.
Huawei Mate 9 combines a 4000 mAh high-density battery with its new SuperCharge and power-saving technology that increases battery life promising to provide over two days of uninterrupted performance. As claimed, 10 minutes of charge provides enough power to watch two full movies. Specifically for the safety note – after recent explosions, Huawei denoted that the battery is equipped with Super Safe 5-gate protection that uses 4.5V/5A charger and gives 50% less in-phone heat than 9V/2A Quick Charge.
Related: Huawei Mate 9 – Hands-on Quick Review
The second generation dual-lens camera, co-engineered with Leica to fine-tune and enhance optical performance of the camera module, which now includes a 12MP -megapixel/F2.2 RGB sensor, a 20MP -megapixel/ F2.2 monochrome sensor and enhanced image fusion algorithms combined, promise to produce stunning camera results.
Mate 9 will be available in the gorgeous color palette, including Space Gray, Moonlight Silver, Champagne Gold, Mocha Brown and Ceramic White, is a result of refined craftsmanship.
Keep an eye on our Facebook page or follow us on Twitter to know upcoming bits about the Mate 9, we are soon to publish our first experience in detail enough to make you decide to buy or buy not the Huawei's latest smartphone.
Huawei EMUI 5.0
With the introduction of EMUI 5.0, the Huawei Mate 9 is believed to have re-imagined the native Android operating system using Linux. Mate 9 becomes more intelligent and efficient over time by understanding consumers' behavior patterns, and ensures the highest priority applications are given preference concerning system resources.
Huawei Pakistan gave extensive period of time to the attenders to experience the new Mate 9 at every aspect, including speed test, camera features, battery and the extraordinary charging capacity of the new product, and make comparative evaluations of Mate 9 against their own devices and competitive products.
Photo Gallery from the Event
http://techprolonged.com/wp-content/uploads/2016/11-12/huawei-mate-9-sneak-peak.jpg
417
800
Noaman Rasheed
http://techprolonged.com/wp-content/themes/TPRO-Theme/tpro/img/tpro-logo-blue-header.png
Noaman Rasheed
2016-12-03 00:38:55
2016-12-21 02:37:07
Huawei Mate 9 was presented at a Sneak Peek event in Lahore