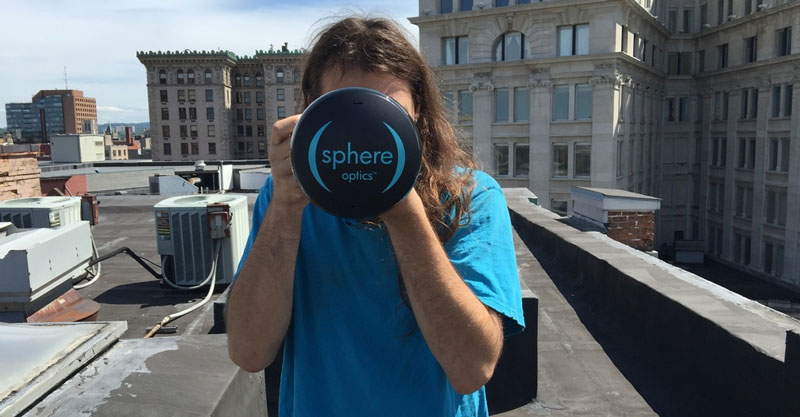 This is a very new kind of giant and dome-like lens called "Sphere" – specially designed as interchangeable for DSLR cameras to turn them into 360-degree camera. The lens provides a full 360-degree field of view horizontally and a 180-degree view field vertically to the DSLR it's attached to.
"The (sphere) Pro lens employs a novel, toroidal design with the ability to capture a 360° horizontal and 180° vertical field of view." the company writes on its product page. "No other lenses with an equivalent capability are known to exist."
A startup company – Sphere Optics, which has been working on such lenses with GoPro cameras and smartphones, built this Sphere Pro lens for DSLR cameras which indeed is one of kind in the category.
The lens attaches to the DSLR just in a traditional way. However when shooting, you put the camera down facing up towards the sky. Then with the lens, the camera is capable of capturing the video in 360-degree field of view.
Sphere Pro lens is a 35mm full-frame format that has fixed f/8 aperture with an optimal focus of 40 inches. The lens is 198mm (~7.8″) in length and weighs 1.8kg that is currently designed for Nikon F mount and can be attached to compatible interchangeable lens DSLR cameras (or mirrorless cameras as well).
As the camera captures a disk-like image or footage in one full omnidirectional view on the sensor, hence there is no need of stitching in post-production. The videos can be converted to VR experience easily on iOS and Android devices.

The lens is designed to serve as an additional companion to capture VR-ready (360-degree) content when ever photographers need.
"The Sphere lens allows users who are currently shooting conventional content to quickly and easily shoot immersive content with a low barrier to entry," Rob Englert, the co-founder Sphere Optics tells Newsshooter. "A shooter can shoot traditional content, then switch to the Sphere lens and quickly capture full spherical content."
You must take a note that the whole 360-degree image or footage is captured on the sensor, so the resolution is dropped in final content. You'll roughly achieve 5/8th the total resolution available on the camera sensor after attachment.
"The Sphere lens only gets better with higher resolution sensors," Englert told the Newsshooter. "This is another reason we focused only on the optics, as sensor technology improves so does our lens."
Here's a demonstrational reel below.
The Sphere Pro lens is not currently available for sale but if you are interested in renting or buying it, you can contact the company to show interest in creating VR content as the stock is available in limited quantity.
There really great detail provided by Newsshooter you want to read out for more information. Or you can head over to the company's website where you learn more about how the lens works
http://techprolonged.com/wp-content/uploads/2016/12/sphere-lens-dslr-360-degree.jpg
417
800
KA
http://techprolonged.com/wp-content/themes/TPRO-Theme/tpro/img/tpro-logo-blue-header.png
KA
2016-12-24 20:54:18
2017-01-01 23:42:33
This Sphere Pro Lens can turn your DSLR into 360-degree Camera