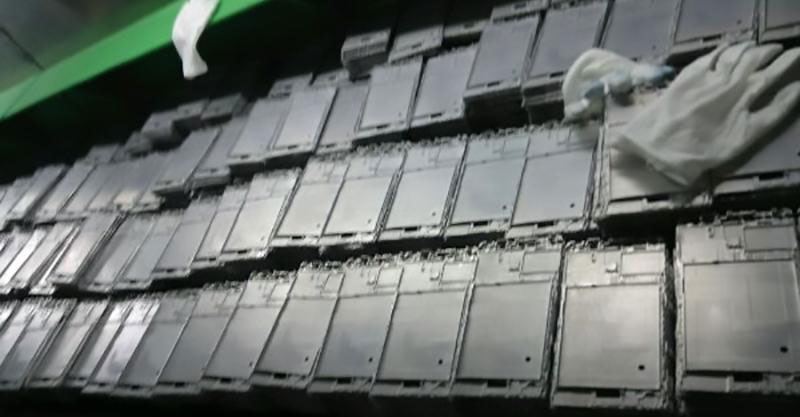 Dual-camera, dual-edge large screen, quad HD Display, higher power, everything currently in rumors
Huawei P10, which is expected to launch during or around the Mobile World Congress 2017, has been in rumors not with much strength these days but has collected enough information that could impress high-end mobile consumers.
The most recent update related to Huawei's next flagship is a couple of photographs showing a lot (in a factory probably) of some sort of smartphone's internals of chassis allegedly to be of Huawei P10 – as appeared on slashleaks.
A closeup photograph also reveals that the smartphone will continue to feature dual-camera setup which has been one of the key features in all ranges of Huawei smartphones. In addition, space for a physical home button can also be identified which has not been some kind of Huawei's design language until the recent Mate 9 Porsche Design launched along side the Huawei Mate 9 in November 2016.
While the photographs above can be of any smartphone from any brand, the two suggested elements could easily be the choices of Huawei. As far as dual-camera is concerned, it's believable after looking at the companies portfolio of all the devices released last year. The physical home button on the other hand would be a better decision, even if it's just for a change.
The physical home button might also bring the fingerprint scanner along on the front side which I personally loved on the rear side frankly. But this factor is also currently in the rumors as Huawei P10 will feature the biometric sensor on the front. Embedded in the home button, makes sense.
Following render was appeared online allegedly portraying as Huawei P10 but as renders are mostly used to be fake, take the following as well.
You can see that both renders are similar but both were designed to fill the earlier speculations of dual-curved screen on P10 and to show off the physical home button on the front side along with a 2.5D curved display counter part. Still the fingerprint scanner is somehow left behind on the rear panel.
However It's not that unbelievable that Huawei won't do that; adapting a design fully associated with Samsung's latest Galaxy S7 edge. Many other brands have come with this dual-edge (aka 3D curved) screen and most importantly Huawei itself launched a premium version of Mate 9 late last year, the Porsche Design exactly matching what we are talking here.
Above renders actually are the mixture of Mate 9 Porsche Design and the Huawei P9. So just take it as a reference of how Huawei P10 would look like while now you have learnt about an alleged physical home button on front side.
Following two are the other leaked photos of Huawei P10 allegedly being in its full form appeared online last year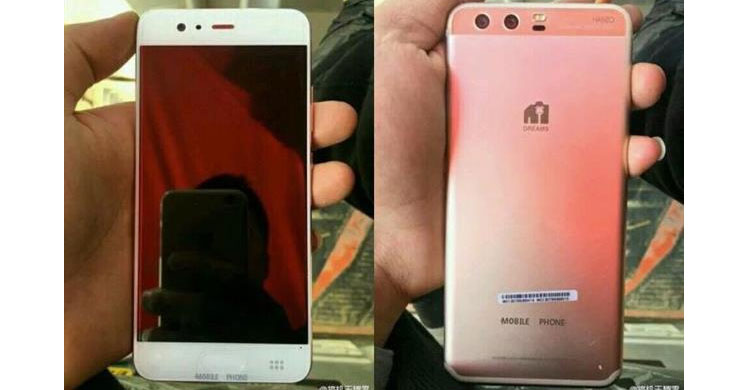 Well, let's wind up the the leaked photos and note down the rumored features of Huawei P10 which first of all include Huawei's Kirin 960 processor which has already been running the company's latest Mate 9 smartphone.
The P10 is reported to have 5.5 inch large display and will be serving at QHD 1440p resolution. Reports include both the 4GB and 6GB RAM options in Huawei P10 along with as huge storage option as 256GB in addition to 32GB and 64GB.
As far as the launch date is concerned, MWC 2017 is the most acceptable period when Huawei might launch the Huawei P10 smartphone. Huawei has already set to hold a press conference this year in Mobile World Congress which will start from February 27th through March 2nd, 2017.
Well, Huawei hasn't launched its P series smartphone in this period before but if you look closely, Huawei has continuously shifted its launch dates year over year. Looking at most recent predecessors, Huawei P6 and P7 were launched in June 2013 and June 2014, Huawei P8 and P9 were launched earlier in April of 2015 and 2016 respectively. You can track P10 even down to February or March, then what's the batter date than MWC to launch it?
Well, there's nothing official yet, you can just take this information and everything around with a pinch of salt and wait just for a month more to see what Huawei has got for their market.
http://techprolonged.com/wp-content/uploads/2017/01/Huawei-P10-Internals.jpg
417
800
Rehan Rasheed
http://techprolonged.com/wp-content/themes/TPRO-Theme/tpro/img/tpro-logo-blue-header.png
Rehan Rasheed
2017-01-20 15:17:42
2017-01-21 02:51:17
Alleged Chassis of Huawei P10 Leaked - Reveal Space for Physical Home Button