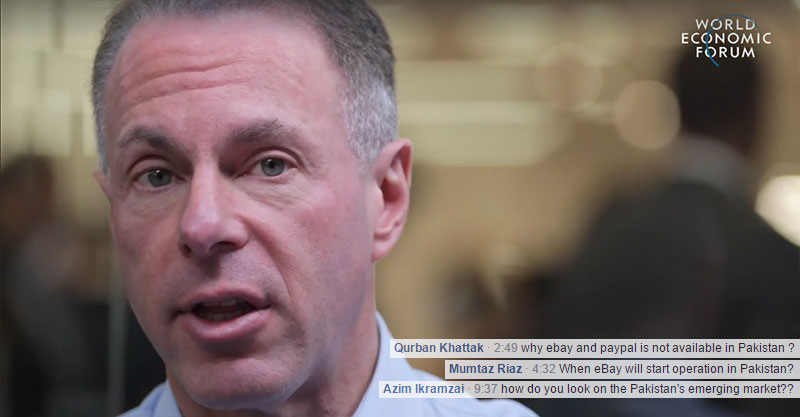 Devin Wenig – president and CEO eBay, when asked about Pakistan and other emerging market, answered that the emerging markets around the world are the fastest growing e-commerce markets.
During the live video interview with the CEO by World Economic Forum in Davos Platz, Switzerland, the viewers' focus was on "eBay services in Pakistan" which are not currently present in the country and are the services which come under highly hyped category as people want it in Pakistan.
The mostly asked question during the live video was indeed answered by the CEO which intended towards all the emerging markets but not only Pakistan. "It's the fastest growing markets we have around the world and as you would imagin anywhere, where wealth is growing and technology is being adopted; e-commerce is growing like crazy," – said Devin Wenig, CEO eBay "So we are really focused on Eastern Europe, and Latin America, and South East Asia."
He also said that there are people in those markets who are growing in wealth but don't have access to goods so they use e-commerce to get access to those goods.
Note: it's the general statement on emerging markets, and not only about Pakistan, as being reported.
Watch the recorded version of interview below. Your interested topic starts at 11:40 on the timeline.
It's also reported, when asked specifically for eBay not providing services in Paksitan, Wenig said that eBay didn't have a local Pakistani version however customers have been shopping from Pakistan on eBay. He was also reported to have encouraged Pakistani customers to shop on the platform and eBay will get ship the products in Paksitan. However this statement is not present in the interview.
http://techprolonged.com/wp-content/uploads/2017/01/eBay-CEO-Devin-Wenig-on-Pakistani-Market.jpg
417
800
Rehan Rasheed
http://techprolonged.com/wp-content/themes/TPRO-Theme/tpro/img/tpro-logo-blue-header.png
Rehan Rasheed
2017-01-17 12:37:19
2017-01-18 14:04:02
CEO eBay: Pakistan is one of Fastest Growing e-Commerce Markets in the World