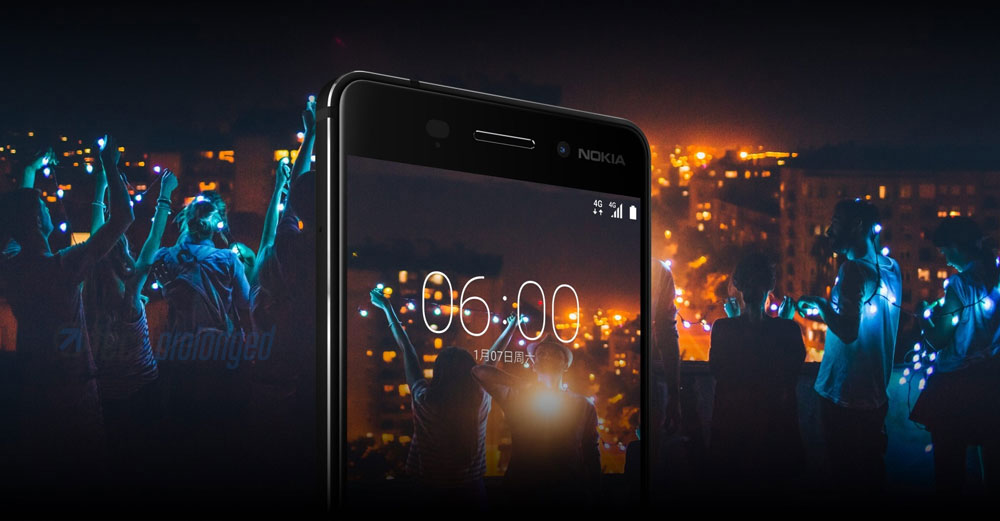 A single Nokia 6 handset builds in only 55 minutes
After being in the long run of rumors and speculations, finally the Nokia 6 is the first official smartphone to run Android after HMD got license to use Nokia branding. HMD announced today that the smartphone will run latest Android 7 Nougat.
Nokia 6 fits in an aluminum unibody design that according to HMD, takes only 55 minutes to machine a single Nokia 6 from a solid block of 6000 series aluminum.
Coming over to important stuff about Nokia 6, that includes is a 5.5-inch display with full HD resolution of 1920×1080 pixels with 2.5D curved Gorilla Glass. Inside the aluminum unibody low-end Snapdragon 430 processor drives the phone. Along with it's supported by a 4GB of RAM, and 64GB of built-in storage.
The Nokia 6 features an 8-megapixel front-facing camera and a 16-megapixel rear-camera with phase detection autofocus (PDAF) and an f/2.0 aperture lens.
Nokia 6 also features dual amplifiers that according to HMD, offers a 6dB louder sound than a regular amplifier with higher voice, deeper bass, and unmatched clarity.
First impression to the features Nokia 6 offers for the price, is pretty competitive. Combined with the Nokia "brand name" and premium build quality and sleek design, it's really solid contender in today's market. But right now it's just an announcement; and after the launch if it makes it to Pakistan there is no more Nokia Pakistan. After when it was acquired by Microsoft, all the distributors and local authorities of Nokia shifted to Microsoft which are still on their payroll.
Even though the Nokia 6 is now the first smartphone for the Nokia brand into Android smartphones (after those Nokia XL). You must be looking forward to more coming in 2017
Nokia 6 Price, Release and Availability:
According to current announcement, Nokia 6 will be available through JD.com in early 2017 exclusively in China. The Nokia 6 is priced at 1699 CNY (~$245 or PKR ~ 26,000/-).
Nokia 6 – Features and Specifications
OS/Software: Android 7.0 Nougat.
Display: 5.5 inch, 1080p resolution, 2.5D Gorilla Glass
SoC: Qualcomm Snapdragon 430, 64-bit
RAM: 4GB
Internal Storage: 64GB
Rear Camera: 16MP, PDAF, f/2.0
Front Camera: 8MP, Fixed Focus.
Battery: 3000mAh
Other: Aluminium unibody design, Dolby ATMOS Audio, Fingerprint Scanner
Related: Read Full Specifications of Nokia 6
Official Promo – Nokia 6
Press Release
Espoo, Finland – 8 January 2017: After securing the exclusive Nokia brand licensing rights in mobile phones in late 2016, HMD Global Oy ("HMD") is proud to announce the launch of its Nokia 6 smartphone in China. The Nokia 6 marks the first step in HMD's ambition to set a new standard in design, material quality and manufacturing innovation across every tier of its products by building on the hallmarks of a true Nokia phone experience. The device, which is designed explicitly with the needs of users in mind, combines quality and in-built durability to deliver a real-life premium smartphone experience at a price point for the highly aspirational Chinese consumer.
The decision by HMD to launch its first Android smartphone into China is a reflection of the desire to meet the real world needs of consumers in different markets around the world. With over 552 million smartphone users in China in 2016, a figure that is predicted to grow to more than 593 million users by 20171, it is a strategically important market where premium design and quality is highly valued by consumers.
With the arrival of Nokia 6, consumers will see superior craftsmanship and design quality in action. It takes 55 minutes to machine a single Nokia 6 from a solid block of 6000 series aluminium. It then receives two separate anodising processes, taking over ten hours to complete, with each phone being polished no less than five times. The end result is an aluminium unibody with the highest level of visual and structural quality.
Delivering quality to the core, the Nokia 6 display has a bright hybrid in-cell 5.5" screen with full HD resolution and incredible colour reproduction wrapped in 2.5D Gorilla Glass. The display stack is laminated together with a polarizer layer enabling excellent sunlight readability and slim form. The build is completed with the latest generation Qualcomm Snapdragon™ 430 processor with X6 LTE modem designed for excellent battery life and superior graphics performance.
The Nokia 6 has 4GB RAM and 64GB storage with which to run the latest version of Android Nougat and is packed with entertainment to bring to life the latest that Android has to offer. The dual amplifiers deliver a 6dB louder sound than a regular amp, giving higher voice, deeper bass and unmatched clarity. Dolby Atmos creates powerful, moving audio that seems to flow all around users. The Nokia 6 packs a 16MP phase detection auto focus rear camera for sharp detailed pictures, and an 8MP front camera. The f/2.0 aperture lenses and exclusive camera UI with automatic scene detection make it easy to take great shots every time.
Arto Nummela, CEO, HMD Global said: "Just a short while ago we announced the launch of HMD Global. From the outset we have stated that we intend to move with speed to establish a position as a player in the smartphone category and create products that truly meet consumer needs. The Nokia 6 is a result of listening to our consumers who desire a beautifully crafted handset with exceptional durability, entertainment and display features.
Our ambition is to deliver a premium product, which meets consumer needs at every price point, in every market. We start today, with our premium, high quality Nokia 6; built to deliver a fantastic core user experience for Chinese consumers. We look forward to unveiling further products in the first half of this year."
Nestor Xu, Vice President Greater China, HMD Global said: "China is the largest and most competitive smartphone market in the world. It is no coincidence that we have chosen to bring our first Android device to China with a long-term partner. JD.com is known for its upwardly mobile customer base and it has for many years believed in the Nokia brand and sold millions of our products to Chinese customers. Launching our first smartphone device, in such a strategically important market, with JD.com a trusted online retailer marks a signal of intent."
Juho Sarvikas, Chief Product Officer, HMD Global said: "We have set ourselves a mission to deliver the best possible smartphone experience, with a beautiful premium design touch, to everyone, at every price point. By building on true Nokia phone hallmarks of leading design and materials, an obsessive focus on the latest technology and solving real-life issues, we believe we have a unique proposition for consumers. The Nokia 6 marks the first step on our journey, with more to come in 2017."
Shengli Hu, President of 3C Business Unit, JD.com, said: "The Nokia 6 marks a new milestone for the iconic brand, and JD.com is proud to work with HMD on this exclusive launch in China. Our 200 million active consumers come to JD.com to shop for guaranteed high-quality products from the world's leading brands, and we are proud to provide a trusted outlet for them to reconnect with Nokia phones."
Nokia 6 will debut exclusively through JD.com in early 2017 in China. Competitively priced for the aspirational smartphone user, the Nokia 6 is 1699 CNY at JD.com.
http://techprolonged.com/wp-content/uploads/2017/01/nokia-6-android-nougat-official.jpg
521
1000
Noaman Rasheed
http://techprolonged.com/wp-content/themes/TPRO-Theme/tpro/img/tpro-logo-blue-header.png
Noaman Rasheed
2017-01-08 11:40:14
2017-01-08 18:39:13
Nokia 6 - Officially the first Nokia smartphone to run Android Nougat