Having announced its collaboration with Samsung in November last year for its next flagship on 10nm process, Qualcomm has now officially launched the Snapdragon 835 today at Consumer Electronic Show (CES 2017), currently going on in Las Vegas.
The successor to Snapdragon 820, the new Snapdragon 835 is the first Qualcomm SoC built using the 10nm FinFET process. The chipset is designed with AR/VR in mind, for next-gen premium consumer and enterprise device, including smartphones, tablets, head-mounted displays, IP cameras, mobile PCs and variety of other devices. Most importantly, in addition to Android, the new Snapdragon 835 processor will run on Windows 10 along with the support of legacy Win 32 apps.
Built on 64-bit architecture, octa-core Snapdragon 835 chip packs with eight CPU cores of proprietary Kryo 280. Four cores of them are for performance running at up to 2.45GHz, and four efficiency cores runs at up to 1.9GHz. It's worth mentioning that Kryo 280 is the first semi-custom architecture to use ARM's new "Built on Cortex Technology" license that allows Qualcomm to customise ARM cores and integrate it with its proprietary processor units such as GPU, DSP and ISP. Qualcomm has previously used stock ARM Cortex cores in Snapdragon 810 and fully-custom Kryo cores with ARM Instruction Set Architecture license with Snapdragon 820.
By combining all kind of processors CPU, GPU, DSP, and ISP in one unit, Qualcomm is hoping to bring new features and experiences such as virtual reality and machine learning right from the core of its chipset to the mobile devices.
Snapdragon 835 is 35% smaller in physical size than its predecessor and consumes 25% less power. The Adreno 540 GPU (successor to Adreno 530) in Snapdragon 835, supports OpenGL ES 3.2, OpenCL 2.0, Vulkan's API, DirectX 12 and Renderscript.
Prominent Features
Qualcomm claims a 25% increase in graphic performance and 3D rendering when compared to the Adreno 530. The chip will support 4K (UHD) video recording at 30fps with 60fps, 4K playback.
As mentioned about the augmented and virtual reality capability of the chip, the Snapdragon 835 also supports Daydream, Google's mobile VR platform.
Hexagon DSP 682
Improving on previous Hexagon DSP 680 – the new chipset features the DSP 682 with support for latest machine learning frameworks and image processing. Hexagon DSP 682 brings the same Hexagon Vector eXtensions (HVX) from previous version that works better for advanced photo and video processing, virtual reality, and computer vision workloads.
The DSP 682, like previous 680, equips with two cores separately – the one low-power core for Qualcomm All-Ways Aware hub working with the sensors and the other core utilizes connectivity with X16 LTE modem.
Spectra 130 ISP
Snapdragon 835 improves at image processing with Qualcomm's Spectra 180 Image Signal Processor (dual 14-bit ISPs) that will allow devices to work with the cameras of up to 32MP in resolution (if single), or dual 16MP cameras. Now that's something really important for better mobile photography.
The new ISP is improved with the enhanced support of hybrid-autofocus framework and dual photodiod phase-detect autofocus (2PDAF) – usually isolates one pixel into two, one for phase detection to focus objects and one for capturing the image.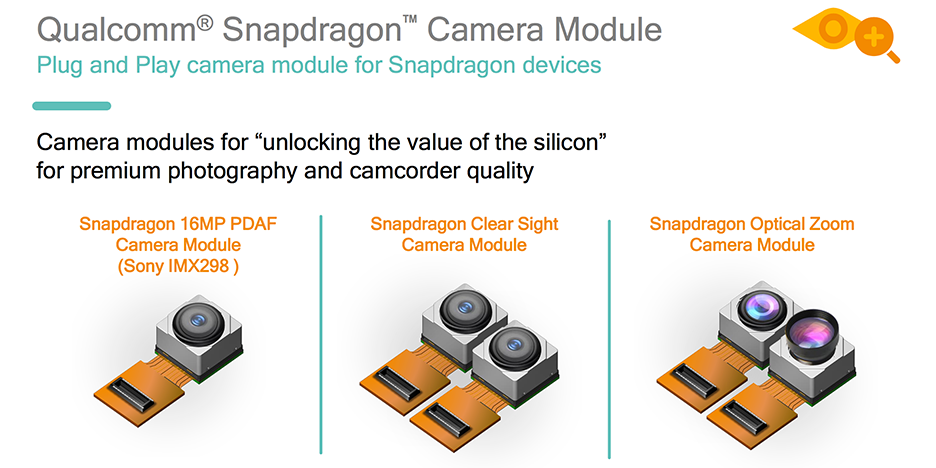 Qualcomm Haven Security Platform
Snapdragon 835 features a number of security features which come as a name "Qualcomm Haven Security Platform" – as the company calls it. Essentially, biometric security that may include authentication via fingerprint scanner or iris scanner, is improved as worked at hardware-level.
Secure camera is hardware based authentication feature for advanced camera biometrics which can safeguard sensitive data. "Secure camera is engineered to isolate the data received from the camera and securely stores it, in HW, safeguarding against untrusted applications and processes." Security-rich hardware-based device attestation and Protect against zero-day threats.
Snapdragon X16 LTE Modem
Making its debut on Snapdragon 835, the new X16 LTE modem supports Cat. 16 download speeds (1 Gbps, theoretical) and Cat. 13 upload speeds (150 Mbps, theoretical). On the other hand the Snapdragon 835 is the world's first chip that is officially certified for Bluetooth 5.0 with peak transfer speeds of up to 2 Mbps as well as improved on range and capacity.
Immersive AR and VR
Snapdragon 835 builds on the Snapdragon VR820 which brings immersive virtual reality to mobile including immersive visuals, heightened sounds, and intuitive interactions, to simulate exactly "what you see is what you get." experience.
Quick Charge 4.0
Quick Charge 4.0 with Snapdragon 835 will be about 20% faster and up to 30% more efficient than the previous model of fast charging by Qualcomm – Quick Charge 3.0. Quick Charge 4 will support USB Type-C Power even though there is no standard for charging via USB-C interfaces.
"By incorporating these technologies, Qualcomm Technologies standardizes the capabilities of Quick Charge 4 adapters, to help ensure that a single accessory supports multiple charging implementations and mobile devices, and that there is consistent performance when faced with the myriad of available charging solutions."

Snapdragon 835 Specifications
SoC
Snapdragon 835 (MSM8998)
CPU
4x Kryo 280 Performance Cores 2.45GHz
4x Kryo 280 Efficiency Cores 1.90GHz
GPU
Adreno 540
Memory
2x 32-bit @ 1866MHz, LPDDR4x, 29.9GB/s
ISP/Camera
Spectra 180 ISP – Dual 14-bit
32MP Support for single Camera
16MP Support for dual Camera
Modem
Snapdragon X16 LTE
Cat 16: Downlink, Cat 13: Uplink
Downlink: 256-QAM, 4x20MHz CA
Uplink: 64-QAM, 2x20MHz CA
Peak Spead
Download: 1Gbps, Upload: 150Mbps
The Snapdragon 835 is expected to make their ways to consumer devices along with Quick Charge 4.0 starting in the first half of the year. However the first devices equipped with the Snapdragon 835 are the
smartglasses R-8 and R-9
which will be available in second half 2017.
http://techprolonged.com/wp-content/uploads/2017/01/snapdragon-820-835.jpg
417
800
Rehan Rasheed
http://techprolonged.com/wp-content/themes/TPRO-Theme/tpro/img/tpro-logo-blue-header.png
Rehan Rasheed
2017-01-04 09:47:08
2017-01-05 03:40:21
Official: Snapdragon 835 equips an Octa-Core CPU, Adreno 540 GPU and Quick Charge 4.0