A new trend in Pakistan's fast growing e-commerce market
In just the last few days, we've seen a number of positive news regarding the e-commerce industry in Pakistan. The CEO of eBay recently called Pakistan one of the fastest growing e-commerce markets in the world. In a similar vein, Jack Ma – the influential billionaire founder of China's online retail giant Alibaba – said they are closely analysing e-commerce activity in Pakistan, and are ready to invest on the coattails of CPEC project.
With a population of over 200 million people, a growing 3G subscriber base, fast-increasing smartphone adoption, Pakistan is ready for an e-commerce revolution. Young entrepreneurs see this is a huge opportunity, and are working to solve e-commerce problems with technological solutions.
One particular problem faced by basically everyone who shops online, or at least does research for products online before buying them in-store, is finding the best prices from a trustworthy store. With dozens of online stores, this can be an inconvenient process. Users have to visit each online store, search for a product, compare different variants, warranties etc. and note it down in a file before repeating the same steps for several other stores.
Core problem for consumers: how to find market price for products of interest?
For the longest time, Pakistani consumers relied on price estimation websites like WhatMobile for this purpose. They would allow you to quickly search for a product, and get an idea of its market price. You would also be able to review a product's specifications, and discuss it with like-minded enthusiasts.
More recently, however, there has been a surge of more advanced websites called "price comparison shopping services" which attempt to go above and beyond traditional price estimation services. Such services partner with online stores to list all their products, their prices, and related information like shipment times, warranty, and payment methods. As a result, users looking for great deals need only to visit one website.
Comparison shopping services are popular in all established e-commerce markets, and are an integral part of the consumer's shopping toolkit there. Here in Pakistan, the most popular comparison shopping service by traffic is PriceOye, followed by PriceMatch and Priceblaze.
With comparison shopping services like PriceOye, users can compare the latest market prices for smartphones from companies like Samsung and Huawei as listed on popular online stores. You can save up to Rs. 10,000 if you check prices on PriceOye before buying a set.
Besides its direct competition, PriceOye competes with popular but antiquated price estimation websites like WhatMobile which only give you a rough idea of a product's market price. Price comparison websites offer real market prices updated on a regular basis.
In this article, we compare two of the biggest services of their kind – price comparison vs. price estimation. In process of doing so, we've made an interesting conclusion which suggests that while price comparison is more advanced, it doesn't live 100% up to the hype, and it leaves certain features that price estimation websites have.
Price comparison: a new breed of price websites
To get an idea of how price comparison works, and how it differs from price estimation, we take a look at the PriceOye website.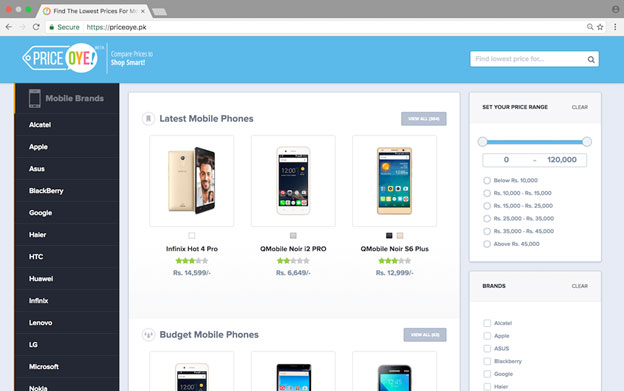 The first bit that users say immediately stands out when they visit PriceOye is its simple look. One can understand how to use it immediately. You can browse phones by brand from the left, see the latest/budget/popular phones in the middle, and filter all phones by price, brands, screen size, etc. from the right. There's obviously a search option available, too, should you have an exact phone in mind.
There are almost a dozen and a half brands listed on PriceOye, and if you follow TechProlonged you know that Android phones are popular here, so offerings from Samsung and Huawei were reviewed. The website lists every recent Samsung phone you can think of; though some users are confused why some phones with different brand names added twice. It would be easier if they were searchable by their different brand names but had only one page. This is something we're aware of, and looking to resolve to make the experience more user-friendly.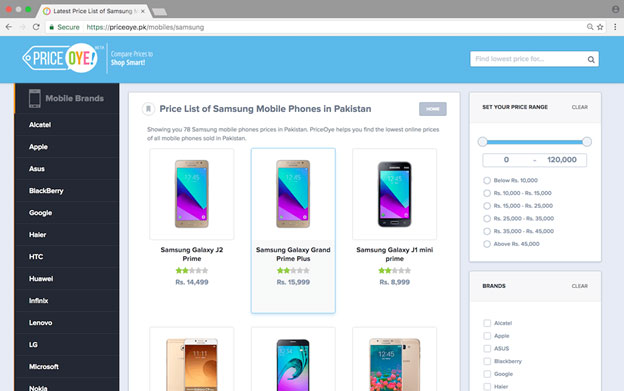 TechProlonged recently shared price reductions in Huawei's lower mid-range phones and upper mid-range devices. PriceOye's pages for the same phones lists much lower prices. For example, the P9 Lite is officially sold for Rs. 26,000 but PriceOye pegs its real market price at Rs. 24,000 – decent savings of Rs. 2,000. Interestingly, the Huawei Mate 9 is listed for Rs. 66,000 whereas its official price is Rs. 70,000.
This brings us to individual mobile phone pages on PriceOye. It includes the obvious stuff: a photo of the phone, hardware specifications, and a description. What makes these pages interesting are the price lists consisting of the latest prices as listed on online stores like iShopping, Telemart, Yayvo, Mega, Shophive and Daraz. Prices are listed in ascending order, so you can immediately find the lowest price first. Along with prices, you can also see shipment times and warranty information, if any.
Although it looks a bit inaccurate, users do like the historical price chart feature, too. It shows how prices of a product increase or decrease over time. For hot items like the iPhone 7 and Galaxy A5 (2017), the chart is particularly interesting since you can make a purchase decision based on whether price has recently remained same or is actively changing.
Key features missing in PriceOye
PriceOye is a basic price comparison website that offers the core features well, but there is huge room for improvement by growing the feature-set. Users would like a way to set price alerts via email or SMS, save particular products, see related products, do side-by-side comparisons of smartphones, and see curated lists of smartphones based on different features like the best selfie cameras, the longest battery life, the most value for money etc. Such features are missing from the site, though we are actively working on them.
Price estimation: the current giant in price websites
Now onto price estimation services which remain hugely popular in Pakistan. WhatMobile is one of the most visited websites in Pakistan. According to web traffic analytics company Alexa, it is the 38th most visited website here. Worldwide it is within top 6,000 websites.
Because of its popularity, and its singular focus on mobile prices, it makes sense for it to be considered as the biggest competitor to price comparison websites like PriceOye.pk. If you were to compare their estimated traffic, WhatMobile is 35 times larger!
WhatMobile's interface is incredibly simplistic, which is perhaps one of the reasons why it is so successful. Everything is listed right there and then on the homepage. From latest phones, to curated phones categorized by price. The sidebar on the right lists all available brands, while also having links to particular lists like phones with 1 GB RAM, with specific megapixel camera, with so and so processor speed etc. You can obviously also search for phones from the search bar placed in top-right corner.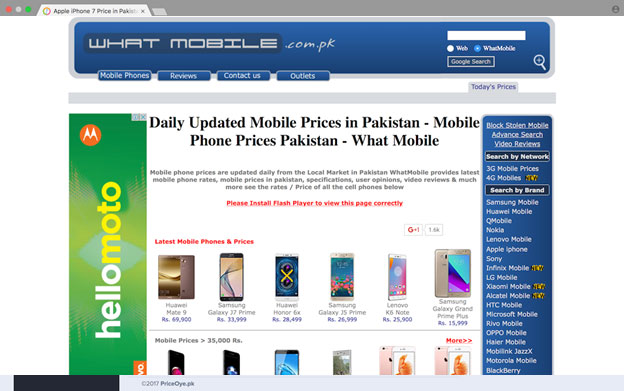 Product catalog-wise PriceOye and WhatMobile are similar. Both have all the brands sold in Pakistan, and all of their phones.
Once you've decided on which phone interests you, clicking on its image takes you to the product's dedicated page. From there, you can see a big image of phone, its description, and specifications. WhatMobile lists one price near the top, and this is an estimated price. It is based on price lists that they receive from phone dealers.
WhatMobile also has a surprisingly active community of buyers and sellers for mobile phones. Under each phone's page, you can find comments from people interested in exchanging devices. This certainly isn't the main use of WhatMobile, so it is interesting how users have molded it into a useful service for themselves. With such a big traffic base, it makes sense for users to use it for this purpose.
Key missing features in WhatMobile
WhatMobile is useful for getting price estimates and perhaps for buying and selling your phone. However, its core feature appears weak next to price comparison websites which list automatically updated real market prices. PriceOye allows you to see the latest prices, along with warranty information, shipment times and you can immediately click-through to the online store to buy it right away. It eliminates a lot of steps in the online shopping process. It was also observed how PriceOye offered much, much lower prices than WhatMobile's estimates, so you can get a better deal if you prefer comparison shopping services over price estimation services.
PriceOye – Summary
The Good:
Simple, easy to use design
Huge variety of brands, phones, and stores
Latest prices + shipment + warranty info
The Bad:
Basic featureset – no way to track prices, save products, do direct comparisons
No sense of community like WhatMobile
WhatMobile- Summary
The Good:
Straightforward design anyone can use
Product catalog covers all phones sold in Pakistan
Vibrant community of mobile enthusiasts, buyers and sellers
The Bad:
Prices are an estimate of actual market price
Prices are usually more expensive than online store prices
This article was provided by Awais Imran
http://techprolonged.com/wp-content/uploads/2017/01/credit-card-shopping.jpg
417
800
Guest Writer
http://techprolonged.com/wp-content/themes/TPRO-Theme/tpro/img/tpro-logo-blue-header.png
Guest Writer
2017-01-29 15:11:44
2017-01-29 15:27:54
An Overview From Price Estimation to Price Comparison Online