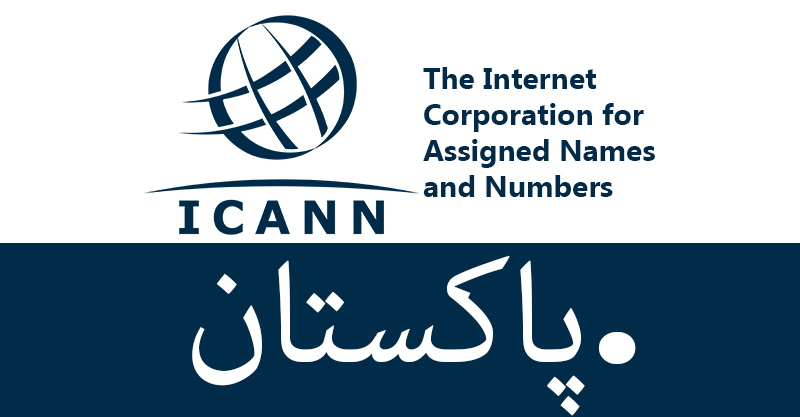 ICANN currently shows pending status for the IDN
ICANN – Internet Corporation for Assigned Names and Numbers, has passed a resolution on new internet registry (پاکستان.) through which local community of Pakistan will be allowed to register and use domain names in native languages and scripts.
Where in the current age, the internet names are occupied as bare investment purposes, people requiring it for personal or business use now usually end up with no name available. The necessity opened the doors for a wider range of internet names availability beyond the global and country code top-level domain, allowing people to use generic (gTLDs) for their businesses.
ICANN initiated the program back in 2012 and since then the program has been evolved enough to carry support of IDN (internationalized domain names) with native languages and scripts. Particularly, now as the (پاکستان.) ccTLD is under process of completion, you are going to have facility to buy your domain in your native language.
While the responsible authority in Pakistan announces about the update, when we checked if the TLD is up and present in the root zone – it's not. ICANN is currently showing the delegation record for the said TLD which is currently in pending state.
However the listing shows that the record was not recently updated so it could be believed that it's just in an early stage and delegation process will take time before the actual usability of the domain. It's worth mentioning that Pakistan has already successfully completed the preparation and evolution stages of ICANN Fast track for IDN ccTLDs.
Read Full Press Release
Anusha Rahman – Minister for IT and Telecom, announced that it has been possible with the strenuous efforts of Ministry of IT. She mentioned that this is an important milestone to proliferate the digitalization in Pakistan through local content. IT Minister has lauded the efforts of team MoIT, multi-stakeholder technical committee members on internet registry پاکستان. , and team NTC on achieving this major internet governance initiative.
In December 2016, Ministry of IT under the leadership of Minister for IT, Anusha Rahman, processed delegation request for the internet registry پاکستان. , in consultation with stakeholders committee members from Academia, Civil Society, Internet Community, ISPAK, National Language Authorities, PASHA, PTA, Governments etc.
It is pertinent to mention that Pakistan has already successfully completed the preparation and evolution stages of ICANN Fast track for IDN ccTLDs. ICANN is responsible for managing and coordinating the Domain Name System (DNS) to ensure that every address is unique and all internet users can find valid Internet addresses. Through this resolution, National Telecommunication Corporation (NTC) will be the manager for internet registry ۔پاکستان
The local language content in digital form has assumed a central significance. With this in view, Ministry of IT & Telecom has done intensive work in this regard. IDN top-level domain names like پاکستان . will usher into numerous opportunities and benefits for Internet users of Pakistan, by enabling them to establish and use domains in their native languages and scripts.
By launching ccTLD۔پاکستان internet accessibility for Urdu language users will be revolutionized as IDNs in native language will facilitate Internet Navigation much easier. It will help local citizens to access web addresses using Urdu Language. IDNs posit an explicit advantage in targeting local markets, not- English speaking Internet users, and for local promotions. Alongside, rising trend of E-Commerce in Pakistan will enormously benefit from this development by eliminating the language barriers.
http://techprolonged.com/wp-content/uploads/2017/02/dot-Pakistan-Urdu-Domain-ccTLD.jpg
417
800
TPRO TEAM
http://techprolonged.com/wp-content/themes/TPRO-Theme/tpro/img/tpro-logo-blue-header.png
TPRO TEAM
2017-02-10 18:02:53
2017-02-11 18:20:43
dot پاکستان - Domain names in Urdu Language will be allowed to register soon