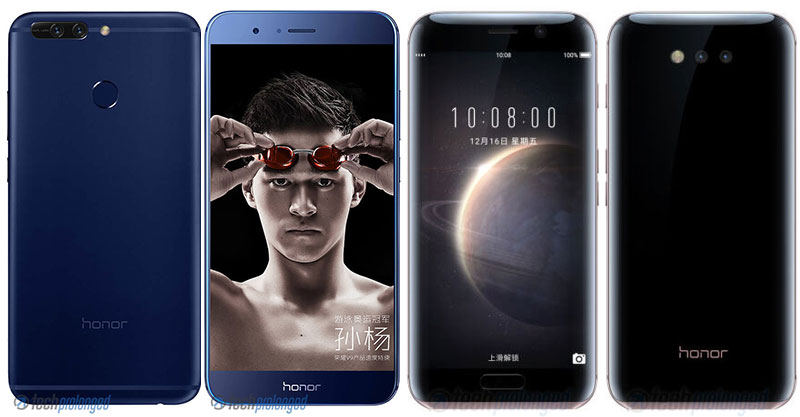 Two smartphones in guess, Honor Magic or the new Honor 8 Pro aka Honor V9
Huawei has released a video with a hint to launch a new Honor smartphone in Pakistan. The video clip doesn't reveal anything but teases with some new smartphone to hit the market.
While Huawei has recently seen promoting its mid-ranger Honor 6X extensively in Pakistan, currently ranked 3rd in global market the Chinese smartphone maker is set to launch its flagship Huawei P10 in a couple of days. Huawei's entity in Pakistan has started teasing about another Honor smartphone to launch in the country – see after the break what this teaser could be about.
The newly released teaser video for a new Huawei smartphone focuses on something they have which is best for your. The 5-sec short video shows off the fireworks and the blurred background with a couple looking above the sky.
The teaser ends with a tag line "You deserve the best", suggesting that consumers should expect a new Huawei smartphone "which will have the best of both features and design."
Smartphone maker hasn't shared any specific details on the product but it disclosed that the new phone is "designed for internet-minded, style-conscious millennial looking for an eye-catching, high-performance and affordable smartphone." Huawei is trying to make you believe that the new Honor smartphone will carry snappy performance, will have a strong battery life, as well as advanced camera capabilities.
So what this Honor smartphone actually is?
As mentioned above, the most latest Honor 6X has already been launched in the country. There is no other Honor smartphone which is worth creating hype anyway other than the Honor Magic or the recently launched Honor V9.
Both the phones are capable to hit the news with their guts but the Honor Magic never could come out of China. So we don't believe the Honor Magic would be an option for Huawei Pakistan to launch in the country.
Honor V9 which is already reported to have its global variant called as Honor 8 Pro, is reportedly launching at MWC this month. This could be a right contender to attract Pakistani customers as well. We believe Huawei Pakistan is hinting to towards this smartphone. If it's true, the expect a quick release of smartphone in the country after the global launch this month.
The phone takes up all key element as described by the company — stylish and eye-catching but most importantly, the "high-performance".
What doesn't keep up with the Huawei teaser is the price as "affordable". Well, in another sense it indeed is affordable regarding with their specifications. It's worth mentioning here that the most expensive of these models costs around $500 or PKR ~54,000/-. For that price the Honor V9 boasts with 6GB of RAM and 128GB of storage.
Honor Magic is also around the similar price but only has a 4GB RAM with 64GB storage along Kirin 950 processor just like the Honor 8 which had the similar price when first launched. But the latest Honor V9 (or 8 Pro) is powered by the latest Kirin 960 which matches up with Huawei Pakistan's statement.
The "affordable price" can lead us to the starting variant of the Honor 8 Pro with 4GB of RAM and 64GB internal storage as being reported to launch in markets out of China. This phone costs around PKR. ~40,000/- so you can take this device as a literal guess.
We are already waiting to have our hands on with Honor 8 Pro or V9, sooner or later, we expect Huawei Pakistan to launch the smartphone here in Pakistan. Do share your feedback with us in the comments below.
http://techprolonged.com/wp-content/uploads/2017/02/Honor-8-Pro-or-Honor-Magic.jpg
417
800
TPRO TEAM
http://techprolonged.com/wp-content/themes/TPRO-Theme/tpro/img/tpro-logo-blue-header.png
TPRO TEAM
2017-02-21 16:59:01
2017-02-22 04:21:52
Huawei Pakistan teases about a new Honor smartphone - is it Honor V9?