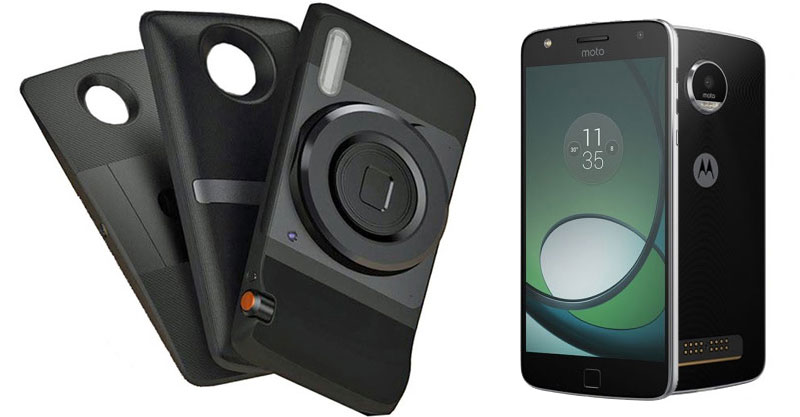 Lenovo brings back Motorola in Pakistan market with just Global Prices, but they are expensive indeed
After some speculations, Motorola finally re-enters Pakistan market with its flagship offering in smartphones – Moto Z along side the Moto Mods.
Announced last year at Tech World 2016, Moto Z brought to the consumer market with extendable modules called "Moto Mods". These mods, in real, are the snap-on accessories which extend the capability of the smartphone itself.
With the initial launch, mods including Insta-Share projector, JBL speakers and a battery pack were announced. Later in September Hasselblad True Zoom camera mod was launched for Moto Z smartphone.
However with the launch in Pakistan, Moto Z will be offered along side all of these mods including Hasselblad True Zoom — a mod with full fledged camera, JBL Soundboost — detachable speaker mod, Incipio battery pack and Insta-Share projector — a mod to project images on the wall.
Moto Z Features and Specifications
Moto Z smartphone itself runs Android 6.0.1 Marshmallow and there are no news about Nougat upgrades. The phone is powered by Qualcomm Snapdragon 820 chipset and 4GB of RAM. 32 or 64GB of internal storage are expandable via microSD card up to 2TB.
The phone features 5.5″ AMOLED displays that offer a Quad HD resolution. It comes with fingerprint scanner and water-repellent coating. Moto Z supports USB Type-C port but do not come with 3.5mm headset jack – a USB Type-C to 3.5mm adapter is included however. Moto Z features a 13 megapixel rear camera and a 5 megapixel front-facing camera.
Read: Full Specifications of Moto Z and Moto Z Play
Other models of the smartphone were also released globally including Moto Z Force and Moto Z Play with some added or stripped down features respectively. However today, in Pakistan, the standard Moto Z and Z Play are launched.
Moto Z is launched in collaboration with Telenor Pakistan, so the Telenor customers are also going to be facilitated to buy the smartphone with prepaid and postpaid plans in coming days.
What actually are Moto Mods?
Well, "Moto" is just a branding while "Mods" might represent the term modules or modifications that modify your smartphone into something that could do some expert jobs. Each mod has its expertise as being built by the relative industry experts.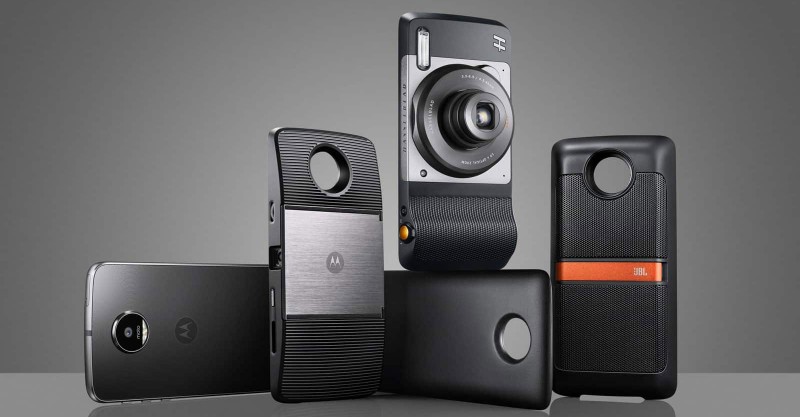 These mods magnetically snaps on the back of the smartphone and transform it into something like a speaker, a projector, a battery pack, or an extended camera. All of these mods work with Moto Z family of smartphone.
JBL Soundboost – MotoMod
This speaker packs with two speakers – 3 watts each and provides stereo sound when attached to any Moto Z smartphone. It weighs 145 grams including a built-in dedicated 1000 mAh battery with 10 hours battery life. The mod charges at 1 ampere and 5 watt. The speakers produce 80 dBSPL sound at 0,5 m.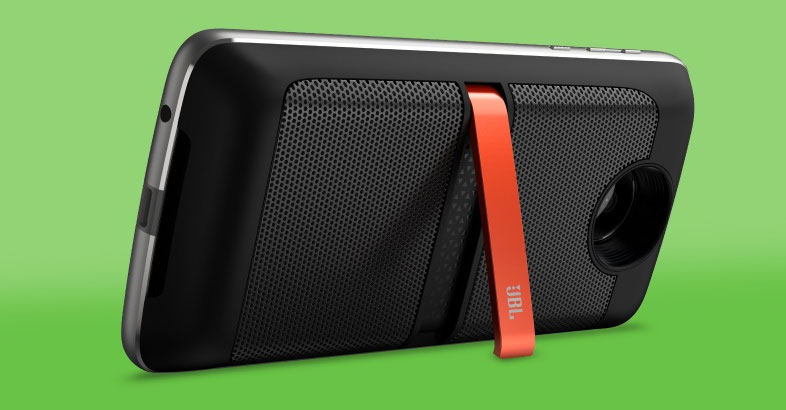 Insta-Share Projector – MotoMod
With 10,000 hours of life rating, this snap-on projector also comes with integrated battery with 1100 mAh capacity and gives 60 minutes of projection time. The mod has its own audio output interfaces via speakers and Bluetooth as well as from the smartphone. The projection resolution is WVGA with 845×480 pixels and it produces 400:1 contrast ratio with 50 lumens nominal brightness.

Incipio offGRID Power Pack – MotoMod
This snap-on power bank is packed with a 2220 mAh battery for emergency use obviously with the Moto Z family smartphones. Weighing 79 grams (or 85 grams wireless charging version) the battery pack provides power up to extended 22 hours. We are not yet sure which version is available in Pakistan.
Hasselblad True Zoom – MotoMod
That's actually the one I'd love to have. The full fledged camera that is operated by the Moto Z software when attached to it. It got its own 12 megapixel sensor which is quite lower than the built-in camera of Moto Z but it looks good in terms of technical things. With larger pixel size, it is suppose to give improved and better images both in bright or low light conditions.
The camera has its own 10x optical zoom lens that has aperture range of f/3.5-6.5. In addition there is 4x digital zoom to expand the image even further. The optical equivalent focal length ranges from 25mm to 250mm which is good for taking distant shots.
Hasselblad MotoMod also features an optical image stabilizer (OIS) but that works with still photos only. For videos, there's an electronic one (EIS). Provides access to manual controls over focus, white balance, shutter speed, ISO and exposure compensation.
Other MotoMods
In addition to above there are there are a few other mods which were not launched in Pakistan. A Vehicle Dock that also keeps charging the phone from vehicle power supply through a power adapter. Another power bank is provided by "mophie" with 3150 mAh battery. That is around 1.5 times more battery capacity than Incipio's offGRID.
Prices and Availability
Moto Z smartphone and the Moto Mods are now available at select stores across the country. Moto Z Play will be available soon. Color options for Moto Z are: Black with lunar gray and White with fine gold.
Prices are pretty much similar to the global prices which is very unlikely as taxes should have increased the prices even further in Pakistan. There are still differences as Moto Z is priced with added Rs. 1500/- and Moto Z Play adds around Rs. 3000/- to the global prices. That difference is pretty much acceptable but seriously these are way too expensive for Pakistan market.
| Moto Smartphones | Pakistan Price | Global Price |
| --- | --- | --- |
| Moto Z (free Moto Style Shell worth $20) | PKP 74,999/- | $700 (PKR ~73,500/-) |
| Moto Z Play (free Moto Style Shell) | PKP 49,999/- | $450 (PKR ~47,000/-) |
| Moto Mods | Pakistan Price | Global Price |
| Moto Insta-Share Projector Mod | PKP 39,500/- | $300 (PKR ~31,500/-) |
| Incipio offGRID Power Pack Mod | PKP 8,650/- | $60 (PKR ~6,300/-) |
| JBL SoundBoost Mod | PKP 12,500/- | $80 (PKR ~8,500/-) |
| Hasselblad True Zoom Mod | PKP 29,500/- | $300 (PKR ~31,500/-) |
In another aspect these prices don't make any sense to me. Like they just had to put price tags on the items with no idea about the market. I mean, look at the price of Insta-Share projector and the Hasselblad Mods. They are sold on same price tag globally for 300 US dollars but in Pakistan there's 100 dollars difference.
I really believe Lenovo should think about pricing their products very carefully. In fact that opinion is perfect for other companies too as we usually see unbalanced pricing structure of smartphones in Pakistan. Huawei is another test case.
http://techprolonged.com/wp-content/uploads/2017/02/Moto-Z-Hasselblad-JBL-Projector.jpg
417
800
KA
http://techprolonged.com/wp-content/themes/TPRO-Theme/tpro/img/tpro-logo-blue-header.png
KA
2017-02-17 21:52:06
2017-02-18 21:06:20
Everything you want to know about Moto Z in Pakistan, and MotoMods from Hasselblad, JBL