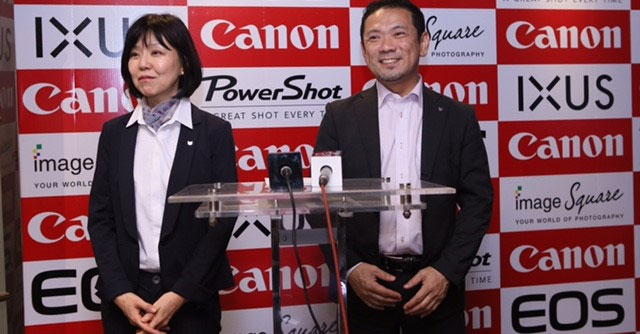 5 more stores to be inaugurated by December 2017, following by 100 retail stores in next 3 years
Press ReleaseCanon, in Pakistan, today announced its foray into the retail space with the launch of its exclusive brand retail store called Canon Image Square. The first store in Karachi, located in The Zamzama Street, Karachi was inaugurated by Director MBM Int. Mr. Manzoor Khan, Canon Singapore President, Ms. Noriko Gunji & Mr. Sarshar Ali Country Manager Canon.
It's worth mentioning here MBM Pakistan has been working with Canon in Pakistan for a few years. The collaboration has brought to the local photographers a full fledged Canon official retail store in the country.
The main feature of the Canon Image Square franchise stores is being the only camera stores in Pakistan having the touch & try concept incorporated with the full range of professional, semi-professional & hobbyist cameras & all equipment related to photography.
Canon plans to inaugurate five such stores in Pakistan by December 2017, followed by 10 retail stores in 2018, 50 in the year 2019 and another 50 stores in 2020 taking the count to 100 stores in the next 3 years.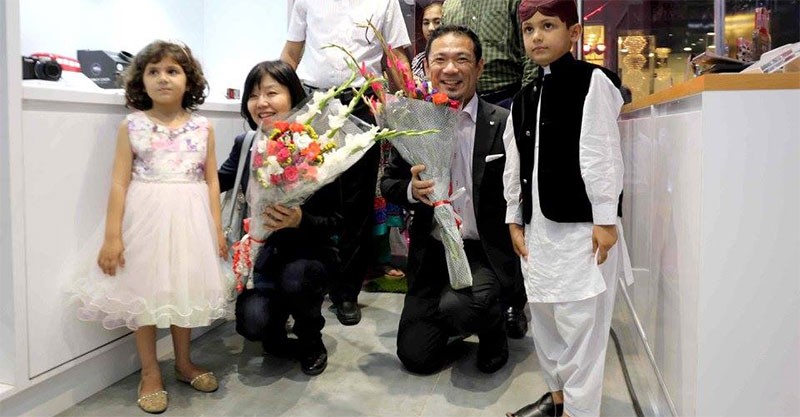 The first year would see the launch of three stores in Karachi followed by one more store in Lahore and one store in Islamabad. The stores enforce Canons increased focus on penetration across the country including major metros and tier II & tier III markets to enhance the brand awareness and increase sales. The area covered by each outlet would vary from a minimum of 800 sq. ft to a maximum of 1300 sq. ft.
Canon Image Square covers an area of approximately 1450 sq. ft. and is based on the franchise model along with Canon Imaging Academy. It is one stop destination for people with imaging needs, enabling increased visibility and reach across the country with an objective to boost sales and customer satisfaction.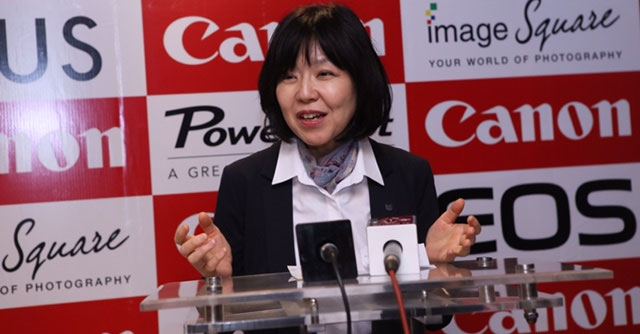 "The customer of today is well informed and educated, and we are constantly evolving at providing them with the correct choices by understanding their needs." – said Ms. Noriko Gunji, President, Canon Singapore while speaking on the occasion. "The Pakistani customer is demanding better products, higher lifestyle quotient, good quality selling interface and state-of-art after sales service of international standards." – She added.
The store will offer solutions for customers seeking high end photography and printing solutions where both click and print products from Canon will be available. The first retail store launched today in Karachi & second in Lahore, aims at providing our customers with a one-stop shop for their digital needs that will result in satisfied and stronger customer base, thus helping our business substantially.
"We have had record growth of 50% in 2016 and expect more in this year. The Image Square, a unique concept by Canon, showcases a wide range of consumer products that includes cameras, camcorders, D-SLRs and lenses and accessories. Each store has over 40 SKUs on display." – said Ms. Noriko Gunji.
The wide display of products allows the customer to enjoy a rich technological experience with an environment to make a purchase. A customer can touch, feel and understand all about a product and then make an informed purchase.
"It is a moment of pride for us at Canon to launch our first store in Karachi designed on international appeal called Canon Image Square." said Mr. Sarshar Ali, Country Manager Canon / MBM Int, "The store would not only help us boost sales but also enable us to educate the masses about Canon's revolutionary technologies. This is a unique concept that would help Brand Canon enjoy greater visibility and get closer to our customers, at large." Mr. Sarshar added.
Brand Canon is synonymous with reliability, durability and commitment. "With the launch of the store today, I am confident that the brand will move closer to the people of the country as these stores will not only sell Canon products but will also educate all customers about the wide range of Canon products." – said Mr. Naohiko Hayashi Senior Director & General Manager ICP Sales & Marketing Canon Singapore. "Canon has brought fun to my own life and there is no vacation without my Canon. In fact, these days I am planning to graduate to use the D-SLR and explore the magical world of photography," – he added.
This article contains content from a press release issued by the company and does not reflect any opinion or recommendation from Tech Prolonged.
http://techprolonged.com/wp-content/uploads/2017/04/canon-image-square-inauguration-2.jpg
334
640
TPRO TEAM
http://techprolonged.com/wp-content/themes/TPRO-Theme/tpro/img/tpro-logo-blue-header.png
TPRO TEAM
2017-04-28 17:18:09
2017-05-01 17:52:10
Canon Image Square - First Official Canon Store in Pakistan