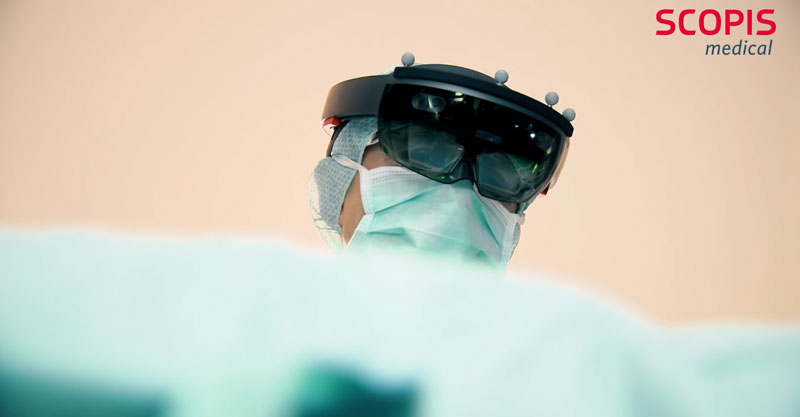 Scopis Holographic Navigation is The First Mixed-Reality Surgical Platform to Integrate Microsoft's HoloLens
Scopis, a maker of surgical navigation platforms based on mixed-reality and augmented-reality, has now introduced a new holographic navigation platform that utilizes Microsoft's HoloLens for spine surgery. The technology can be extended for neurosurgery as well.
Scopis has integrated Microsoft's HoloLens into its image guidance navigation system for open and minimally invasive spine surgery. The new platform will help surgeons by projecting useful information in the field view onto the patient. Virtual monitors will be projected to the surgeon that he could place anywhere in the view near the patient so that he could focus on the operation field.
Currently developed for spine surgery, the platform enables planning the position and alignment of pedicle screws for multiple vertebra fixation. "During operation, surgeon sees a mixed reality overlay projected exactly on the patient. Scopis technology improves the accuracy of the overlay using additional 3D position tracking. The surgeon can find the planned screw position faster and align instruments interactively with the holographic visualization."
Scopis Holographic Navigation with HoloLens
According to Sopcis, the whole workflow can reduce radiation exposure and improves surgical outcomes. "This holographic platform revolutionizes the surgical workflow. Virtual monitors can be placed through gestures in the view near the patient. Therefore, the surgeon can keep his eyes on the operation field."
This technology can also be extended to other applications such as neurosurgery. For such, tumors can be located faster and with higher accuracy.
"This technique has the potential to make spine surgery in the future, more effective, more safe, and more precise." — told Prof. Dr. Woiciechowsky, Germany.
More than 10,000 surgeries have been successfully performed with the aid of Scopis products. By developing the holographic platform, Scopis accentuates its leading role medical mixed and augmented reality.
http://techprolonged.com/wp-content/uploads/2017/05/scopis-microsoft-hololens.jpg
417
800
Dr. H.
http://techprolonged.com/wp-content/themes/TPRO-Theme/tpro/img/tpro-logo-blue-header.png
Dr. H.
2017-05-05 23:19:51
2017-05-07 03:24:11
Microsoft's HoloLens may help Surgeons perform Spine Surgery