As told earlier, Nokia Lumia 925 is the upgraded version of Lumia 920 with improvements in hardware and camera module. Checkout the detailed review of Lumia 925. Hardware elements we discussed in the review what make the Lumia 925 more adoptable than Lumia 920 is the significant reduction in heftiness. You must read our camera review of Lumia 920 as well as reading on this article.
Specifications wise the camera module in Lumia 925 appears to be mostly identical to the one found in Lumia 920. When the Lumia 925 was launched globally, the objection was still rising about a Windows Phone lacking the giant sensor like the one came in Nokia 808 PureView but now when the contender has stepped in, in the form of Lumia 1020 with the 41 megapixels sensor, we don't need to start the same thing again – however the sensor in Lumia 1020 not enough larger in size to beat Nokia 808's sensor.
Lumia 925 Camera Specifications
Primary Camera:
Carl Zeiss optics with OIS (Optical Image Stabilization), 6-element lens design.
8.7 megapixels sensor, BSI (Backside illuminated), 1/3″ sensor size, 1.4 µm pixel size.
8 megapixels usable – Resolution: 3552 x 2000 for 16:9, 3264 x 2448 for 4:3
Lens aperture: f/2, Focal length: 26 mm for 16:9 and 28 mm for 4:3. focal lengths are 35mm equivalents.
Focus range: 8 cm to infinity.
Other features: Short pulse high power dual LED flash, Auto and Manual Exposure, Auto and Manual White Balance, 4x digital zoom.
Video recording features: 1080p (1920 x 1080 pixels), 30 fps, Continuous Auto Focus, Optical Image Stabilization, Video Stabilization,
Secondary Camera:
Still resolution: 1.2 MP (1280 x 960 pixels)
Aperture: f/2.4, 35 cm to infinity
Video resolution: 1280 x 720 pixels, 30fps
If you compare above with the Lumia 920's camera specifications, you will find hardly one difference but that difference is actually counted positively in digital photography. Lumia 925 comes with an extra element in the lens. Now the lens is a 6-element design.
Image from Nokia's advertisement video of Lumia 925.
We didn't find significant difference in photo shoot, however Nokia did mention that the camera in Lumia 925 is an improved version with the improvements in image processing which will offer improved detail in good and better lighting conditions as well as in low-light situations. Well we can't see that much difference with our eyes. You can find the photos and video samples after the break.
What's reality between 8MP and 8.7MP
The phenomenon of 8 megapixels at some places and 8.7 megapixels at others, is only a difference between consumer awareness and technical detail. As for the actual resolution is concerned by the user, that's the 8 megapixels which is common in today's smartphones. But in Lumia 925, like Nokia 808 and later Lumia devices with 8.7MP sensor, the actual resolution of the sensor is slightly bigger than the output resolution. The difference actually helps to use most of the pixels on the sensor within the "optical format" area to achieve maximum resolution in final output images for multiple aspect ratios. e.g. for both 16:9 and 4:3 aspect ratios. For extent, the 8.7 megapixel sensor in Lumia 925 provides access to use full width of the sensor – in 16:9 images – or full height – in 4:3 images. That is, it provides greater horizontal field of view in 16:9 image and greater vertical field of view in 4:3 image. Following illustration on the official diagram will give you more accurate idea of the fact. Click on the image to enlarge.
Illustration is taken from the Lumia 920's document for explanation purpose.
You can find more to understand about the real aspect ratios from the camera sensors on Lumia devices. Click here to read more with the example illustrations of differences between Galaxy S III and Lumia 920 for the available fields of view in both aspect ratios.
Pro Photography with a smartphone
What impressed me in Nokia Lumia 925 was the "Nokia Pro Cam", a camera user interface with easy to use tools for professionals to operate the camera manually on your commands. Nokia Pro Cam is actually a camera app for all Lumia devices with capable camera modules. We take it in Lumia 925.
Nokia Pro Cam provides the auto control for most smartphone camera users, however if you are a photography enthusiast and really know how does a camera act on your commands, it brings the manual controls to change exposure, shutter speed, ISO, white balance and focus.
Manual camera controls are really well thought to be on a touch screen smartphone as shown in the screen above. They are expressive without explanation as the rings on it provides manual control to change the settings of the camera. The grid in live viewfinder can also be enabled that helps in framing the shot.
Manual Control of User Interface
For instance, manual control of focus from auto, manual to infinity is just great to be in a smartphone. Other manual controls include ISO sensitivity, shutter speed and EV (Exposure Value) compensation. Only limitation is that you can not control all the three manually. ISO and shutter speed are preferred if you set them manually, the EV will be calculated by the system. If you want to manually set the exposure value, you will need to put one of the ISO or shutter speed to auto. Again on changing the ISO or shutter speed manually will put the EV on auto itself as I told the ISO and shutter speed are preferred.
Well in many situations a touch focus work clean to focus automatically by identifying an object in the area where the user touches on the viewfinder (screen). But in various situations you want to capture an object surrounded by many other factors (undesired objects) between the field range of your camera and the targeted object. That's where a touch focus may fail focusing the object you want to acquire the focus on. Look at the following scenario.
In following photo I wanted to acquire the focus on the napkin box just away from any other object in between. It failed while I tried a lot of times by tapping on the screen on the object or nearby. That is because the automatic detection of object finds the near by objects as well and acquires the focus on them first.
Now look at the following shot. It was taken using the manual focus control on Nokia Lumia 925 with the focus ring. Just leave the ring pointer when you think the focus is on the right object.
Not only the manual focus but manual control over the shutter speed and ISO sensitivity is way too good for night shots. Normally in most conditions in low-light the auto settings go much wrong with the choosing values and produce final shots in an unexpected manner. There you actually need to tell the camera what values it should use to capture a specific moment.
Take a look at the following picture. Three different shots were taken with different settings. The right most is the crop from a shot taken with fully automatic settings. What you see in that image is overexposed base as well as the fountain itself. Other factor is the highly increased noise in detail due to higher ISO sensitivity used by the camera.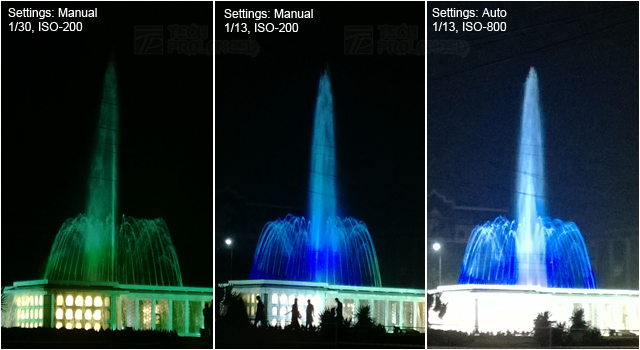 The middle one is the example of manual control where the ISO sensitivity was kept at 200 to have less noise which actually worked. To take the shot with little brighter lightening I used a little slower shutter speed at 1/13th of the second but that also exposed a little bit on the fountain base which is comparatively less attractive than the one in the most left shot which produced much better exposure and the sharpness on the object as well as the less noise in the detail.
The thing to understand is that why and when the manual control over the camera settings are preferred in most conditions. Nokia Lumia 920 actually worked great in our camera review of the device but at that time Nokia Pro Cam was not available. Now when we used it in Lumia 925, we can say, It really works great for photography enthusiasts.
Another manually controlled shot you can see below which was just unable to take with auto controls. The clock can get overexposed due to having spot light on it.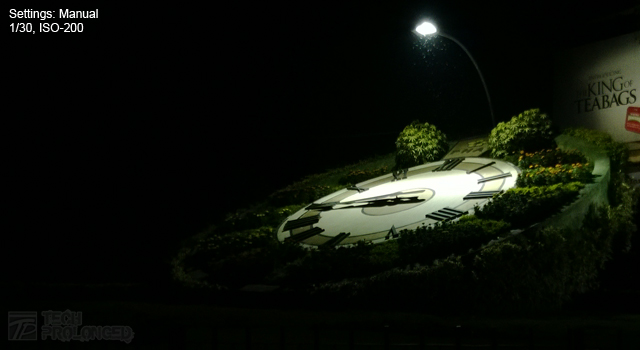 Following shots are just untouched (only reduced and watermarked) and taken with manual settings on Lumia 925. There are however noticeable grain and noise but being from a smartphone camera they are more than jus impressive.
Right photo shows the behavior trailing lights due to slower shutter speed. In Lumia 925, slower shutter speeds can be used to get such an effect when capturing moving/trailing lights of the vehicles or afast forward effect on the road.

Warning! do not use phone, specially camera while you are driving. This photo was taken by the other person sitting besides the driver.
One and only thanks goes to the OIS (Optical Image Stabilization) in Lumia 925 that actually helped taking those shots at as much slower shutter speeds where none other camera phone can take a single shot without camera shake. In fact the OIS in Lumia 920/925 is said to be the best stabilizer among many typical OIS systems in lenses.
This process of checking operates at a rate of up to 5x more frequently than typical OIS systems, approximately 300 times faster than that of the average human reaction time to an expected event.`
I've already been impressed with the OIS in Lumia 920 that avoids the camera-shake much efficiently.
Day light performance is fine:
In day light outdoor, the camera performance is not that much cool to tell about like it is in low-light conditions. It is really un comparable to other smartphones for low-light shots. However in day light, like Lumia 920, it's just on the level of other smartphones. Nokia 808 PureView can still be said as a leader in that case.
Lumia 925 handles the exposure well and keeps the white balance good for natural feel of the image. Color are not over saturated to be well exposed to the eyes while giving natural colors. Noise is still a bad luck for Windows Phone OS to handle with a smaller sensor. However the details look fine.
Some macro shots with Lumia 925. They were taken with manual focus control at nearer to the camera.
Checkout our flickr set for Lumia 925 photo samples.
Following is video recording at 1080p along with the Samsung Galaxy S III.
On Vimeo:
On YouTube:
What we like:
Handles exposure and contrast very nicely.

White balance and color saturation are better derived with natural feel.

Improved yet pleasing detail in still photos

Noise reduction little un impressive but with reserving detail. Better than loosing whole detail in

Much improvement in reducing JPEG artifacts.
What we dislike
Daylight performance are not that much great as the it stands out in night. However there is much improvement than the Lumia 920.
Still can't match the real noise-less detail of Nokia 808 PureView. Of course how much a 1/3" sensor can deliver on a phone.
http://techprolonged.com/wp-content/uploads/2014/11/nokia-lumia-925-review-45.jpg
394
640
Khurram Ali
http://techprolonged.com/wp-content/themes/TPRO-Theme/tpro/img/tpro-logo-blue-header.png
Khurram Ali
2013-10-22 12:24:20
2013-10-22 19:13:29
Nokia Lumia 925 - The PureView Essence [Camera Review with Nokia Pro Cam]