Samsung's latest flagship Galaxy S7 edge camera performed as well as claimed the top spot in smartphone camera ranking by DxOMark. In recent DxOMark Mobile Camera tests, Samsung Galaxy S7 edge scored 88 on average.
Galaxy S7 edge has a 12MP camera which is a drop in pixel count compared to the S6 edge which had 16MP resolution. But adopting lower resolution image sensor gave the larger pixel size of 1.4um which is approximately 56% increase in pixel size. That was the one most talked factor in Galaxy S7 edge's camera.
Another element in camera, that was in discussions, was the Dual-Pixel autofocus system that serves with two photodiodes in a pixel – one on the left half and the other one on the right half of the pixel. One photodiode of each, converts light particles into measurable photocurrent. In the Galaxy S7 edge, 100% of active pixels are capable of detecting phase differences of perceived light which makes it able for faster autofocus. That's all is packed into Sony's IMX260 image sensor. The lens on the Galaxy S7 edge has f1.7 aperture and also has an optical image stabilization to keep things steady at slow shutter speeds as well as while recording videos.
In the latest rankings issued by DxOMark with Galaxy S7 edge on number 1, previously topped Galaxy S6 edge plus and the Sony Xperia Z5 jointly move to number 2, while the Galaxy Note 5 and Galaxy S6 edge are at 3rd spot.
Still Photo Performance
In Galaxy S7 edge evaluation, the experts at DxOMark found good detail preservation in low light and fine detail in still photos when shot outdoor. The camera performed well with exposure and dynamic range in all light conditions while maintaining low noise levels. Further more the dominant feature of fast and accurate autofocus also delivered good results. When used flash, in dark or with no other light source present, the camera was able to capture very good detail along with accurate white balance and color preservation.
DxOMark also reported the flaws as the still images had a yellow cast when the shots were taken under tungsten light source. In another situation where scenes had very high-contrast, some areas in the image were clipped and ringing artifact was visible.
Video Shooting Performance
DxOMark experts were also impressed by the video recording samples, Galaxy S7 edge produced. They found autofocus performance to be really good at tracking capabilities. It was smooth and fast at convergence. Video stabilization was found to be good at all light conditions. They found the camera to be good at preserving detail when the light is bright, overall exposure and color rendering were also good, in fact low noise levels were also good in low light.
Video performance also had some cons in low-light conditions such as jitter artifact and loss of detail. Likewise little color casts were also present when recorded in low-light.
Comparison with Rivals
While the Galaxy S7 edge took the 1st spot in overall results, DxOMark also noted the performance in different categories with rivals like iPhone 6s Plus (standing on 84), Huawei Nexus 6P (standing on 84) and Sony Xperia Z5 (standing on 87).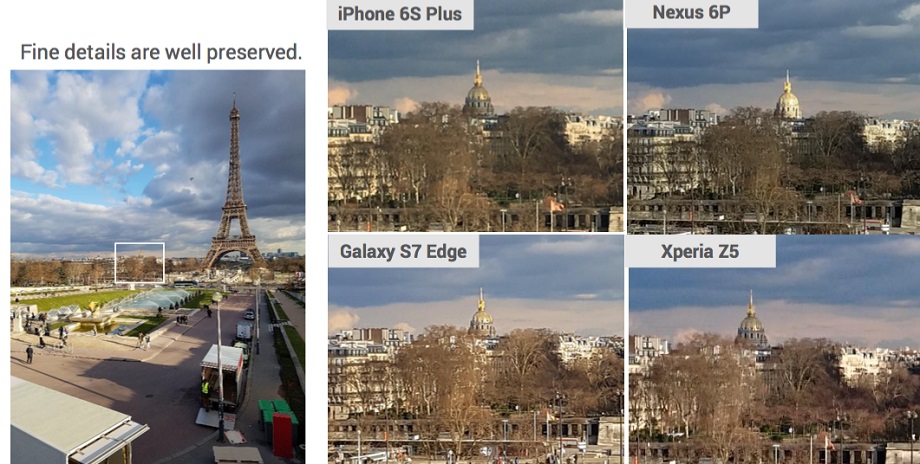 Texture rendering – DxOMark Sample Shot
Find more detail at DxOMark assessment page for Galaxy S7 edge.
DxOMark Image Quality Assessment
Samsung Galaxy S7 edge has taken the 1st spot in the DxOMark smartphone ranking with the score of 88 in photo and video camera results.
Key factors are: good detail in both lit and dark conditions, better dynamic range and flash performance, the Dual Pixel AF system works impressively good.
In video recording, camera tracks well and maintain focus incredibly, provides good detail in recording in bright conditions, stabilization is efficient.
DxOMark Score Detail
Still Photo Score
88
Video Recording Score
88
Exposure and Contrast
90
Exposure and Contrast
89
Color
83
Color
86
Autofocus
94
Autofocus
92
Texture
91
Texture
84
Noise
89
Noise
94
Photo Artifacts
79
Video Artifacts
85
Flash
86
Stabilization
90
Pros
Pros

Good detail preservation in low light and very fine detail preservation in bright light.
Good exposure and dynamic range both in indoor and outdoor conditions.
Low noise level under all conditions.
Fast and accurate autofocus.
Flash: Without an additional light source, very good detail preservation, accurate white balance, and color preservation.

Very good autofocus behavior with good tracking and fast/smooth convergence.
Very good stabilization in both bright-light and low-light conditions.
Good detail preservation in bright-light conditions.
Good overall exposure and color rendering.
Low noise level, even in low-light conditions.

Cons
Cons

Under a tungsten light source, a warm/yellow cast is visible.
In very high dynamic scenes, brightest tone parts are clipped / lose detail.
Ringing is visible.

Jitter artifact visible in low-light conditions.
Loss of detail noticeable in low light.
Color shading is slightly noticeable in all conditions, particularly in low light.
http://techprolonged.com/wp-content/uploads/2016/03/galaxy-s7-edge-camera-score-dxo-mark.jpg
417
800
Khurram Ali
http://techprolonged.com/wp-content/themes/TPRO-Theme/tpro/img/tpro-logo-blue-header.png
Khurram Ali
2016-03-18 23:43:23
2016-12-24 14:48:58
Samsung Galaxy S7 edge, the best mobile camera - DxO Mobile Report