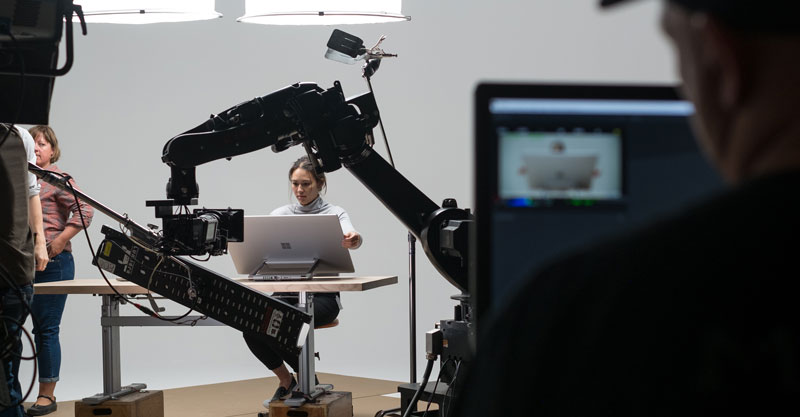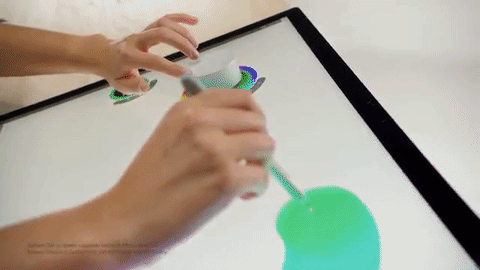 Microsoft unveiled its beautiful Surface Studio desktop PC last week with 28 inch large touch screen and gadgets like Surface Dial that lets users put it on the screen and rotate to change on-screen content delivery and input methods – one such example is, it works as a color wheel when used with Sketchable app to change colors smoothly while you draw on the screen.
There is much more than that when you discuss the machine's hardware but what impressed the most was the launch video of Surface Studio that was being praised as much on the web as it was never done before by Microsoft to advertise their products.
The stunning launch video when played during the event, the hall went on fire with applause as it really impressed having delivered most of the aspects of the Surface Studio with its features and capabilities. The video actually amazed with its dramatic theme and cover song Pure Imagination. Watch the ad first and then continue on to see how this ad video was created with a large robotic arm.
Well, if you here then sure you would want to know about behind the camera of this dazzling video. KIRA – a robotic camera arm built by Motorized Precision and having programmed through company's MP Studio application, is what did the most job of making the above video ad.
What is KIRA and how it works?
KIRA's maximum height is 9 feet and can extend to 5.63 feet weighing 570 lb. Considering the arm's functional behavior of shrinking and expanding, the baseplate of the robot alone weighs 3400 lb to keep the arm stable on the ground. You can have a look at promotional video of MP's KIRA Robotic Camera Arm.
OK, Microsoft Xbox One Elite wireless controller was also used to control the KIRA and jog the robot's arm into place and set keyframes. Other most important things which sure need a complement is the camera rig – a RED's EPIC Dragon with Canon 15.5-47 mm lens. Let's not forget the team operating all this stuff to make 2 minute gorgeous video.
"When we push left on the left joystick the robot moves left and when we push left on the right joystick it pans left etc. We made it so simple and intuitive to control that we were able to focus on the creative and not worry about the technology." – said Sean Brown, President of Motorized Precision.
MP Studio application even allows to control the the focus, iris and zoom giving the total control of every shot to the operator.
KIRA did the same move over and over to cover the large screen of Surface Studio
"The lighting team worked very well with both Motorized Precision and the Microsoft team to make sure we achieved the most clean and sexy look we could for this shoot. Yes, a big screen does present challenges, but we were able to solve them by having KIRA do the same move over and over and see where we might find any problem spots." Sean Brown told Premium Beat.
On other way around, following are the words of Sean Brown about Surface Studio as he told Premium Beat.
I love the Microsoft Surface Studio from a KIRA control standpoint. We developed MP Studio originally as a touch app. On the Surface Studio I was finally able to see that app come to life with Touch Control that made sense! So I was very impressed by the product. The Dial on set was controlling some amazing color wheels inside some of the apps used in the launch video and it was very impressive to see all the different functionality they were able to get from such a simple device.
KIRA is currently doing another job in Sydney, Australia shooting on a major motion picture with Phantom Flex 4K and master primes. Motorized Precision won't reveal the film name, though you can make your guesses.
http://techprolonged.com/wp-content/uploads/2016/11/kira-microsoft-surface-studio-0.jpg
417
800
Rehan Rasheed
http://techprolonged.com/wp-content/themes/TPRO-Theme/tpro/img/tpro-logo-blue-header.png
Rehan Rasheed
2016-11-01 17:41:28
2016-11-04 21:00:25
Microsoft's Beautiful Surface Studio Ad Video was shot by KIRA - A Giant Robotic Camera Arm