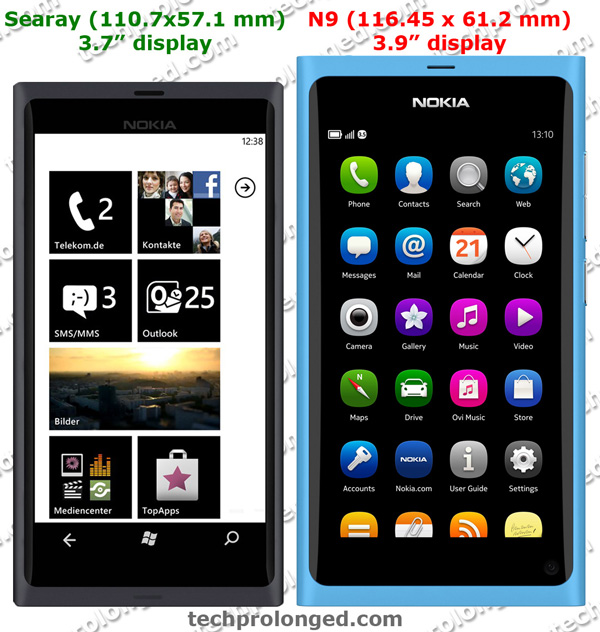 Till now we have heard about Nokia's three Windows Phones which have not been announced officially. Yes one of them is Nokia Searay which we can say "Officially Leaked" (if not announced) by Stephen Elop himself earlier this year. Later we heard about Nokia Sabre which was accidentally revealed by Microsoft Canada themselves and most recently Nokia Ace which we haven't any clue about but just was tipped by some of MNB tipsters.
However we don't have any authentic specifications of all of these Windows Phones. So the purpose of this post is only to illustrate the dimensions of the Nokia Searay evaluating from the said specifications by MNB today. As well TNB provided some new and clear quality pictures of Nokia Searay which helped a lot. Ah! an only picture by the way but for this post that picture was enough to help illustrating the size and dimensions of Nokia Searay when combined with the display size provided by MNB. I personally thank them both for the picture and the specifications relatively. So considering the said specifications, my friend was able to illustrate Nokia Searay among Nokia N8, N9, E7 and X7 with their actual dimensions.
According to the illustration by my friend Nokia Searay will be around 110.7 x 57.1 mm (110.7 mm in height and 57.1 mm in width) which of course is smaller than Nokia N9. See the illustrated picture below.
(Download High-Resolution version, use right-click and save link to avoid light-box)
Well technically it's not that difficult to evaluate dimensions if you have idea about some part of the device and another comparable device with a same measuring element. My friend used the display size to compare it with N9 and the measurements of a few other Nokia devices including N8, E7, X7.
We normally are not that curious to think what size of the device will be when we talk about some rumoured devices. But when I saw these illustrated images I really was surprised to see that Searay will even be smaller than Nokia N8 even though Searay will have a bigger display than Nokia N8. (If and only if the picture of the Searay is true and 3.7″ is the actual size of the display of Searay.)
(Download High-Resolution version, use right-click and save link to avoid light-box)
Of course Nokia Searay hasn't been seen by anyone or taken into some hands other than Elop since that day. In fact most of you might haven't even seen Nokia N9 with your eyes. Then I guess following picture will give you much better idea how Nokia Searay and Nokia N9 will be visualized amongst their Symbian friends.
(Download High-Resolution version, use right-click and save link to avoid light-box)
I hope you would have liked this post. What do you think about it. Do tell us below in comment or on our facebook fan page.
http://techprolonged.com/wp-content/uploads/2011/10/searay-n9-600.jpg
632
600
Khurram Ali
http://techprolonged.com/wp-content/themes/TPRO-Theme/tpro/img/tpro-logo-blue-header.png
Khurram Ali
2011-10-02 23:37:17
2011-10-03 02:01:08
Nokia Searay and Nokia N9: Side by Side, Searay even smaller than Nokia N8