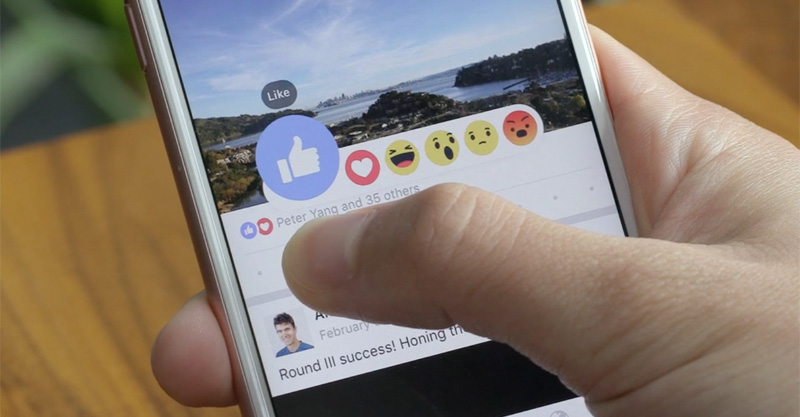 Facebook has launched its new and improved Like button which expands and lets choose reactions of the user. The new button can let you do more than only the old thumbs up button. This is not exactly giving an "Unlike" button which people have been requesting Facebook for years but this is something which will provide good options to react on your friend's posts by not only a positive response.
With the new interactive button, Now you can now love something with a "heart", show excitement about something with a "haha" button, show your surprised or amazed feeling with a "Wow" face, you can now express sadness with a "Sad" icon or you can get angry with a red "Angry" face. Sure the original thumbs up button is still there with a blue "Like" button
While the feature has been rolled out worldwide, to respond with a reaction you need to hold down the Like button (on a mobile device) or hover over the Like button (on computer). That will bring up a quick row of reaction image options including Like, Love, Haha, Wow, Sad or Angry. Click or tap any one of them to record your response to a post. Simply clicking the Like button will do exactly what it does already.
This is why Facebook chose only these 6 Reactions.
Facebook rolled out these six reactions after determining through focus groups and surveys that what types of reactions people would want to use most. They also noted that how, instead of hitting a like button, people were already commenting on the posts with different kind of stickers and emoticons. The mostly used items in comments are also a result of these 6 reactions to be offered by Facebook.
Simply an "Unlike" option would not be an ideal reaction for impressions and may ruin the usability of Facebook specially for publishers who will not want to get that response in any way.
Well, go ahead and try those new reactions on Facebook.
http://techprolonged.com/wp-content/uploads/2016/02/facebook-reactions.jpg
417
800
Zohaib Butt
http://techprolonged.com/wp-content/themes/TPRO-Theme/tpro/img/tpro-logo-blue-header.png
Zohaib Butt
2016-02-24 23:48:14
2016-02-28 18:00:21
Facebook Reactions - include Love, Haha, Wow, Sad, Angry in addition to "Like"