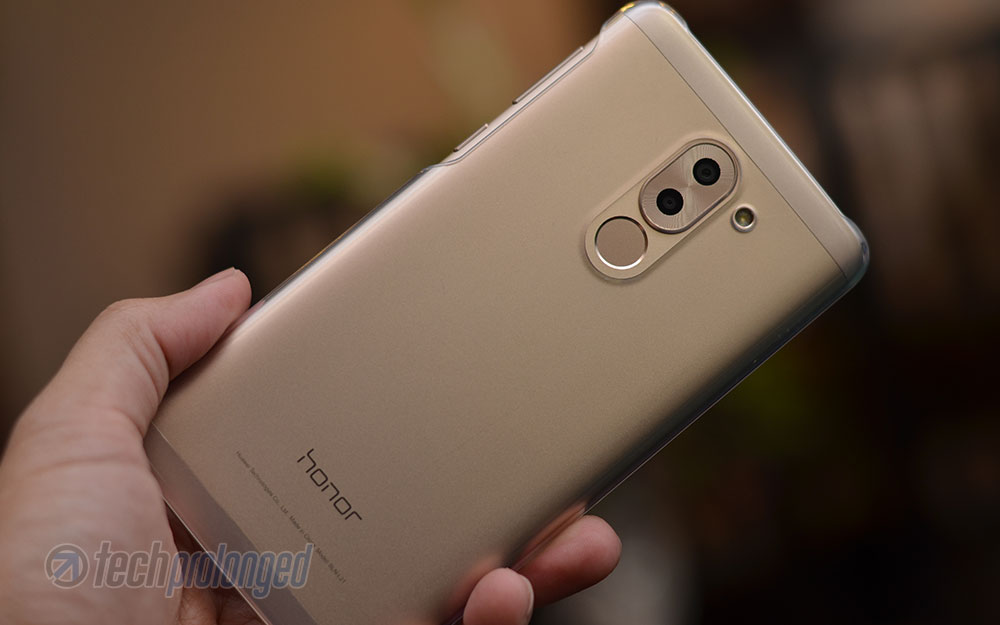 Build, Design and Display
With its visuals, Honor 6X does look somewhat above a mid-range smartphone. With a metal rear side curved at both ends (left/right) slightly rounded and joining into the plastic frame of the phone, it seems pretty handful.
The top and bottom on the back are plastic covers, probably one of them serves to disassemble the phone (by some expert of course), Not a fully unibody design but it has still no option to remove back cover or replace battery by consumers themselves.
Right there on the back, fingerprint scanner follows Huawei's long standing design language for most of their smartphones. Above it, there is a dual-camera system along side an LED flash.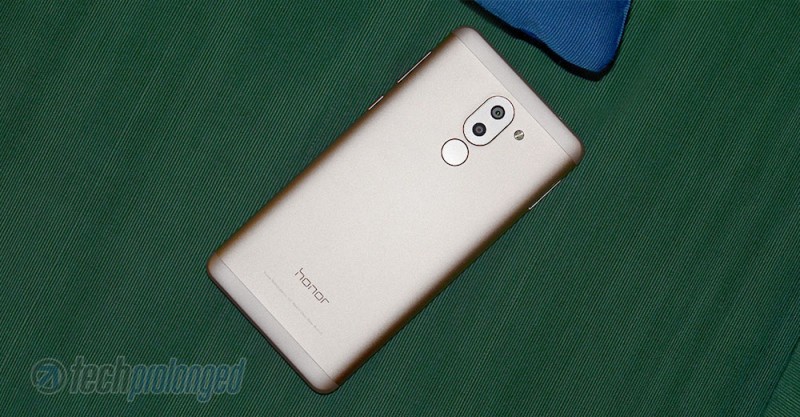 The phone is much handy and you could feel comfortable with it. Metal on the back however is not that appealing. It feels like just a thin layer of tin which might get dent with a little pressure of your thumb-nail (provided it's hard like mine.)
Put that little objection aside because you are not looking at a real high-end device at all. But for the price, this thing is good. It's not that it will break apart, you can feel solidity of the phone as it's not that loose from within. In fact Honor brand is all about delivering a piece of hardware in good price.
On the front, the 5.5 inch display is larger than a normal smartphone display size but Honor 6X has managed to keep it within the boundaries. Average sized hands would need to turn on the one-handed operation in the phone for easiness.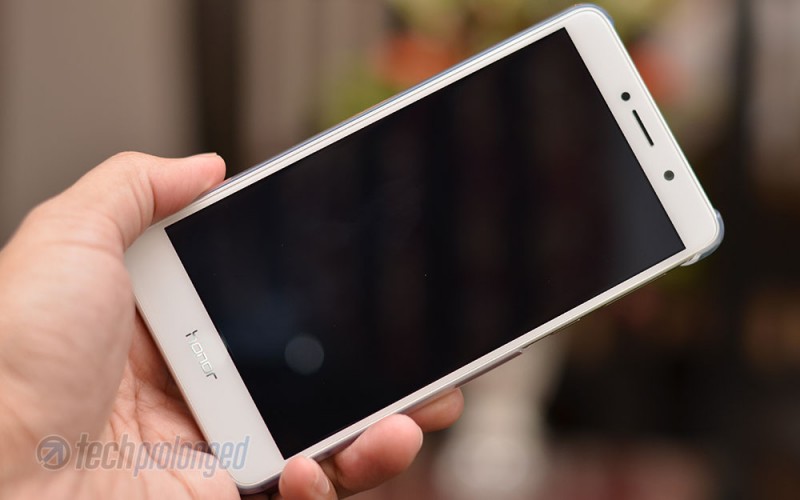 Bottom only serves with the brand name while the top portion of the front panel hosts a front-facing camera, some sensors and of course the earpiece.
Ports and Components
Observing the other components, you can find the 3.5mm audio jack on top of the phone on a side and a secondary mic on the other side. A speaker grill is down there on the bottom of the phone, and along side there is microUSB port. The other grill hosts a primary mic (mouthpiece.)
On the right side of the device you have a volume rocker and a power button, while on the left there is only a SIM/microSD slot.
What we didn't like was the old microUSB port instead of the most adapting USB Type-C. Looks like Huawei has a lot of old components to finish with and a lower mid-range devices will sure be the good candidates for that.
In an overall sense, there is nothing to bash the design as well as no praising elements are there. In simple, you can say that Honor 6X is not something to attract customers. Colors availability of the phone is also very simple in gold, gray and silver.
Honor 6X – Display
You already know that Honor 6X has a large display of 5.5 inches. With the resolution of 1920×1080 pixels the display serves at the pixel density of ~403ppi which is good indeed. Color accuracy is pretty much better than its predecessor. Brightness and viewing angles are also not less than better.
It's an LTPS display which is better than other LCD options. Let alone the official numbers – as 10% more efficient than before, Honor 6X was really good in practical use with its display quality. Readability was sharp and crisp.
Software seemed to be somewhat confused with observing ambient light to handle the auto-brightness. It some times stuck at a brightness level unreasonably – but however tapping on the auto to toggle it again fixes the brightness accordingly.
The phone has a sunlight readability mode that, when enabled, the software works with the contrast and temperature values to adjust the display better visible in bright sunlight. It's not that good however when compared to some AMOLED displays.
Overall, there shouldn't be any objection with the display of Honor 6X. It's better or at least competitive in its price range.
http://techprolonged.com/wp-content/uploads/2017/02/Huawei-Honor-6X-Review-Full-Back-with-Case.jpg
625
1000
Noaman Rasheed
http://techprolonged.com/wp-content/themes/TPRO-Theme/tpro/img/tpro-logo-blue-header.png
Noaman Rasheed
2017-02-28 23:36:14
2017-03-14 20:18:22
Huawei Honor 6X Review: Mid-range dual-cam, justified price