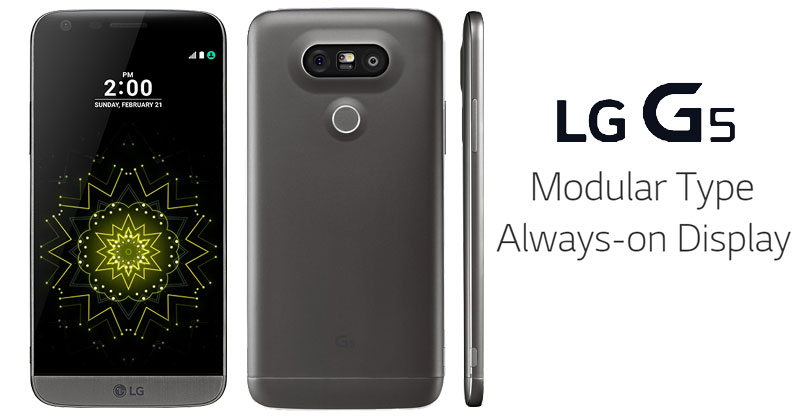 LG has introduced its latest flagship Android smartphone – the LG G5. The company launched this new smartphone alongside a range of plugable accessories and modules. It's really going to be one of the most ideal device introduced during this year's Mobile World Congress.
With first impressions, some may notice that the LG G5 has some rear design elements similar to the ones found in Huawei's Nexus 6P but little bit smaller. The camera module is extruded in wier but occupies less space. The fingerprint scanner is also positioned similar to the Nexus 6P's one.
Although G5 has integrated antenna into its body but they are not visible, unlike others showing stripes through the body. Consumers will have access to LG Friends, a collection of companion devices, with which the G5 can be transformed into a dedicated camera if a camera grip is attached, or a Hi-Fi player and more.
First thing of all, LG G5 is a whole new design with innovation and has nothing from its predecessor G4. It's is encased in a metal aluminum body with a slide-out battery. This thing is one of the most prominent features which would be easily adopted by consumers having ability to easily swap out a drained battery with a fully charged one within seconds.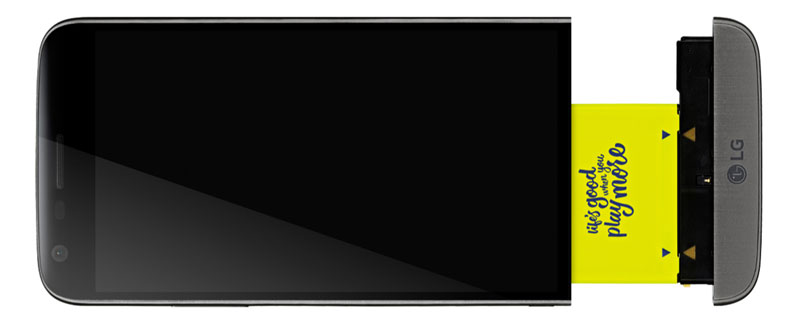 LG G5 offers QHD IPS Quantum Display with resolution of 2560 x 1440. It's a 5.3 inch screen that serves at the pixel density of 554 PPI. The display offers the Always-on feature which shows the time and date continuously on the screen even when the phone is in sleep mode. It's like what Galaxy S7 recently showed off and like we have seen by Nokia/Microsoft as a Glance Screen.
For power consideration, LG has made it for the Always-on display to require only 0.8% of the battery's full capacity per hour.
To minimize power consumption, LG redesigned the display driver IC memory and power management function so that the display's backlight only illuminates one small part of the overall display. Thanks to this technology, the Always-on Display requires only 0.8 percent of the battery's full capacity per hour to operate. With consumers turning on their smartphones up to 150 times a day mostly to just check the time, the G5's Always-on Display will make a notable difference in the life of the battery over the course of the day.
LG G5 is powered by Qualcomm's Snapdragon 820 chipset with a Quad-core processor along side 4GB of RAM and 32GB of internal storage. The smartphone equips with the Dual Camera configuration with a 16 megapixel with standard lens and another 8 megapixel camera with 135-degree wide lens. The phone is backed up by a 2800mAh and runs on Android 6.0 Marshmallow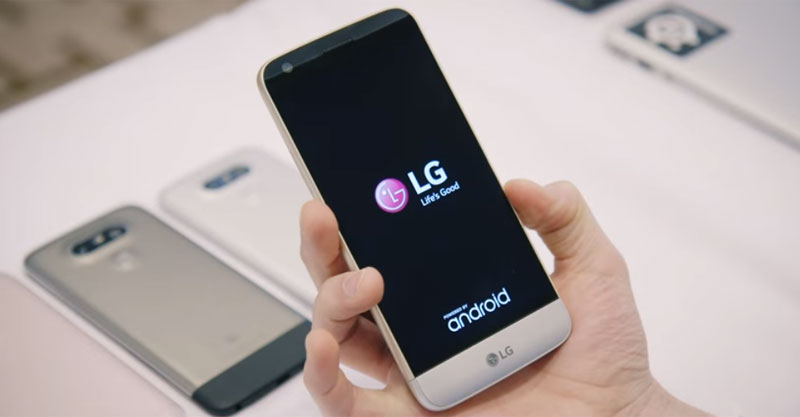 Along side the LG G5, LG has introduced a wide range of companion devices, aptly called LG Friends, to deliver fun while providing a new mobile experience far beyond traditional smartphone boundaries. Friends Manager is the hub application that allows the G5 to connect with LG Friends quite easily. LG Friends Manager automatically detects nearby LG Friends and connects quickly and easily in three simple steps, eliminating much of the hassle of pairing devices.
LG Friends
LG 360 VR
The LG 360 VR is a VR goggle that can be connected with the G5 via a dedicated cable and works exclusively with the G5 to simulate a 130-inch TV viewed from two meters away. It has a stylish design that is foldable so that users can easily carry and watch VR content anytime, anywhere. Unlike other VR devices that require a smartphones to be inserted in the device, the LG 360 VR weighs only 118g (4.16 ounces) and is just one-third as heavy as competing VR goggles while delivering a resolution of 639 ppi. The device is compatible with 360-degree images and videos captured with LG 360 CAM as well as all Google Cardboard content.
LG 360 CAM
The LG 360 CAM is a compact 360-degree angle camera equipped with two 13MP 200-degree wide angle cameras, 1,200mAh battery and 4GB internal memory, which can be supplemented by a microSD card. The LG 360 CAM can be easily connected to the LG G5 allowing users to create 360-degree content. The LG 360 CAM provides 2K video and 5.1 surround channel recording on three microphones to help users effortlessly create high-quality 360-degree contents. Thanks to the partnership with Google, images taken with the 360 CAM can be uploaded to Google Street View and YouTube360, adding the fun of sharing creative contents with others. The images will also be available to view on the LG 360 VR or other smartphones or devices that are capable of 360-degree content.
LG Rolling Bot
The LG Rolling Bot is a companion device that rolls like a ball while capturing images and videos with its embedded 8MP camera. Not just a toy, the LG Rolling Bot can be used as a monitoring system for the home, pet care companion as well as a remote controller for compatible home appliances. With an IP camera connectable via Wi-Fi, users can remotely monitor the interior of their homes with the LG G5 via live streaming.
LG Tone Platinum
The LG TONE PlatinumTM (model HBS-1100), the latest in the LG TONE Series, is a Bluetooth headset that has earned the Harman Kardon® Platinum grade for its superior sound quality. With a Balanced Armature design for minimum distortion, LG Tone PlatinumTM delivers exceptionally sharp and clean sound. What's more, it is the world's first Bluetooth headset equipped with aptX™ HDcodec, delivering lossless 24-bit audio for sound that is unrivaled in a wireless device.
H3 by B&O PLAY
H3 by B&O PLAY is a set of high-end earphones that is compatible with the high-quality sound of the LG Hi-Fi Plus with B&O PLAY. Designed for audiophiles as well as anyone who considers audio performance a top-priority in a smartphone, H3 by B&O PLAY works with all Android smartphones.
LG Smart Controller
The LG Smart Controller allows users to easily control certain drones. With the LG Smart Controller, users can check the video stream from the drone through the LG G5 in real time and control the unmanned aircraft with the LG Smart Controller joystick.
LG G5 Features and Specifications
Chipset: Qualcomm® Snapdragon™ 820 Processor
Display: 5.3-inch Quad HD IPS Quantum Display (2560 x 1440 / 554ppi)
Memory: 4GB LPDDR4 RAM / 32GB UFS ROM / microSD (up to 2TB)
Camera: Rear Standard 16MP, Wide 8MP / Front 8MP
Battery: 2,800mAh (removable)
OS: Android 6.0 Marshmallow
Size: 149.4 x 73.9 x 7.7mm
Weight: 159g
Network: LTE / 3G / 2G
Connectivity: Wi-Fi 802.11 a, b, g, n, ac / USB Type-C / NFC / Bluetooth 4.2
Colors: Silver / Titan / Gold / Pink
LG G5 is set to be available from April. The pricing has not yet been confirmed by the company for either of the product. We'll update you accordingly.
http://techprolonged.com/wp-content/uploads/2016/02/LG-G5-MAIN-2.jpg
417
800
Noaman Rasheed
http://techprolonged.com/wp-content/themes/TPRO-Theme/tpro/img/tpro-logo-blue-header.png
Noaman Rasheed
2016-02-22 04:42:55
2016-02-27 17:17:28
LG G5, A modular phone with its Friends - The most innovative from the company