Hands-on with Galaxy S8 and Galaxy S8+
Long rumored, speculated and leaked in bits, the latest smartphone from Samsung, Galaxy S8 is now official with its larger counterpart Galaxy S8+.
Well in fact, they both are larger than usual – crossing the display size of 5.5 inch of the larger predecessor Galaxy S7 edge and even the 5.7 inch of Galaxy Note 7 and even, the latest Galaxy S8 comes with a 5.8 inch screen. Although it has a slim profile than the S7 edge. Galaxy S8+ on the other hand has even larger screen of size 6.2 inches with pretty much wider profile in hands.
Galaxy S8 weighs a little bit more than than Galaxy S7, however carrying a larger screen than S7 edge it still weighs 3 grams less than the S7 edge. What else Samsung has brought into the most favorite display of people, is what they call – Infinity Display.
While you can read everything below, you must want to know the price first. Ok, Galaxy S8 and Galaxy S8+ respectively start from $720 and $850. Prices are currently from US and UK retailers. Global or regional prices will be announced later. Both the devices will be available from April 21st.
⇒ Galaxy S8 vs Galaxy S7 – Side by Side Comparison
Hardware and Internal Features
Galaxy S8 and S8+, both feature similar internal features including the processor, memory, camera etc. Like previous, Samsung will ship both the devices with Qualcomm's Snapdragon 835 mobile platform built on 10nm process. In other regions, proprietary Exynos 8895 will power the devices. Both are octa-core processors with Kyro cores or M2 and Cortex A53 cores respectively. If you are not familiar with both the chips, Qualcomm's one features Adreno 540 GPU while the other one features Mali G71 GPU. Both are enriched to support immersive virtual reality on board.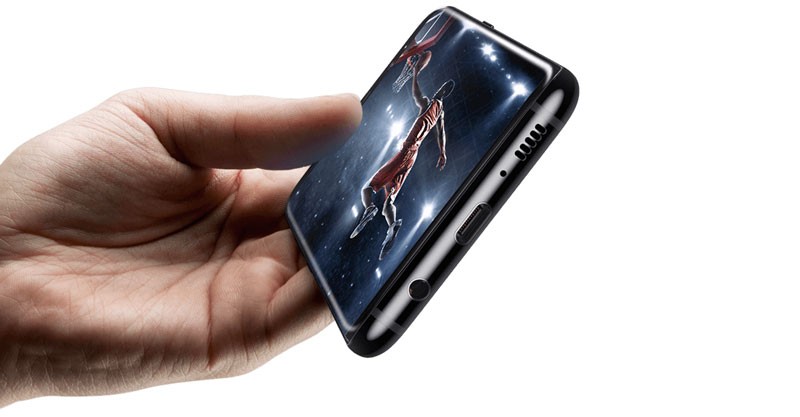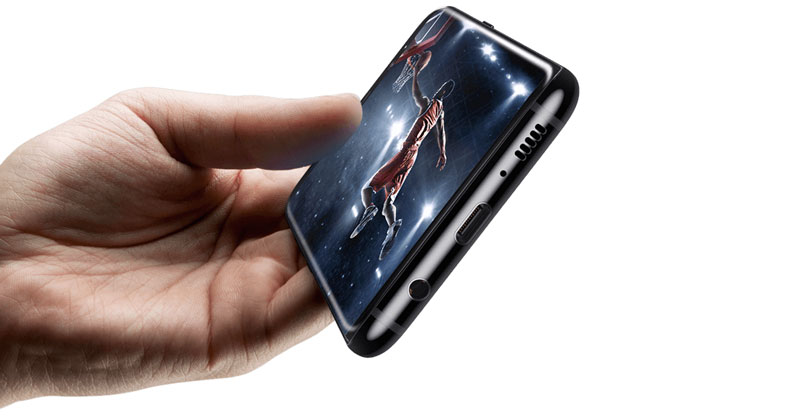 Galaxy S8 and S8+ are Gigabit LTE and Gigabit Wi-Fi ready devices where Wi-Fi supports 1024-QAM, that is claimed to give "up to 20% faster download speeds compared to the previous model". Galaxy S8 and S8+ are identically certified with IP68 just like their predecessors to survive dust and water flow.
12MP + 8MP Camera
Galaxy S8 features a single 12 megapixel camera, unlike recently evolved dual-camera configurations from Huawei and Apple. But it's a dual-pixel camera that Samsung currently is not keen to inform anything about. It however supports f/1.7 lens aperture and records 4K videos. The sensor has 1.4µm pixel size.
8 megapixel front camera on the other hand also has an f/1.7 lens aperture. It's an autofocus camera as well.
Infinity Display
Both the devices, Galaxy S8 and Galaxy S8+ supports Quad HD+ resolution of 2960 x 1440 pixels. It serves the aspect ratio of 18.5:9 instead of most common 16:9. The screen on the Galaxy S8 is 18% larger than its predecessor and the display occupies around immersive 84% of the front screen.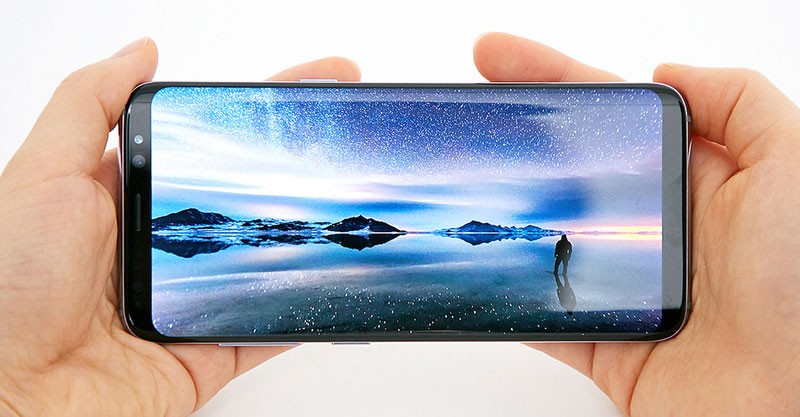 Samsung has brilliantly done with increasing the screen size while keeping the physical size of the phone even smaller than the larger predecessor.
With the giant 6.2 inch display, Galaxy S8+ is just a millimeter larger than S7 edge and around 8 mm wider. But that gains around 15 grams in weight. Both the phones have Gorilla Glass 5 protection.
What Samsung calls an "Infinity Display", resides underneath the screen that curves at the edges on sides. These new Galaxies have extremely reduced bezels and, for the first time, come with no physical home button.
The phones come with on-screen navigation keys including home, recent and back keys. However a hardware home key component is still there under the display that responds to pressure like a physical home button would. Remember the iPhone 7's home button function? or the most recent Huawei P10's? But Samsung took another approach to introduce the on-screen home key instead of physically hoaxed button.
One of the kind in smartphones, 18.5:9 aspect ratio on Galaxy S8 and Galaxy S8+ is supposed to provide cinematic viewing experience.
Samsung has adapted such a wider aspect ratio to better support recently evolving ultra wide 21:9 videos – such as the content and features provided by Netflix. Samsung's latest wider display is still smaller than that ultra wide content but seems to provide impressive viewing experience as shown in the image above.
Galaxy S8 Design
Galaxy S8 and S8+ are available in five colors including Midnight Black, Orchid Gray, Coral Blue, Arctic Silver, and Maple Gold.
There is no physical button on the front screen as told above but power button and volume rocker is intact on their positions.
Upper bezel on the front screen hosts an 8MP front camera, an iris scanner and various other sensors. The lower bezel is completely clean of anything. On the back there is a 12MP primary camera, fingerprint scanner and heart rate sensor – all flattened to the rear surface with no protrusions.
Checkout other features of Galaxy S8 and Galaxy S8+
Galaxy S8 – Bixby
Galaxy S8 – Samsung DeX
Galaxy S8 – Biometric Authentication
Galaxy S8 – Samsung Connect
http://techprolonged.com/wp-content/uploads/2017/03/galaxy-s8-hands-on-s8-plus.jpg
417
800
Rehan Rasheed
http://techprolonged.com/wp-content/themes/TPRO-Theme/tpro/img/tpro-logo-blue-header.png
Rehan Rasheed
2017-03-29 21:15:06
2017-03-30 01:48:09
Galaxy S8 and Galaxy S8+ are now official - Here is everything you want to know