This Huawei Mate 9 Review Covers Quite a Lot To Make Decision
Globally launched in November, Huawei's latest smartphone Mate 9 has just been shown off in Lahore past weekend in a hotel where most of the individuals from print, mainstream and blogging mediums were present to have first experience of the phablet. We also covered the event to bring you enough information that might be of your interest.
If you have gone through our earlier coverage of Mate 9, you might have already knowledge that the latest Huawei flagship is going to cost you around PKR. 70,000/- which has also been confirmed by Huawei official during the weekend event.
Read: Mate 9 is now available in Pakistan for Rs. 69,899/-
With the global launch of Mate 9, Huawei went too surprising to hold the launch event in Germany for the first time but that also revealed some logical relationship with partnering companies such as Leica camera which collaborated in making the dual-camera of Huawei Mate 9. On the other hand the famous German car makers Porsche had their dedicated design launch of Mate 9 pro or premium model – called Mate 9 Porsche Design. Unfortunately this premium/pro model of Mate 9 won't make it the markets of Pakistan as far as official means.
While it's not an in-depth review of Huawei Mate 9, but a hands-on of around 30 minutes might help in making an early verdict.
First impressions follows the fact that Huawei doesn't keep making smartphones with the same design over and over again with a little bits changed around corners. Mate 9, in first looks, could be identified as a Mate smartphone, but has improved elements from its predecessor – Mate 8 in terms of design. Curved back of the smartphone might be left there to have an identity of its Mate-class. Sides of the Mate 9 have rounded instead of flat as featured on the predecessor with chamfered edges.
Fully metal body in a sturdy and premium build, the Mate 9 has a pretty nice design to hold that weighs only 190 grams with a 5.9 inch display. With only a bit of spaces on top and bottom of the screen which has 2.5D curved glass, the display still has full HD resolution of 1920×1080 pixels – the premium model has the WQHD resolution. The Mate 9's display delivers 96% of NTSC color standard and high contrast ratio of 1500:1 in ratings.
Huawei Kirin 960 chipset is setup with an octa-core processor configuration coupled with four cores of ARM Cortex-A73 clocked at 2.4GHz and four cores of Cortex-A53 clocked at 1.8GHz. Huawei Mate 9 features the flagship GPU by ARM, Mali-G71 MP8, built on company's Bifrost GPU architecture for high-end gaming and specially the mobile VR.
Mate 9 has 4GB of RAM along with 64GB of internal storage (UFS 2.1) which can be expanded via microSD card. Huawei has not given an option to choose from memory/storage package however there are two variants of the Mate 9 – single SIM or dual SIM. Single SIM model will serve with a dedicated microSD card slot wherein dual SIM variant the second SIM slot will serve for the microSD card in place of a SIM. Huawei Mate 9 is backed up by a 4000mAh battery which comes with a 5 ampere charger to support Super Charging.
I actually liked the build quality of Mate 9 after having used its predecessor for a small period of time. With the curved sides around, the Mate 9 hosts pretty much similar components in exactly the same order and placements as Mate 8 had.
On the right side of the phone there are volume rocker and the power button, on the left there is a single slot to serve for two nano SIM cards or 1 nano SIM + 1 micro SD card. Micro SD card is an option to expand built-in storage of 64GB.
On the top there is an Infrared sensor (IR blaster) and a 3.5mm audio jack while on the bottom Mate 9 serves with two stereo speakers. Yes! it's stereo speakers you will have with Mate 9.
USB Type-C is present at the bottom as well. Interestingly Mate 9 hosts four microphones for multiple purposes that include features serving directional-mic and noise reduction. Two of the mics are embedded into the speakers at the bottom, one of them can be seen on the back above the camera and the fourth one is hidden inside the earpiece on the front.
Right there you can also see two cameras with "Leica" branding along side the dual-LED flash on one side and the focusing-laser and sensor on the other side. Below the camera module there is fingerprint scanner/sensor placed right where Huawei is used to.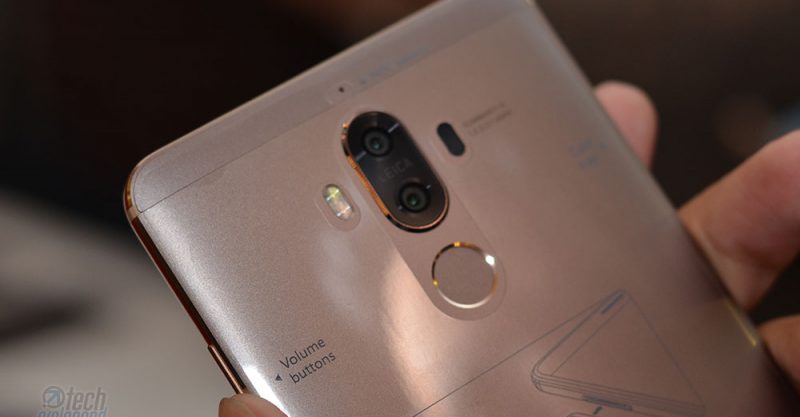 Fingerprint scanner can be tested later in a detailed review, we could manage to try the camera performance of this phablet during the event.
Dual Camera
Huawei Mate 9 has the same dual-camera setup as the Huawei P9 but the Mate 9 comes with upgrades like 20 megapixel camera with monochrome sensor underneath and a 12 megapixel camera with RGB sensor. Both cameras have similar lens with f/2.2 aperture and optical image stabilization. Autofocus is hybrid with phase detection, laser, depth map and contrast detection. Along side a dual-LED flash is also present.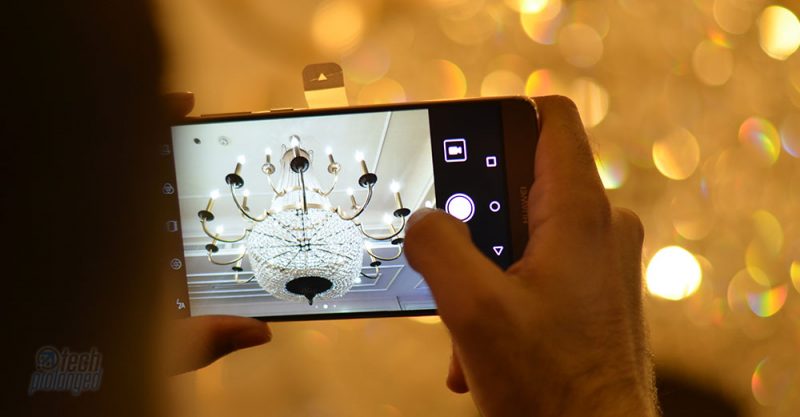 Mate 9 doesn't feature any optical zoom but Huawei calls something as 2x hybrid zoom which is supposed to give lossless zoom. Huawei Mate 9 also marks as the first Huawei smartphone to feature 4K video recording. On the front there is 8 megapixel camera for video calling and selfies, that is also autofocus with f/1.9 aperture lens.
In first impressions the pictures were good indoors but we couldn't have enough time to try it in various lighting conditions so you can just find a few photos right from inside the event hall.
Huawei Mate 9 Camera Samples
Software EMUI 5 – Huawei's App Drawer
First thing first, Huawei Mate 9 runs Android 7 Nougat with the latest EMUI 5.0 software. The major overhaul in EMUI 5.0 is that now users will have option to choose between the traditional EMUI and the new one that supports app drawer. This was the most observed missing-feature of Huawei's Android skin which usually wasn't accepted by many. The new app drawer support in EMUI seriously should silent those who were overly keen-on to have something like that – well I always welcomed the home screen as EMUI presented already, the iOS style many call it. However the performance on of home screens, when clattered with huge set of icons, was diminishing sometimes specially on low-end devices. I've never felt any lag on devices like Huawei P9 or Mate 8.
Disabled by default, the app drawer can be enabled by going through Settings > Home screen style > Drawer, and it's actually good with its features namely, search, suggestions and all apps. When enabled the app drawer style, visually the home screen has only one change with an app drawer icon in the center of the bottom icons row. Additionally all the app icons from the home screens are vanished in respect of the new app drawer as the home screen will only serve the short cuts as per the user demand – just like how usually the app drawer works.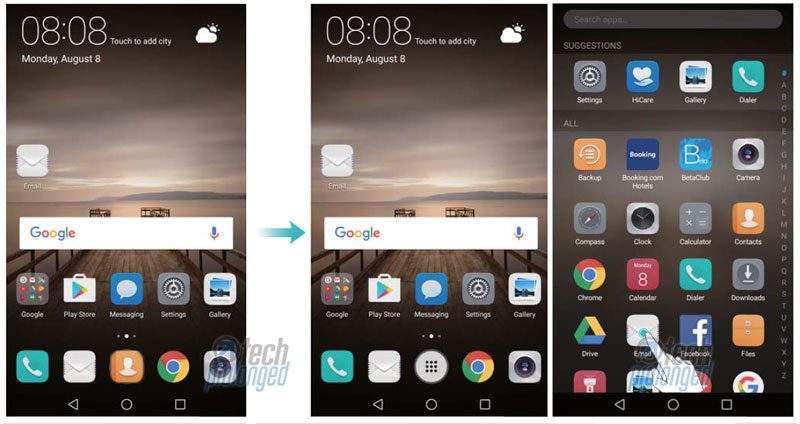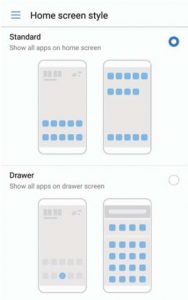 Interestingly, the EMUI 5 will be heading to other devices as well with the features dependant on the hardware limitations such as the dual-camera. Where not eligible, Huawei has plans to bring most demanding features to EMUI 4.1 with updates which may include a few visual and UX features. Huawei Mate 8 and Huawei P9 are most likely to get EMUI 5.
Performance and Usability
Performance can not be evaluated in just 30 minutes of usage but as long as experience is concerned, Mate 9 was really slick and smooth with the new EMUI 5 and the underlying proprietary chipset. Nevertheless the Mate 9 is pretty similar to its predecessor, it looks sleeker and adaptive to grip with its rounded and slimmer bezels.
The phone is big but Huawei seemed to have done quiet well with this phone making it as compact as possible putting seamless edges along the screen and occupying less spaces on above and below the screen. Still it's not too easy for average hands to reach every corner of the screen with one thumb – it's generally for big screen lovers whether they are easy with it or not.
Huawei Mate 9 combines a 4000 mAh high-density battery that is promised to provide over two days comes with the new SuperCharge and power-saving technology that increases battery life promising. According to claims, 10 minutes of charge provides enough power to watch two full movies. Specifically for the safety note – after recent explosions, Huawei denoted that the battery is equipped with Super Safe 5-gate protection that uses 4.5V/5A charger and gives 50% less in-phone heat than 9V/2A Quick Charge.
Verdict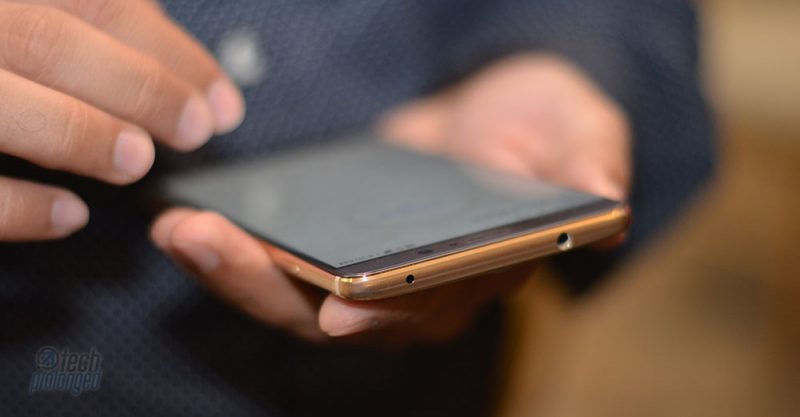 OK, let me tell you that you really don't want to have my verdict right now as it will be too early to tell about the long standing performance of this big phone. Even though Huawei advertises the phone with the tagline "Born fast, stays fast" defying the very common factor of smartphones these which sure are fast out of the box but by with time they tend to slow down. I personally can't guarantee this achievement of Huawei in their latest phablet.
However, when you talk about first experience which also matters in making decisions, then yes! Mate 9 has guts to attract consumers. It's classy, and can serve you as business phone, it can give you an executive and premium feel. It got camera that should be better than its predecessors or its other family members such as Huawei P9. Initial shots above are impressive though which were taken indoors – seem to be promising. Fingerprint scanners on high-end Huawei devices sure stand in the competition. With the price tag of Rs. 70,000/- or ~$700 will not be a bad choice among its competitors like iPhone 7 Plus that doesn't has 64GB storage version but the lowest 32GB version costs over 100,000/- That's a big difference that you pay for brand.
PROS
CONS
Fast processor
Impressive build and design
Improved and better software
Improved and fantastic dual Camera
Stereo speakers
USB Type-C connectivty
Four multi-purpose mics
Big phone for most
Only 1080p resolution on big screen
Only 64GB Storage.
Less variations to choose from
Photo Gallery
http://techprolonged.com/wp-content/uploads/2016/11-12/huawei-mate-9-hands-on-wide-6.jpg
521
1000
Khurram Ali
http://techprolonged.com/wp-content/themes/TPRO-Theme/tpro/img/tpro-logo-blue-header.png
Khurram Ali
2016-12-04 00:27:27
2016-12-23 13:08:48
Huawei Mate 9 - Hands-on, First Impressions and Quick Review